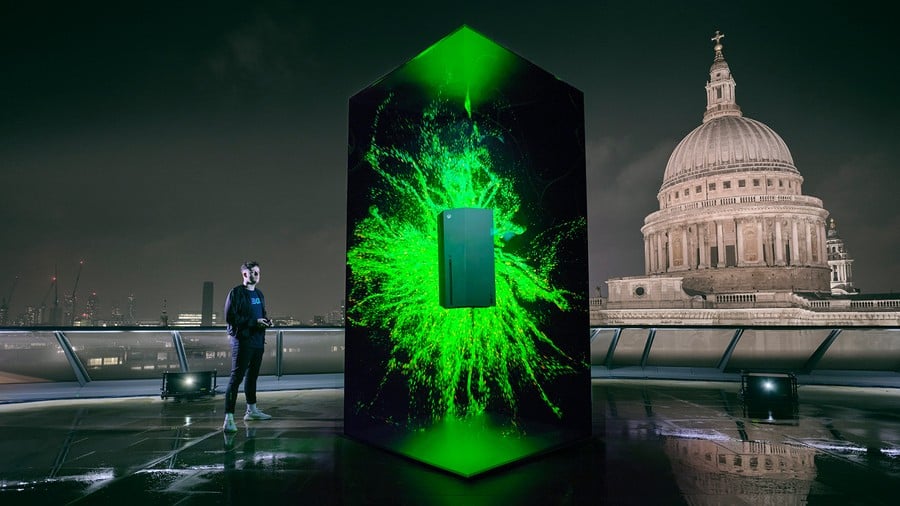 The New Year has arrived, so it's time to look back on the year that was 2020 - in the world of Xbox, of course! It was a crazy twelve months to say the least, culminating in two console launches, a major acquisition, the arrival of Xbox Cloud Gaming and much, much more... all in the midst of an unprecedented pandemic.
Below, we've recapped some of the major events of the year - be sure to vote in the polls!
1. Xbox Series X / Xbox Series S Console Launch
The constant focus throughout 2020 from an Xbox perspective has been the release of the Xbox Series X and Xbox Series S, which finally arrived this past November. Before then, Microsoft held numerous (digital) events showcasing upcoming games for the Xbox Series X specifically, and the Series S actually wasn't unveiled until much later in the year, finally being outed via an unfortunate leak in early September.
2. First-Party Xbox Games
2020 saw the release of plenty of great first-party Xbox games across console and PC, with highlights including the incredible Ori and the Will of the Wisps, Gears Tactics, Minecraft Dungeons, Battletoads, Grounded, Tell Me Why, Microsoft Flight Simulator (for PC), and a whole bunch of upgraded titles for Xbox Series X and Xbox Series S. Of course, the only major downside was the delay of Halo Infinite to Fall 2021.
3. Xbox Game Studios Acquisitions
There was only one studio acquisition by Xbox Game Studios in 2020, but it was the biggest in the publishing division's history. Back in September, Microsoft announced its intention to acquire ZeniMax Media, parent company of Bethesda Softworks for the cool sum of $7.5 billion in cash. The deal is expected to be completed in early 2021, and will bring all of Bethesda's iconic franchises to Xbox Game Pass.
4. Rollout Of Xbox Cloud Gaming (Project xCloud)
It's been such a busy year that you might have forgotten that Xbox Cloud Gaming officially launched in beta earlier this year in September, with over 150 titles included at the time of release. The service has only been available for Android devices so far, but Microsoft plans to extend this to iOS and PC in 2021. More and more titles are being added to the cloud all the time, and some of them even boast bespoke touch controls.
5. Xbox Game Pass Additions
2020 was undoubtedly the most jam-packed year in Xbox Game Pass history, with hundreds of titles being added to the service. All new first-party games were included as standard - such as Ori and the Will of the Wisps and Minecraft Dungeons - while the likes of GTA V, Red Dead Redemption 2, Control, Skyrim, DOOM Eternal, and Destiny 2 were all added too. And that's not to mention EA Play, which has brought 80+ more games to Ultimate members.
6. Xbox Games With Gold Offerings
It's fair to say that Xbox Games with Gold took somewhat of a backseat in 2020 compared to Xbox Game Pass, but nevertheless the service dished out 48 games at no extra charge for Xbox Live Gold subscribers, including Tom Clancy's The Division, Fable Anniversary, Project CARS 2, Sonic Generations and Batman: The Telltale Series. Were you satisfied with the offerings over the past twelve months?
7. Xbox Digital Events, Game Announcements
It feels like a long time ago now, but Xbox held multiple digital events in the lead up to the Xbox Series X and Xbox Series S launch in November, revealing the likes of the new Fable, State of Decay 3, Perfect Dark, Forza Motorsport and a World Premiere look at Halo Infinite gameplay along the way. We didn't get a traditional E3 conference for obvious reasons, but Xbox gave us plenty to look forward to regardless.
---
It's fair to say that 2020 has been one of the busiest and most memorable years in Xbox history, and there have been many more ups than downs (at least in our view). That said, we want to know your overall grade for Xbox in the poll below, and be sure to give us the reasons for all of your votes in the comments section!
How would you sum up the year of Xbox in 2020? Give us your thoughts in the comments.