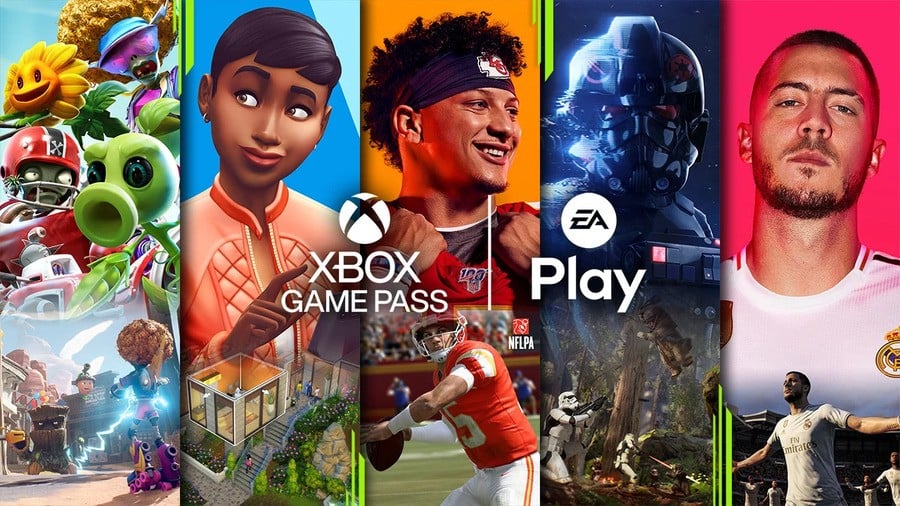 Xbox Game Pass Ultimate shot up in value today with the addition of EA Play, which brings over 80 EA games to the service at no extra charge, including favourites such as FIFA 20, Titanfall 2 and Star Wars Battlefront II.
You can now access the majority of these via the Xbox Game Pass app on Xbox One and Xbox Series X|S (as well as searching for them on the Microsoft Store), and here's a full list of what's currently available:
A Way Out
Alice: Madness Returns

Anthem

Battlefield 1943

Battlefield 3

Battlefield 4

Battlefield Bad Company

Battlefield Bad Company 2

Battlefield 1

Battlefield Hardline

Battlefield V

Bejeweled

Bejeweled 3

Black

Burnout Paradise

Crysis

Crysis 2

Crysis 3

Dante's Inferno

Dead Space

Dead Space 2

Dead Space 3

Dead Space Ignition

Dragon Age Origins

Dragon Age 2

Dragon Age Inquisition
EA Rory McIlroy PGA Tour

EA UFC

EA UFC 2

EA UFC 3

Fe

Feeding Frenzy

Feeding Frenzy 2

FIFA 15

FIFA 16

FIFA 17

FIFA 18

FIFA 19

FIFA 20

Fight Night Champion

Heavy Weapon

Madden NFL 15

Madden NFL 16

Madden NFL 17

Madden NFL 18

Madden NFL 19

Madden NFL 20 (also on Android)

Madden NFL 25

Mass Effect

Mass Effect 2

Mass Effect 3

Mass Effect: Andromeda (also on Android)

Medal of Honor Airborne

Mirror's Edge

Mirror's Edge Catalyst (also on Android)

NBA Live 18

NBA Live 19

Need for Speed Rivals

Need for Speed

Need for Speed Heat

Need for Speed Payback

NHL 18

NHL 19

NHL 20

Peggle

Peggle 2

Plants Vs. Zombies

Plants Vs. Zombies Garden Warfare

Plants Vs. Zombies Garden Warfare 2 (also on Android)

Plants Vs. Zombies Battle for Neighborville

Rocket Arena
Sea of Solitude

Shadows of the Damned

Skate 3

SSX

Star Wars Battlefront

Star Wars Battlefront II

Star Wars Jedi: Fallen Order

The Sims 4 (also on Android)

Titanfall

Titanfall 2

Unravel

Unravel Two (also on Android)
Zuma

Zuma's Revenge

In addition to this massive list, Star Wars Jedi: Fallen Order will also be added to the service later today (update: it's now available!)
EA Play is also coming to Xbox Game Pass for PC on December 15th, with PC players able to access to the EA Play library by downloading the EA Desktop app currently in beta for Windows 10 PCs.
Which of these EA Play games are you most excited to play first with Xbox Game Pass? Let us know below.