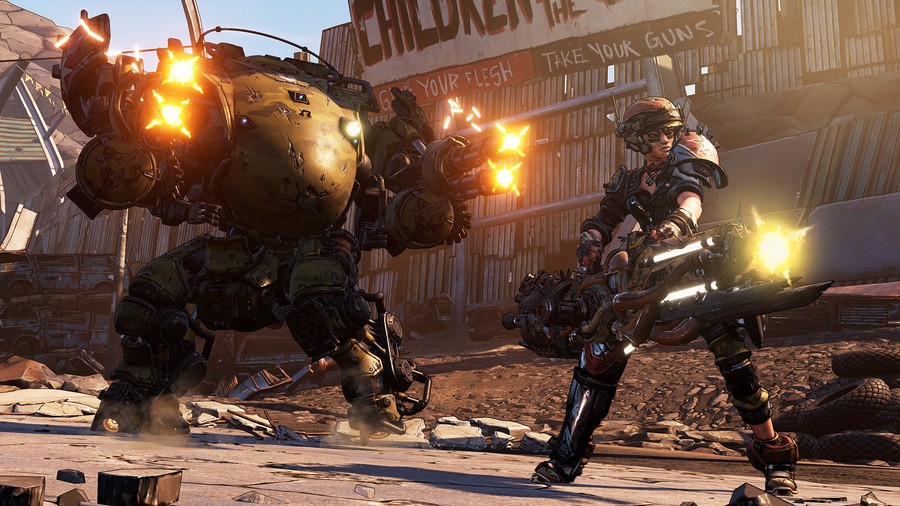 That Take-Two earning's call from yesterday has been home to a ton of juicy details. We've had some eye opening stats on how Grand Theft Auto V is doing, as well as confirmation that XCOM 2 developer Firaxis Games will announce "several exciting projects" this year. It also appears that Gearbox is working on a "new franchise", which is set to be "introduced" this year.
Take Two's president, Karl Slatoff, spoke about how the publisher will "introduce two releases from new franchises this year", and one of them will be from Gearbox, the developer behind the Borderlands series. Slatoff also mentions how these two titles are set to be launched in this upcoming fiscal year, along with "six new iterations of previously released titles".
"For fiscal 2022, we have 21 titles planned for release, including four immersive core releases for purchase, which include two releases from new franchises and two titles from existing franchises; one new independent title, OlliOlli World from Private Division, which will be available for purchase; 10 free-to-play mobile games, including six titles from new franchises and four from existing franchises; and six new iterations of previously released titles, which will all be available for purchase."
There were rumours surfacing previously that a new Borderlands project was in the works and being outsourced outside of Gearbox. The developer's CEO, Randy Pitchford, shut down those rumours, but did add the team is working on "some amazing stuff".
Since the release of Borderlands, the team has worked on little outside of that realm. Aliens: Colonial Marines, Duke Nukem Forever and the multiplayer focused Battleborn have all released since the first game, but failed to make a positive critical and fan reception. Battleborn recently had its servers shut down permanently, making the game completely unplayable. Whatever Gearbox is working on, we hope it has a better reception than other recent titles.
Are you excited for what Gearbox could be cooking up? Let us know in the comments below.
[source fool.com]