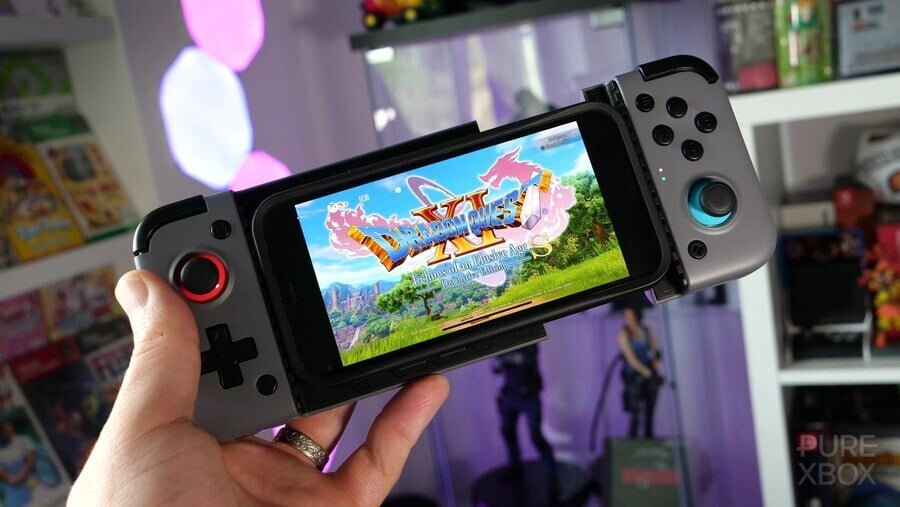 Cloud gaming is a huge part of Microsoft's strategy moving forward, and to that end, the company is keen on giving players access to their Game Pass sub on as many devices as possible – with smartphones being the obvious first choice. After all, your phone is always with you, so what better screen to use for gaming than the one that's in your pocket?
With this in mind, we've seen several devices appear which connect to your handset and offer proper, dedicated gaming controls – while touch support is welcome on Xbox Cloud Gaming, it's hardly ideal and is certainly no substitute for proper, physical buttons.
The Razr Kishi is one option which takes some beating, but is expensive, while the 8BitDo controller feels great but can be a little unwieldy due to the fact that the phone sits above the pad, making it top-heavy and perhaps just slightly awkward to use when you're on public transport. Thankfully, a company by the delightful name of GameSir has an option which tackles both of those issues – the X2 Bluetooth controller clamps to your phone for a steady, Nintendo Switch-style interface and doesn't cost the earth, retailing for around $60.
The design of the X2 is pleasant enough; it's really lightweight and has an expanding mechanism which means it can house a wide range of phones (we tested it with the dinky iPhone 12 Mini, but it works just as well with big-screen Android handsets). The phone is kept in place by rubber teeth on either side which provide enough grip for the handset to remain securely in place without damaging your beloved phone.
On the back, you'll find two rubberised sections which improve grip during use, and on the front there are two analogue sticks, a digital pad, four face buttons and four other buttons – used for things like 'Menu' and screenshot capture. On the top edge there are four digital shoulder buttons, while on the bottom there's the USB-C charging port and the power button.
The X2 is a bit smaller than the Switch, and using it was a pretty comfortable experience for us – but those of you with larger hands might find it too cramped. The analogue sticks are quite small but they're precise enough, while the face buttons also feel a little too tiny. They make a satisfying 'click' when pressed, however, and don't feel cheap. Disappointingly, the L2 and R2 shoulder triggers aren't analogue, so you do lose a little bit of control in games which rely on those (like racing titles, for example).
Getting the X2 up and running was a breeze on iOS. After setting the device to MFi mode (hold down the B and Power buttons when turning on) we were able to connect the X2 to our iPhone as an Xbox Wireless Controller, and all of the buttons were automatically mapped when we dropped into the Cloud Gaming site (unlike Android, there's no dedicated app for Xbox Cloud Gaming on iOS currently). As with any Bluetooth pad, latency is an issue; there's a USB-C version of the X2 which removes this problem, but it only works with Android phones because Apple phones don't support USB-C at the time of writing (this might change soon). The latency is manageable, and only those who are really sensitive to it will probably notice.
The X2 comes in a smart carry case which means it's easy to chuck in your rucksack before you leave the house, and the battery life is solid enough to get you through a day of gaming. In short, the X2 is a brilliant way to unlock your phone's potential as a cloud gaming platform, and while it's not perfect, we'd certainly recommend it if you feel the Kishi is out of your price range.
---
Thanks to GameSir for providing the X2 used in this review.