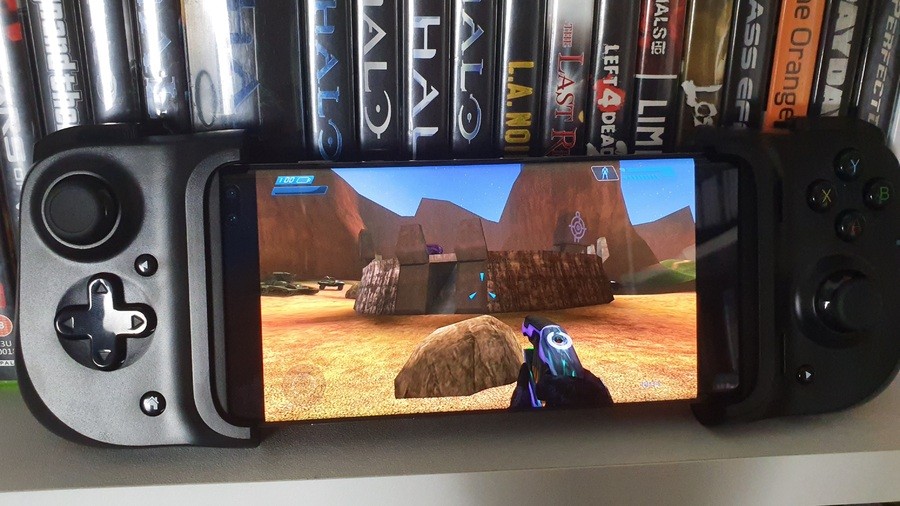 I've spent the last few days playing Halo without an Xbox in sight. Microsoft have taken Game Pass Ultimate, a service that was already rolling in value, and have unquestionably made it the greatest deal in gaming with Project xCloud. Not only do you get access to hundreds of titles to play across Xbox & PC, but you can now stream them directly to your phone without needing any extra hardware…and it works. It works almost impossibly well.
I put my Nintendo Switch running Ori and the Blind Forest side-by-side with the streamed equivalent on my phone, and the difference in latency is near imperceptible. You can hook up just about any Bluetooth controller (even a DualShock 4 if you're feeling rebellious) and the moment you press a button, it almost immediately carries through on screen as if you were playing on a native console. I've even been able to win multiplayer matches in Halo: The Master Chief Collection against players on actual Xbox consoles - it's hard to feel any disadvantage. With Project xCloud, Microsoft has built a streaming service that goes beyond merely being functional - this has the potential of becoming a serious next-gen alternative if you don't want to fork out for a Series X or PlayStation 5.
There's even an unexpected perk over playing on an actual Xbox. It seems the multiplayer is actually tethered to Microsoft's own servers so you don't need to worry about streaming affecting your multiplayer performance, so in theory you should actually experience less lag than usual.
The Project xCloud service officially launches on September 15th, but all Game Pass Ultimate subscribers can trial a selection of 35+ games right now through the Xbox Game Pass Beta app on Google Play. It's absolutely worth a try; especially as the first month of Game Pass Ultimate will only set you back £1.
Of course, a lot of this relies on your internet connection, and I initially made the mistake of connecting with the 2.4GHZ band of my router…it didn't go well. Game streaming really should use a 5GHZ connection which most modern routers provide – you may need to fiddle in your router settings to ensure you're sending out a 5GHZ signal. The service is still technically in Beta and is constantly being optimised, but Microsoft recommends a download speed of around 10Mbps – this could all change in the future but it does make the service quite challenging on a mobile connection, though it can still be remarkably playable.
If your network has the capacity to run Project xCloud comfortably then the results can be simply extraordinary. It's almost hard to tell that games like Streets of Rage 4 & Untitled Goose Game aren't running natively on your phone with how sharp their art styles appear on the small screen. However there are currently a few limitations that prevent some games from looking quite as sharp. Unlike competing services such as Google Stadia, Project xCloud is currently stuck at 720p. This will change over time, but when racing through Forza Horizon 4 at top speed, I did notice the bit-rate just couldn't quite hold a clean image. Big upgrades are reportedly coming next year with the server blades being upgraded from Xbox One S to Xbox Series X, but for now this is unfortunately the shortcoming of streaming through Game Pass.
On the flipside, this is an extension of Xbox Game Pass meaning you have instant access to a massive library of games. When Project xCloud officially releases in September, the 100+ library will offer more to play than Google Stadia's entire line-up and you won't have to pay extra for any of it. This isn't just any other streaming service; this is the Netflix of games. And if you're already a Game Pass Ultimate subscriber, it's essentially a free bonus.
It provides the Xbox platform with a "Switch-like" experience as your phone essentially becomes a portable Xbox One S. This means all the games you play on your native console will naturally transition over to your phone thanks to cloud saves. If you're already part of the Xbox ecosystem, it looks like you'll eventually even be able to use your console as a host to stream games that aren't available through Game Pass.
Using a traditional controller works well but I personally wanted something a little more subtle. Thankfully, manufacturers are designing accessories specifically with Project xCloud in mind; Razer Kishi, for instance essentially transforms your phone into a Nintendo Switch and it attaches to your USB Type-C port diminishing any potential Bluetooth latency – especially handy when streaming.
Long gone are the days of needing to pack up an entire console when leaving home. All you need is your phone, a controller, & a good internet connection. An app is reportedly even in development for Windows 10, so you'll soon be able to stream directly from your PC or laptop for a larger screen experience. There's clearly still some work to be done, but Project xCloud has nailed the foundation and it's only going to get better.
The future of Xbox is about far more than just the Series X. Microsoft is constructing multiple pillars for the next generation and they all tie back to the value of Game Pass. It doesn't really matter whether you use Project xCloud as an entry level passage to Xbox or an extension of the console ecosystem. The array of options is what's making the Xbox platform more flexible than ever – you no longer have to be left out if your friends are playing Sea of Thieves but you don't have an Xbox or a capable PC. Next year you'll be able to play Halo Infinite with friends on mobile, on PC, on Xbox One, and on Xbox Series X.
This is by far and away the most impressed I've been by a game streaming service. I can play Halo 3 in bed - my teenage self would have been incredibly jealous! Microsoft never made its foray into the handheld market, but there are genuinely moments where this feels like a native handheld experience. And unlike Nintendo Switch, you don't need to wait around for ports – you can play anything from Soul Calibur 6 to Ori and the Will of the Wisps instantly on your phone. I can't wait to see where this goes in the future.
Have you tried Project xCloud with Xbox Game Pass yet? Let us know your thoughts on it in the comments.