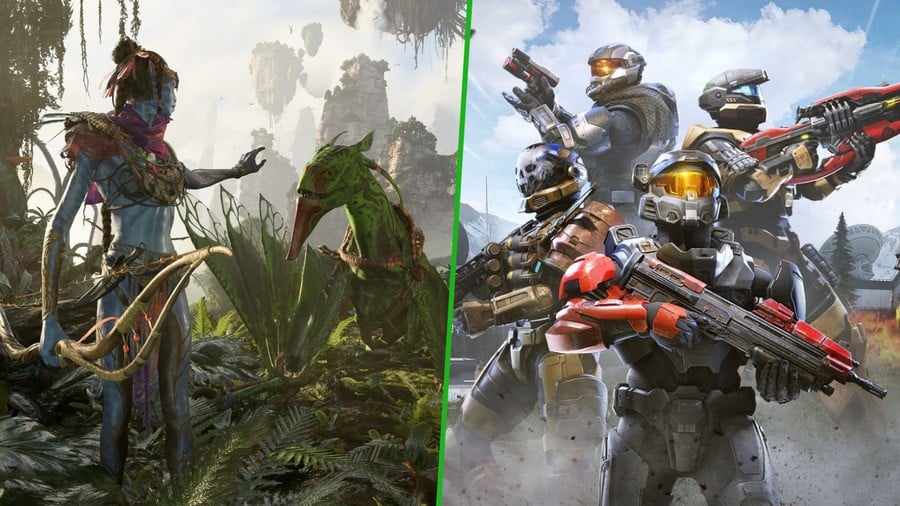 Well, that's a wrap on E3, and despite some bumps in the road, it came through with some substantial announcements - many of which we are insanely pumped for here at Pure Xbox. That 90 minute power punch that Xbox threw at us last week has grown our future backlogs considerably, with the majority of them being in Xbox Game Pass too!
But it wasn't only Xbox that come through with some great reveals. Both Square Enix and Ubisoft had a few aces up their sleeve that we can't wait to try out. It's been hard to narrow it down, but we've managed to highlight a few games that we're particularly excited to get our hands on.
Disclaimer: We're only going to be talking about games that were shown during E3. Sadly that means Elden Ring won't be on here as it was part of the Summer Game Fest Kick-Off (although otherwise it totally would be, let's be honest).
---
Halo Infinite
Let's get the big one out of the way - Halo Infinite looks fantastic. After last year's display, we were a little disheartened and worried whether 343 Industries could bounce back from the setback, but thankfully they did with force. While we didn't get much in terms of story this time around, we did get to see the game's multiplayer in full swing, and what a reveal it was. The graphics look incredible, the action looks slick, and new mechanics such as the grappling hook have been used to great effect.
If that wasn't enough, we were then treated to a further deep dive which cemented that Halo Infinite is going to be one of the biggest titles in the Xbox Series X|S's lifetimes, and we're excited to be along for the ride.
Marvel's Guardians of the Galaxy
Despite popular opinion, we actually quite like Marvel's Avengers here at Pure Xbox. From a campaign standpoint it's solid and is great fun with friends. So when Square Enix kicked off its presentation with Marvel's Guardians of the Galaxy, we were immediately on board. But in its extended gameplay session, it was shown to be much more than another superhero game. It in fact seems to be heavily inspired by games such as Mass Effect and the Telltale series, which has more than piqued our interest.
The banter between the characters is spot on, it's gorgeous, and the combat looks fluid and stylish. Even better is that it's actually set to arrive later this year. You can count us in for this one.
Forza Horizon 5
Let's be honest - we all knew Forza Horizon 5 was coming. There were far too many leaks and rumours floating around for there not be an ounce of truth, but even then, we weren't prepared for this reveal. We were instantly blown away by its stunning graphics and representation of Mexico which looks to be a sight to behold.
Throw in the robust multiplayer, which is introducing a bunch of arcade modes such as bowling and stunt parks, and we have what could be the best entry in the series thus far. It's also great to see the game hitting Xbox later this year, further increasing the catalogue of heavy hitters on the horizon (no pun intended).
Stalker 2
Until this year's E3, we knew very little about Stalker 2. Basically next to nothing outside of the CGI trailers previously shown, but wow, that gameplay reveal got us intrigued. From the photorealistic graphics, to the unique gameplay systems, this could be a huge hit on Xbox. It gave us Metro vibes - a series we also love - so it's something that calls to us.
There were so many little great moments in its gameplay, but one that stood out was throwing the bolts to check which areas are unsafe to walk through. It's a small feature, but a cool mechanic we can't wait to see play out when it launches next year.
Twelve Minutes
It's not all AAA games that have piqued our interest - there are a fair few indies out there on our radar and Twelve Minutes is one of them. Now we have a solid August release date, we're ready to give this a go - especially with the added bonus of it being in Xbox Game Pass on day one. It looks unlike anything we've ever played before and we can't wait to get our hands on it.
For those who don't know, the game takes place in a 12-minute time loop, where your wife is accused of murder and you're (initially) killed. As you play each loop, you'll learn more and uncover the mystery. It contains voice talent from established actors such as James McAvoy, Daisy Ridley, and Willem Dafoe. We're very interested in checking this one out.
Psychonauts 2
Double Fine's Psychonauts 2 feels like a game that perhaps isn't getting the level of hype we expected from the Xbox community right now, but everything we've seen of it so far suggests it's going to be a fantastic follow-up to the original Xbox hit, both in terms of gameplay and its absolutely stunning, highly colourful visuals.
We were delighted to get an August release date for the game at this year's E3 2021 Xbox and Bethesda Games Showcase, and of course, like many other games on this list, it'll be included with Xbox Game Pass on day one. It might not be getting too much attention just yet, but we have a feeling this one will surprise a few people.
Death's Door
Another indie that's flown onto our radar is Death's Door - an Xbox console exclusive arriving as early as next month. The game is a vibrant, yet somehow bleak adventure into a world of twisted inhabitants and beautiful visuals. You'll play as a crow who reaps the souls of the dead, but must track down a thief who has ventured into a world never before touched by death.
The trailer shows promise with fast-paced combat, stylistic visuals, and a world we can't wait to get lost in. The added bonus of it being an Xbox console exclusive is also exciting to us, joining the roster of must-play games in the coming months. We can't wait.
Starfield
We knew it was coming, but it didn't make the reveal of the game any less impactful. Starfield looks to be one of the freshest IPs coming out of Xbox - also now confirmed as an Xbox and PC exclusive. Bethesda has played it safe for a while now, so seeing the studio (quite literally) take to the skies with Starfield is very exciting to us.
It also helps that that the reveal trailer was bloomin' gorgeous. Exploring these planets and space is going to be a marvel, and the grounded approach on space exploration is something we can definitely get behind.
Atomic Heart
Atomic Heart has actually been on our radar for quite a while, but seeing it again in full force at E3 was a sight to behold. It was also an assault on our audio senses with its soundtrack which completely tonally clashed with what we were seeing. To put it bluntly - we loved it. Hearing it will also be coming to Xbox Game Pass on day one is music to our ears.
Explaining the game is a hard job, but the trailer (sort of) attempts to. It's basically Fallout meets BioShock, and if that combination sounds intriguing then Atomic Heart is most likely going to appeal to you as much as it does to us.
Microsoft Flight Simulator
We were able to get hands-on with Microsoft Flight Simulator when it launched for PC last year, and even despite all the hype that had preceded it, we were absolutely blown away by its incredible visuals and realistic details - a real technical marvel of a 'game'. The only downside? It asks a lot of even the top-tier gaming PCs.
So, the fact that we're going to be able to enjoy Microsoft Flight Simulator on Xbox Series X and Xbox Series S as soon as this July is incredibly exciting, and we can't wait for the rest of the Xbox community to experience it for the first time. And better yet, it'll be included with Xbox Game Pass at launch!
Replaced
Well, this one came out of nowhere and immediately grabbed our attention. Replaced is a side-scrolling 2.5 action-adventure platformer, but boy does it look gorgeous. The way it creates depth-of-field is immediately striking, and gives everything a pop-up book style aesthetic. Of course, this is far from child friendly, as the bone crunching action quickly takes centre stage and rips up some chaos.
It may not be arriving until next year, but the team can take as long as they need. Replaced was one of the most unique and eye-catching games during the whole of E3 2021, and we can't wait to learn more about it.
Back 4 Blood
This is already a game we know we're going to be pumping hundreds of hours into - easily - no questions asked. Despite all the marketing and now the excitement of it reaching Xbox Game Pass on day one, it's surprising how little this game is being talked about. If the title was Left 4 Dead 3, we can only assume it would capture more eyes, but that's basically what it is, with key talent from the original games working on the upcoming co-operative shooter.
The multiple demonstrations shown of the game over E3 did a fantastic job of increasing our hype and making us realise we're probably going to need a huge chunk of time off work to sink in the hours this game deserves. Left 4 Dead captured many evenings in our teenage years, and Back 4 Blood is looking like it could do the same in our adult lives. Uh-oh.
Avatar: Frontiers of Pandora
Is it 2009 all over again? Ubisoft closed out their show at E3 2021 this year with a first look at Avatar: Frontiers of Pandora, which is set to arrive on Xbox Series X and Xbox Series S in 2022. We've seen an Avatar title on Xbox before - Avatar: The Game on Xbox 360 - but it received a lukewarm reception from both fans and critics.
Over a decade later, and it's exciting to see Ubisoft taking another crack at the property. Avatar and its world of Pandora lends itself brilliantly to the world of gaming, and the brief first look at Avatar: Frontiers of Pandora suggests it's shaping up to be a pretty ambitious project that will right some of the wrongs of its Xbox 360 counterpart. Let's hope so!
What games intrigued you the most at E3? Let us know in the comments below.
[source youtube.com]