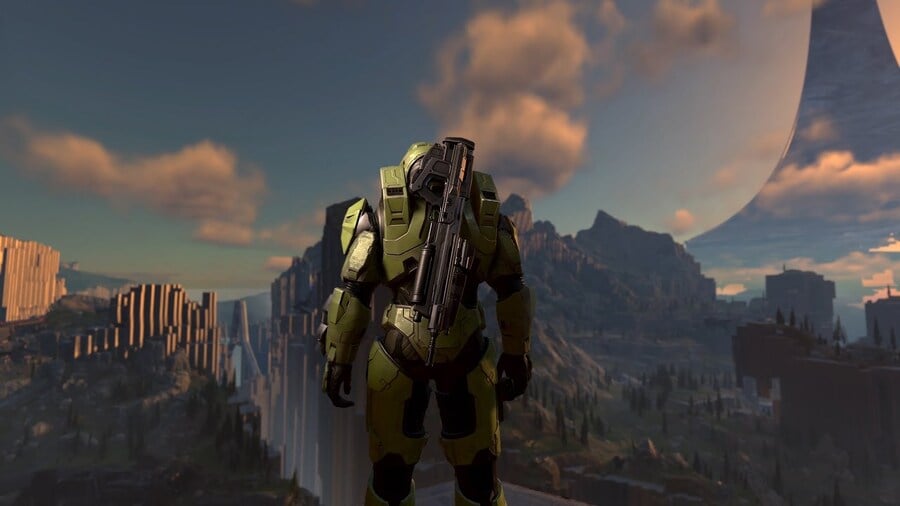 Things are really beginning to ramp up for Halo Infinite, as this week's update has provided some tasty morsels on the game's development. Outside of confirmed features such as ultra-wide screen support on PC and full cross-play, it seems we're not far off some new footage of the game, as "glorious plans" are in the works.
In the latest blog post from creative director Joseph Staten, he confirmed that the team is entering "the shutdown and polish phase of the project". With that being said, it seems that the promise of game industry event season being upon us means we are very close to seeing the game in action.
"Finally: a brief customer service announcement. While I hope you enjoyed this month's 1,000-word screenshots, we know that game videos are worth at least 10,000 words. And the great news is that Summer i.e., game industry event season, is just around the corner—and there are glorious plans afoot."
Not only that, but the game's live producer, Sam Hanshaw, also confirmed that the game has entered external playtesting, and they plan to bring that same experience to Halo Insiders as soon as possible.
"We've been conducting external flights and playtesting with a very small external group representing a variety of backgrounds. Getting to see folks outside the company experience the game for the first time is a thrill. The feedback we've been getting has been heartening in many areas, and impactful in others. Seeing a turnaround in opinion based on changes is truly gratifying. Rest assured, now that we've gotten our feet wet over the last couple of months, we're progressing towards expanding playtesting opportunities as soon as we can, so keep those Halo Insider profiles updated!"
After the huge delay afforded to the game last year, things are really beginning to heat up, and it sounds like it won't be long until we see the game in action again. If we were to wager a bet, we'd expect a full re-reveal at Xbox's E3 showcase. While last year's gameplay may have failed to make a huge impression on many fans, the team at 343 Industries is sounding confident about what they have in store, and we can't wait for the unveiling.
Excited to see more of Halo Infinite? Let us know in the comments below.
[source halowaypoint.com]