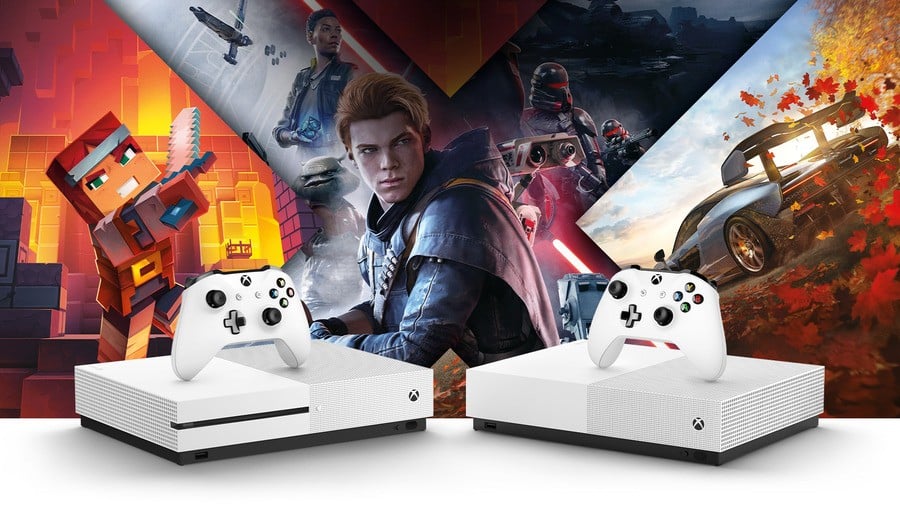 Is it worth buying an Xbox One S or Xbox One X in 2021? The two consoles have since been succeeded by the new Xbox Series S and Xbox Series X which released this past November, but millions of people have yet to make the jump, and the Xbox One remains Microsoft's most popular current line of consoles right now. So, is it still enjoyable to play an Xbox One S or Xbox One X in 2021? Are there still games being made for it, how does it cope with modern titles, and are you throwing your money away by paying for an Xbox One now, rather than waiting to buy a next-gen system? We've put together this little Xbox One buying guide to try and help you make an informed decision in 2021.
Xbox One: What's The General Experience Like In 2021?
All things considered, the Xbox One is still a fantastic way to experience (nearly) everything Microsoft has to offer right now, whether you're still hanging onto the original model from 2013, or benefiting from the more powerful Xbox One X. Microsoft has made a point of giving just as much attention to its older systems as it does to the new Xbox Series X and Xbox Series S for now, so you're not missing out on too much by sticking with the Xbox One.
For example, the user interface remains almost exactly the same as that of the new consoles, you still get access to the vast library of backwards compatible games from the original Xbox and Xbox 360 generations, Xbox Game Pass is still filled with hundreds of titles you can play, and there are still very few exclusive games on the Xbox Series X and Xbox Series S at present, so you can access 99% of the modern Xbox library by sticking with the Xbox One.
You will notice differences if you get a chance to compare the Xbox One S with the new Xbox Series S, for example, primarily in terms of improved visuals, how much faster games load, how much better they perform (with far fewer instances of pop-in and frame rate drops), and many other quality-of-life improvements. The original Xbox One and Xbox One S definitely tend to struggle at times with more modern games, with the likes of Star Wars Jedi: Fallen Order suffering instances of judder and freezing on occasion.
But, if you're in a situation where you can get an Xbox One for a very cheap price, or someone is willing to gift one to you because they've bought one of the new systems, you can rest assured that the Xbox One is still a very competent console in 2021, and Microsoft will continue to support it for a long time to come, with the likes of Halo Infinite still set to arrive on the Xbox One platform at the end of the year. It'll be a long time before the Xbox One is finished!
Xbox One: Which Model Is Best To Pick Up In 2021?
For the uninitiated, there are three different models of Xbox One that have released throughout its lifespan, in the form of original Xbox One, the revamped (but primarily very similar) Xbox One S, and the more powerful Xbox One X. Of these three systems, only the Xbox One S has yet to be officially discontinued.
Let's start with that original Xbox One from 2013. The only reason you're going to want to pick up one of these in 2021 is if someone offers it to you or you find one for very cheap, as while it's still a very competent console, it's significantly more bulky than the Xbox One S, and it also requires a separate power brick to operate, which is an annoyance.
The Xbox One S was the replacement for the original Xbox One, and it's probably your best bet if you're going to buy an Xbox One in 2021 (but not if you're buying it from new). If you can get it for a low price, it's still a very good console, and it's small and sleek enough that it's not going to dominate your TV cabinet like the original did.
The Xbox One X was a more powerful alternative to the Xbox One S, being able to provide higher quality visuals and better performance in some cases, but it's no longer available to buy from new, and even if buying used, you're probably not going to find it any cheaper than the Xbox Series S, which is definitely a better alternative for the most part.
Ultimately, all of these three models are still very good in 2021, but you need to keep in mind that the brand-new Xbox Series S retails for just £249.99 / $299.99, is future-proof, and is better than any of the Xbox One systems for 1080p gaming, so you'd be much better off buying one of those if the option is there. Just keep in mind you don't get a disc drive with the Xbox Series S (that luxury has been reserved for the ultra-powerful Xbox Series X).
So, Is It Worth Buying An Xbox One In 2021?
As you can probably gather, this isn't the easiest question to answer. All three Xbox One consoles still function well in 2021, and you're not missing out on much exclusive content at present by sticking with them, but if you're planning to actually buy one, it all comes down to the price you're offered at the end of the day.
If you don't want to fork out £449 / $499 for the new and all-powerful Xbox Series X, the £249.99 / $299.99 Xbox Series S should definitely still be on your radar, especially as the Xbox One S still retails at that price despite being a significantly less powerful system. Buying an Xbox One S from new in 2021 is definitely not worth it in our opinion.
But, rest assured that if any Xbox One is an option for a reasonable price in 2021, you're still going to get a lot of enjoyment out of it for a long time to come. Microsoft has showed no signs of planning to drop support for the Xbox One as of yet, and there are loads of major games coming to the system this year. It's a great time to get on board!
The Verdict:
Xbox One (2013): Still works well in 2021, but don't spend too much on it at all.
Xbox One S: Again, works well in 2021, but don't buy it from new.
Xbox One X: Very good (and 4K compatible) if you can get it at a reasonable price.
Xbox Series S: Next-gen, fantastic price from new, better than all three Xbox One models - but no disc drive, small storage space, and primarily focused on 1080p gaming (rather than 4K) at up to 120 frames per-second.
Xbox Series X: The next-gen behemoth! This is the best you can get, but it'll cost you.

What do you think? It is worth buying an Xbox One in 2021? Give us your thoughts down below.