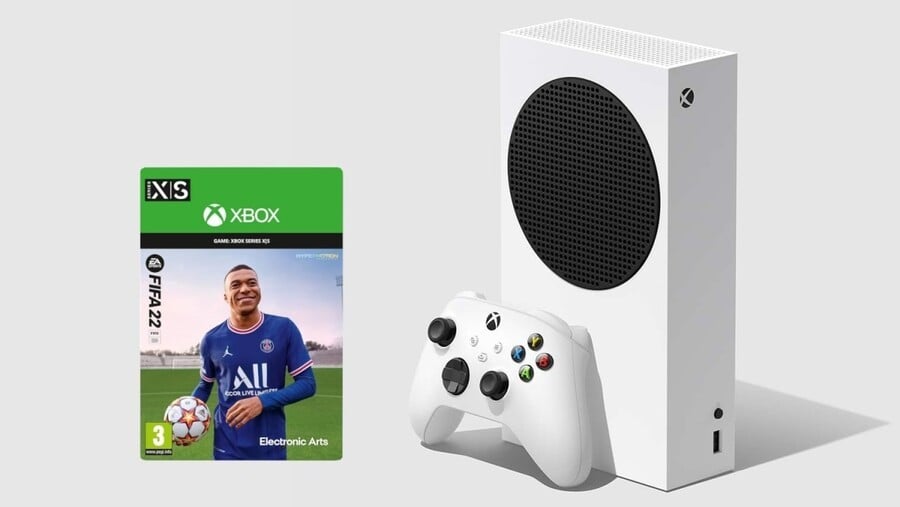 We've got a great little deal to share if you're in the market for an Xbox Series S (thanks to Pure Xbox user Widey85 for the tip), as from today, a variety of UK retailers are giving away a free copy of FIFA 22 with an Xbox Series S.
The deal is seemingly to celebrate the launch of EA's latest footie game, and it's said to include a download code, so we're presuming you'll be able to potentially re-sell it for around £50 if you want to, bringing the cost of the Series S down to a theoretical £200. That said, if you're a football fanatic, it's probably worth keeping!
You can get this deal from a wide range of retailers including Amazon, Argos, GAME, Smyths and Microsoft itself, and according to what we've seen so far, we're expecting the offer to last from today until October 11th. We've also seen reports that a similar deal is live in certain parts of Europe right now, so keep a close eye out.
Don't forget that GAME is additionally providing a trade-in offer from today in which you can get an Xbox Series S with FIFA 22 from £85 depending on the console you want to trade-in. It might be worth getting rid of that old Xbox One!
"Buy Xbox Series S digital console and get FIFA 22 Standard Edition Xbox Series X/S game digital download code free."
Are you going to take advantage of this offer to buy an Xbox Series S? Let us know in the comments below.