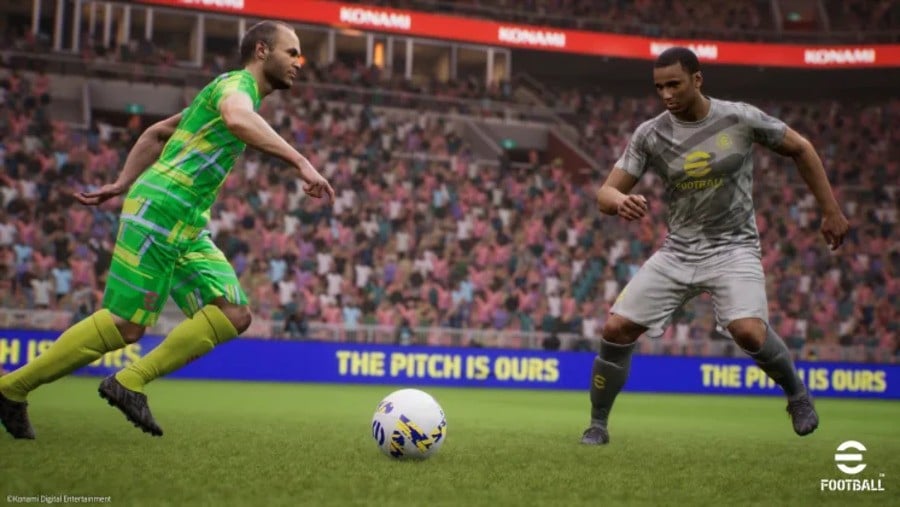 Konami made a big splash this morning by announcing that the PES brand is being replaced with something called 'eFootball', a brand-new free-to-play experience which is set to arrive on Xbox this autumn.
There have been mixed reactions to the announcement, with some praising the move and others sharing concerns about it, particularly in regards to the lack of single-player offline modes on the game's roadmap.
We still don't have all the answers on this yet (Konami's PR team has told us that more details on game modes will be revealed in August), but series producer Seitaro Kimura explained in an interview with IGN that various controls and gameplay aspects are being switched up for eFootball in order to tailor the experience for a PvP focus:
"In order to understand how the best players in the world play the sport, we brought in [footballers Andrés Iniesta and Gerard Piqué] as gameplay advisors and asked for their advice. It was a big decision to change the controls that people are used to, but it made the battle for the ball more realistic and more reflective of the user's intentions."

"We're making it so that people can enjoy playing against other players, as this provides a greater thrill than what AI can provide. We believe that the 1v1 offense and defense realized in this way is the most important innovation of eFootball."
It'll be fascinating to see how the free-to-play shift works for eFootball over the coming months and years. Utilising a new engine (Unreal Engine 4), going entirely digital-only and free-to-play, and shaking up the old focus and feature set of the PES series dramatically, it's shaping up to be a very different experience when it arrives this autumn.
What are your thoughts on Kimura's comments about eFootball? Let us know down below.
[source ign.com]