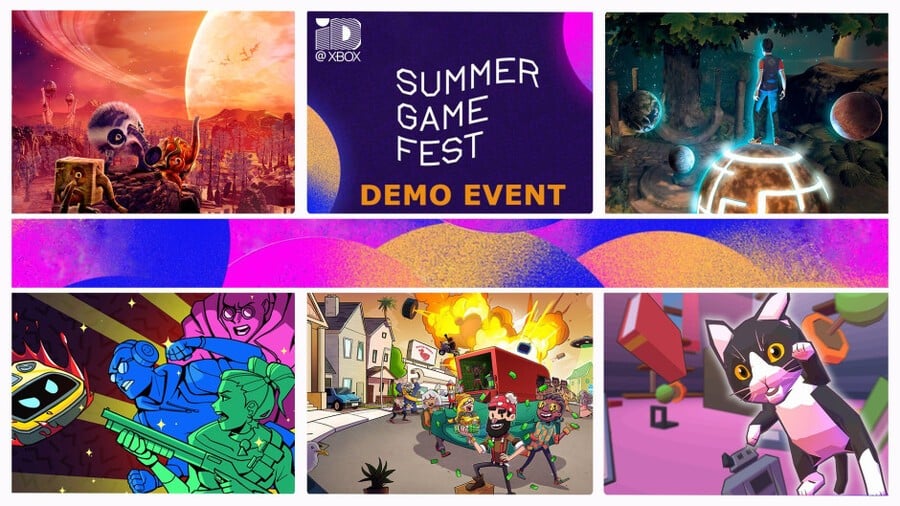 Microsoft is hosting a large, free Summer Game Fest Demo Event on Xbox consoles this week, with free demos of over 40 games available to download over the next few days. The event runs from today until Monday, July 21.
You can access the following demos via the Xbox Dashboard on your console, and more will reportedly continue to become available throughout the week. You'll find the list of included titles down below:
Keep in mind that most of these demos are an early look at gameplay and may not represent the full game at their release, including the availability in each country as developers continue to update and refine their title ahead of launch.
A Juggler's Tale: "Abby is an artiste held captive at a circus: She spends her days entertaining the audience and her nights in a cage, longing for freedom."
Antipole DX: "Generate gravity fields with the Antipole to defeat vicious robots, solve puzzles and run on ceilings as you jump and shoot through the game while powering up the device to it's true potential."
Arietta of Spirits: "Arietta of Spirits is a story-driven action-adventure game, following Arietta on her journey to unveil the mysteries of the Spirit Realm. Immerse yourself in a story filled with emotion and surprising turns."
Black Book: "Black Book" is a dark RPG Adventure, based on Slavic myths, in which you play as a young sorceress. Fight evil forces in card-based battles and explore the world, where humans live alongside mythological creatures."
Button City: "Button City is a colorful low poly narrative adventure game about friendship and community. Enter a pastel diorama world inspired by 90's nostalgia and filled with cute characters to befriend."
Cardaclysm: Shards of the Four: "Face the Four Horsemen of the Apocalypse in epic card battles! Cardaclysm: Shards of the Four is a procedurally generated collectible card game mixed with action RPG elements."
Catlateral Damage: Remeowstered: "The premier first-person destructive house cat simulator is back with a vengeance! Play as a mischievous cat, swat your human's possessions onto the floor, scratch up curtains, smash precious keepsakes, and show your owner who's boss."
Clone Drone in the Danger Zone: "Clone Drone in the Danger Zone is a robot voxel slice-em-up where any part of your body can be sliced off. With your mind downloaded into a robot gladiator, you must survive the sinister trials of the arena."
Clouzy!: "Explore the world alongside your flying pet, collect delicious fruits, and cook tasty meals to look after your cloud daycare in this cute and wholesome farming game."
ConnecTank: "ConnecTank is an action game for 1 to 4 players where you step inside a big honking tank. Link conveyor belts together, craft ammo, and put out fires as you battle rival tanks to help Finneas Fat Cat deliver packages."
Death Trash: "A post-apocalyptic action role-playing game where cosmic horrors crave humanity, but meet punks with shotguns. Explore a handcrafted story campaign and open world. Craft flesh items, talk to monsters, journey, customize, shoot, hack and slash, use stealth."
Deathtrap Dungeon: The Golden Room: "Deathtrap Dungeon: The Golden Room is an interactive movie based on Ian Livingstone's multi-million selling classic gamebook. Become the adventurer on their quest to the Golden Room."
Dreamers: "Dreamers will lead the players on an emotional journey into a colorful adventure, where will be also adversities, moments of doubts, and powerful emotions."
Echo Generation: "Echo Generation is a turn-based adventure game about a gang of kids investigating supernatural occurrences while battling monsters and mechs to save their small town."
Faraday Protocol: "Faraday Protocol is a first-person, story-driven puzzle game that will test your curiosity and keen perception. You are Raug Zeekon: interstellar archeologist from planet Cunor. You have been sent by your company to investigate the source of a mysterious signal coming from an unexplored star system."
Fractal Space: "Live the memorable experience of a first-person, story-driven adventure and puzzle game! Use your Jetpack and Taser-Gun to think your way through zero-gravity puzzles of this mysterious space station."
Get Packed: Fully Loaded: "Get Packed: Fully Loaded is the expanded edition of the couch co-op removals game that's full of calamity and physics-based carnage for 1-4 players."
Justice Sucks: Recharged: "JUSTICE SUCKS: RECHARGED is an action comedy sandbox game about a killer robot vacuum cleaner on a quest for vengeance through a Neo-90s TV universe."
Lake: "It's 1986 - Meredith Weiss takes a break from her career in the big city to deliver mail in her hometown. How will she experience two weeks in beautiful Providence Oaks, with its iconic lake and quirky community? And what will she do next? It's up to you."
Lawn Mowing Simulator: "Experience the beauty and detail of mowing the Great British countryside in Lawn Mowing Simulator, the only simulator that allows you to ride an authentic and expansive roster of real-world licensed lawn mowers from prestigious manufacturers."
Mayhem Brawler: "Mayhem Brawler is an urban fantasy themed beat 'em up that brings back the 90s arcade vibe to present day. With comic book style art and kick-ass soundtracks, it offers a unique experience that you can tackle solo or as co-op with friends while defining the next step in the story with your choices."
Paint the Town Red: "Paint the Town Red is a chaotic first person melee game set in different locations and time periods and featuring a massive Rogue-Lite adventure. The voxel-based enemies can be destroyed completely dynamically using almost anything that isn't nailed down."
Princess Farmer: "Princess Farmer is a match3 puzzle and visual novel game with easy to learn action mechanics and different difficulty levels that let you breeze through the game or challenge you to earn more rewards."
Sable: "Embark on a unique and unforgettable journey and guide Sable through her Gliding; a rite of passage that will take her across vast deserts and mesmerizing landscapes, capped by the remains of spaceships and ancient wonders."
Sail Forth: "Heave! Fake the bull rope and stay the mizzen royal! Command a fleet of custom-rigged sailing ships on a procedurally crafted adventure over an unending ocean whose ancient depths have swallowed the key to a planet's mysterious past."
Strings Theory: "Go on an adventure on a subatomic level! Test your wits in a freaky, tricky logic game with an abstract concept and colorful heroes. Perfect in single player, with 3-player co-op coming soon!"
Tanknarok: "TANKNAROK is a high speed, frenzied blastathon where 2-4 tanks go head to head in a wide range of arenas; filled to the brim with huge guns, powerful explosions and dangerous hazards! Wholesome roughhousing with either your friends at home, or friendly strangers on the internet!"
The Eternal Cylinder: "In The Eternal Cylinder, players control a herd of adorable creatures called Trebhums and must explore a strange alien world filled with exotic lifeforms and surreal environments."
The Riftbreaker: "The Riftbreaker: Prologue allows you to experience the events taking place before the story campaign of the main game. Explore an entirely new world. Gather resources. Build up a base. Defend yourself from thousands of alien creatures."
The Strange Story Of Brian Fisher: Chapter 2: "After escaping from the old cabin, and falling down without consciousness, Brian Fisher travelled in time and space. Can you help him discover why he was sent there and how he can back to the present time?"
The Tale of Bistun: "The Tale of Bistun is a story-driven action-adventure game inspired by the famous Persian tragic romance "Khosrow and Shirin". A stone carver with no memory of who he is must traverse blighted lands to discover his identity and the source of a pleading, strangely familiar whisper."
Wreck Out: "Get ready to Wreck Out as you spin & fling your way to brick-busting glory. Smash & grab power ups, unleash your character's devastating ultimate ability, and compete head-to-head in knockout arena play."
Which of these will you be downloading over the next few days? Let us know down below.