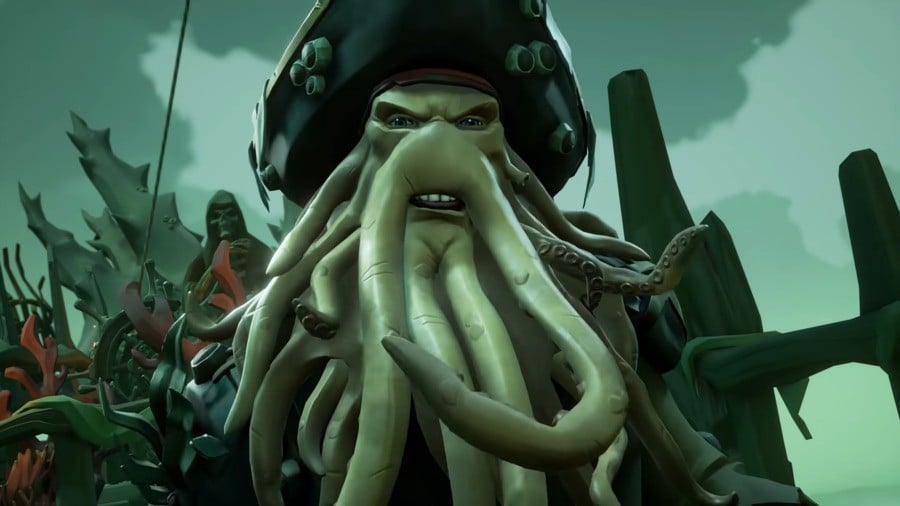 One of the surprises of the Xbox and Bethesda Games Showcase last week was Rare's reveal of Sea of Thieves: A Pirate's Life. It's a new five-part Tall Tales story expansion releasing today, and the first collaboration for the sailing sandbox - calling on Disney's Pirates of the Caribbean series and Captain Jack Sparrow (played by Jared Butler).
Of course, the game's community has had mixed reactions to this announcement. While everyone loves a crossover, they seem to pop up in just about every live service game nowadays (Fortnite is filled with them). It's got fans wondering if Captain Jack Sparrow's arrival has now opened the floodgates.
During a recent interview with Eurogamer, Sea of Thieves executive producer Joe Neate was jokingly asked about the possibility of a Fast and Furious collab in the future, in relation to a question about crossovers. Ultimately, anything else that happens in the future would have to "make sense". Here it is in his words:
"With Pirates of the Caribbean, it's a very, very natural thing, it just works... so, if we were to ever do anything like this again, we would have to approach it in exactly the same way. You've just got to ask 'Does this fit?' and, to your Fast and Furious analogy, I think it would be a struggle, as creative as we are... But if we were to ever do anything again, it's about that, it's about how does it move our world forward? How does it benefit our world, how does it treat our world... it's just got to make sense".
Sea of Thieves lead designer Shelley Preston also chimed in, noting how there's no need for players to worry about this new crossover expansion affecting the existing game:
"To anybody who may have that concern over how the crossover is going to affect the Sea of Thieves they know and love, I genuinely think once players get their hands on this and play it, they'll really see the care and attention that's gone into the integrity of the design and authenticity to both worlds, and will feel that it's truly a [strong] addition to Sea of Thieves. It's moved the world on in meaningful ways for all players."
So, there you go - Rare's not going to go crazy with the collabs - only ones that "make sense" and the collab it has added to the game has been handled with extreme care.
Will you be trying out this free update for Sea of Thieves? How would you feel about more crossovers? Tell us below.
[source eurogamer.net]