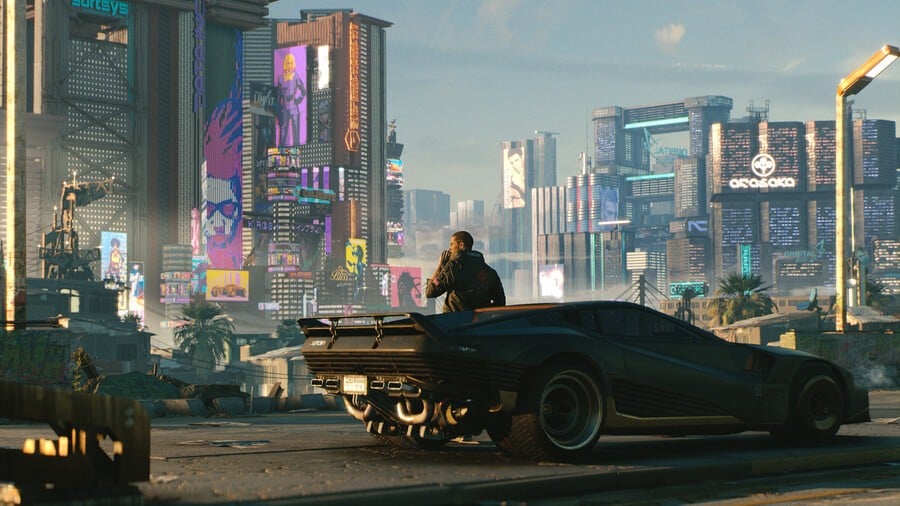 Despite boasting a financial success last year, the first quarter of CD Projekt's current financial year has seen a huge drop off in net profits following the fiasco of Cyberpunk 2077.
According to a slide shown during the company's earning presentation, net profits have dropped 65% in Q1 2021 compared to the same time period of 2020 - the loss has seen $32.5 million PLN ($8.84 million USD). Vice president and chief financial officer of CD Projekt, Piotr Nielubowicz, explained in a statement that the reason for this loss is due to the continuing work on Cyberpunk 2077.
"Lower than usual net profitability is mainly due to continuing depreciation of Cyberpunk 2077 development expenditures, work on updating the game, and R&D activities related to future projects. These expenses are recognized as current-period costs and are not subject to capitalization."
Adam Kiciński, president and joint CEO of the CD Projekt, also weighed in during the same post, stating that the company intends to come through with the promise made to fans in January. At the time it was said fixes would be arriving for both last-gen and current-gen systems, with a native next-gen version arriving sometime in the second half of 2021.
Kiciński also added that the company is expanding its studios, to help assist in the development of two AAA titles running parallel to one another in the future.
"We intend to live up to what we promised our gamers in January. While we already see major improvements, a large part of the team continues to work on making sure that Cyberpunk provides even better entertainment to gamers.

At the same time, we're rolling out initial changes related to the internal transformation of our studio. This is a long-term project, but we regard it as essential if we are to efficiently develop two large AAA projects in parallel."
It's been a while since we've heard anything about Cyberpunk 2077, with the last patch arriving back in April. The earnings presentation provided a slightly updated roadmap for the game, which now shows support for free DLCs and updates will roll over into 2022. The same presentation also shows the crash rate for the game has dropped significantly since January, but failed to provide any information on what basis the data was made on.
Cyberpunk 2077 recently saw a new game director take the reigns of the project. Gabriel Amatangelo, who was the design director on Dragon Age: Inquisition DLC, and the lead designer on various expansions for Star Wars: The Old Republic, will lead the team with future DLCs, expansions, and updates. There's no word on when players can expect to see free content, but as we're approaching the second half of 2021, we may hear something soon.
Are you sticking with Cyberpunk 2077 after all this time? Let us know in the comments below.
[source cdprojekt.com, via cdprojekt.com]