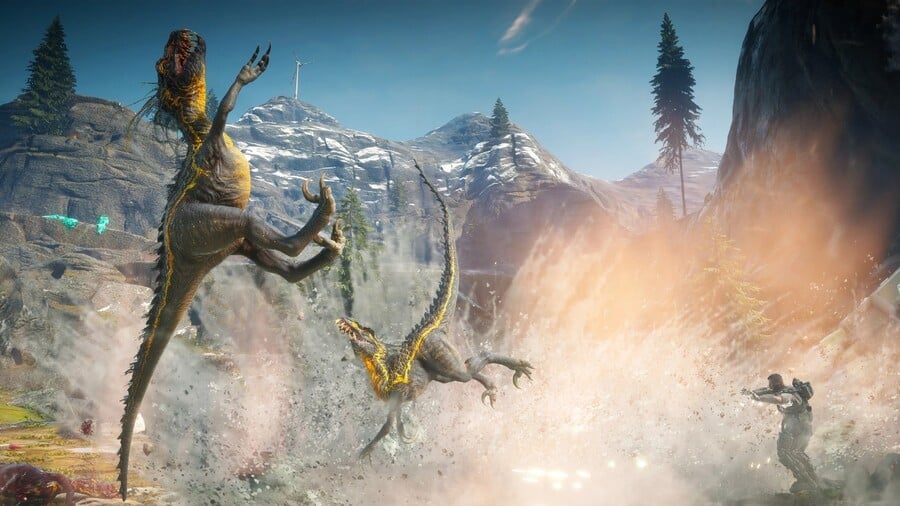 Welcome to the weekend! We've recently received a couple of big new Game Pass releases that you can check out over the next few days in Second Extinction and Destroy All Humans, another couple of games are available as part of Xbox Free Play Days, and there are multiple sales ongoing right now, including a Star Wars sale!
Here's what we're jumping into over the weekend:
Fraser Gilbert, News Editor
We were able to go hands-on with Second Extinction here at Pure Xbox last weekend ahead of its release on Xbox Game Pass, and I'm excited to check it out once again this weekend. It's going to be interesting to see what the online matchmaking is like, as the game requires cooperation, so you need to be matched up with the right players.
I'm also planning to take part in that Titanfall 2 campaign this weekend where the fanbase is planning to group together online on May 1st. I'm way more partial to the first game in terms of online play, but Titanfall is Titanfall, and any excuse to bring the fanbase back together gets me interested. Plus, it runs so well at 120fps on Xbox Series X.
Apart from that, I'm just going to be plodding my way through Road to the Show and Diamond Dynasty in MLB The Show 21. I've been playing it pretty much on a daily basis since its release into Xbox Game Pass, and it's just so nice to have the series on Xbox after all these years. I'm still getting used to the luxury!
Have a good weekend, folks!
Daniel Hollis, Staff Writer
After making plans last weekend to play NieR Replicant, those fell through and I ended up finally finish Hollow Knight! So this weekend, I will finally be trying out NieR and I'm super excited. I absolutely loved NieR:Automata, so I'm desperate to check this out.
I'm also going to be diving into the Xbox Series X version of The Sinking City. It's been on my radar for a while, but the next-gen version finally swayed me. I've had a soft spot for Frogwares previous games, and the enhancements look really nice for this version, so hopefully I'll have some thoughts to share next week.
Finally, I'll be finishing my preparation for Resident Evil Village with a quick replay of Resident Evil 3 Remake. While the game is short, I absolutely loved it when I checked it out last year. It was a rollercoaster thrill ride from start to finish, featuring some pretty intense set pieces. I'm so ready for Village and I'm refusing to check out the demo so go in blind. Not long to go!
Have a great weekend, everyone!
PJ O'Reilly, Freelance Contributor
Hello. I'm gonna have limited Xbox gaming time this weekend – no, it's not because I'm playing a certain PS5 exclusive – but what time I do manage to squeeze in I'll be spending in the wide, wide world of sports. Basketball, baseball, ice hockey...Game Pass has got me absolutely covered and I'm having a blast trying out these offerings that I'd usually miss out on for fear of wasting cash on something I don't end up enjoying.
I'm still completely terrible at MLB The Show 21, although our sister site Push Square has got some excellent tutorials that have been helping me out, but my basketball and hockey have been coming on leaps and bounds and I'm now thoroughly addicted to both NHL 21 and NBA 2K21's excellent Ultimate Team modes.
I've also been building up to the imminent release of Resident Evil Village by diving back into a handful of previous entries in the series over the past few weeks. I've replayed 7 (still terrifying), the superb remake of 2 (also still terrifying) and am just finishing up with the 2020 version of 3 (still a bit pants). Roll on the 7th of May when we can finally get stuck into all these vampires and werewolves!
Have a good time whatever you're up to or playing this weekend and stay safe out there.
What Xbox games are you playing this weekend? Let us know in the comments below.