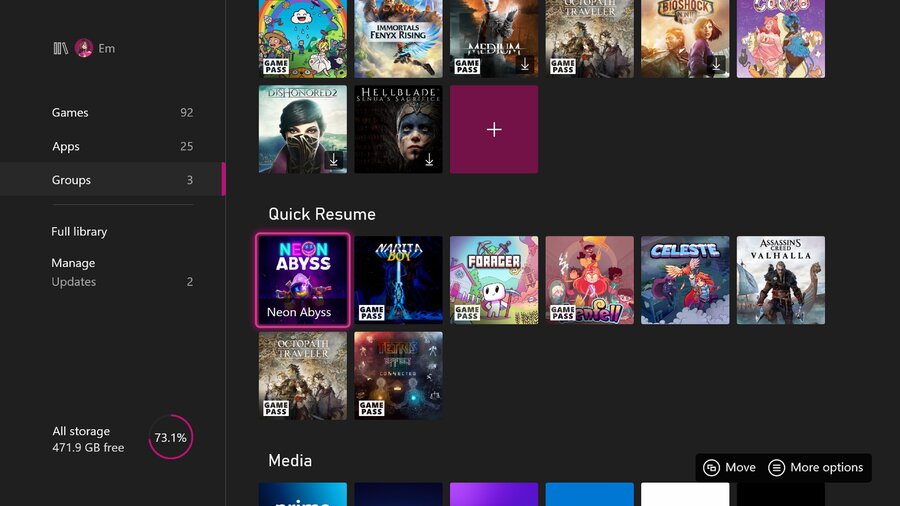 Yesterday we got word that a new Quick Resume feature was being rolled out to Xbox Preview Program members on Xbox Series X and Xbox Series S, which will enable users to see which games they currently have running via the system. To follow on, we now have an image of what that will look like, giving everyone outside of the program a taste before its full rollout to all Xbox Series users in the near future.
As shown by Xbox engineering lead, Eden Marie, the My Games & Apps portion of the dashboard will now have a Quick Resume section in the Groups section to show what's running. Not only that, but through the Xbox Guide, the My Games & Apps section will now have a Quick Resume tab alongside the pins and games sections.
You can even quickly remove a game from Quick Resume if you want to. This is something the community has been requesting ever since the consoles' launch this past November, so it's great to see it finally introduced.
We're not sure when this new feature will have a mass rollout, but hopefully it breezes through the preview builds fairly quickly. We've lost count of the amount of times we've booted up a game to find it still running through Quick Resume, so we're thankful this is finally on the way.
Are you happy to see a Quick Resume feature added? Let us know in the comments below.
[source twitter.com]