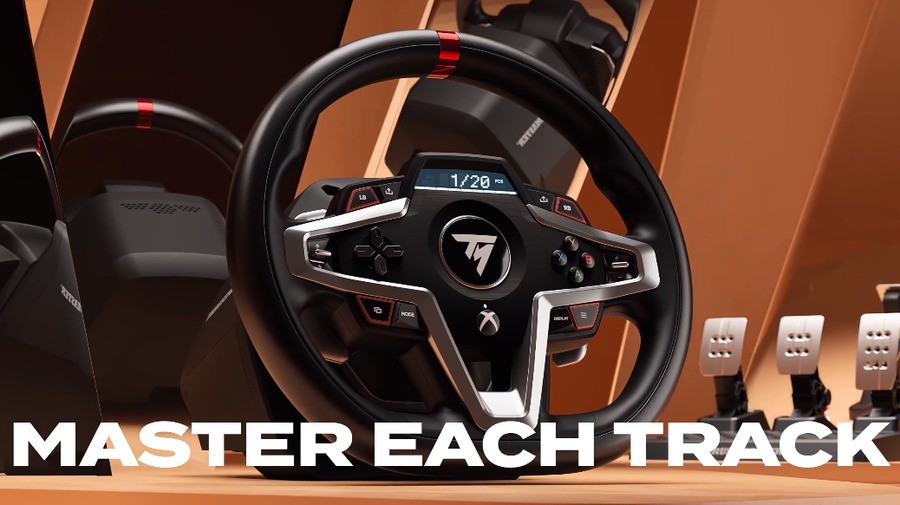 You may have heard about Thrustmaster's new T248 next-generation hybrid drive wheel for PlayStation 4 and PlayStation 5, and now it's also been announced as coming to Xbox One, Xbox Series X and Xbox Series S.
More information is set to be revealed on December 2nd, but you can get a look at it below:
The PlayStation version of the wheel currently retails for £300 / $400, and includes the following key features:
Premium design with leather wrapping on the outer-facing portion of the wheel
Versatile wheel shape, well-suited to all racing game styles
Up to 25 action buttons including 2 dual-position encoders
Interactive race dashboard with a selection of more than 20 different displays on the wheel's screen
Dynamic Force Feedback: on-the-fly Force Feedback level adjustment (3 preset modes included) via the screen, compatible with all games
Magnetic paddle shifters (patented H.E.A.R.T technology) for instant responsiveness, and a super-clear gear shifting feel
Magnetic pedal set (patented H.E.A.R.T technology) for incredible 12-bit resolution precision that won't decrease over time
4 distinct pressure modes on the central pedal for optimized braking according to the configuration and gaming setup (desk, cockpit, stand, etc.)
Next-generation HYBRID DRIVE system delivering 70% more power than other Thrustmaster hybrid racing wheels (T150 series)
---
We'll keep an eye on this for more details over the next few weeks, so stay tuned!
"T248 features a new optimized HYBRID DRIVE system with a mixed belt and gear mechanism for powerful, realistic and versatile Force Feedback. T248 has been designed for all gamers looking for performance and immersion — including those keen to free themselves from their keyboard, mouse or gamepad, and users who want to take their racing to the next level after having started out with a wheel aimed at beginners."
Interested in picking up this new Thrustmaster wheel for Xbox? Let us know down below.