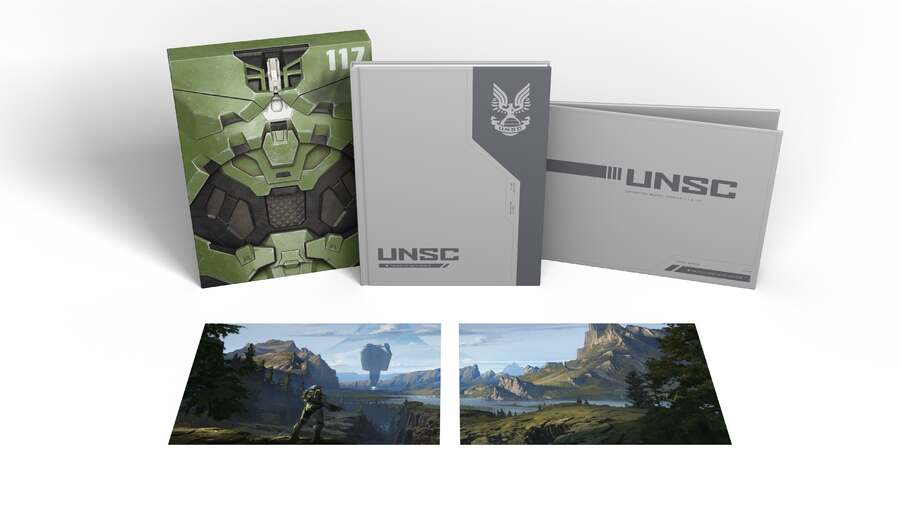 We've been keeping a very close eye on "The Art of Halo Infinite" ever since it was revealed back in early 2020, but now Halo Infinite's official artbook is also getting a special Deluxe Edition, available to pre-order ahead of launch.
The Deluxe Edition includes an exclusive new cover and a chest-plate slipcase recreation of Master Chief's Mjolnir armor, along with a "UNSC portfolio with beautiful landscape artwork" printed on museum quality paper.
Meanwhile, the book itself features "the heroes you've grown to love – the Master Chief, the brave soldiers of the UNSC, as well as the weapons, vehicles, villains and vistas – and of course, the eponymous and magnificent environments of Halo itself", all said to be presented in "unparalleled detail" across 200 pages.
You're looking at paying over double the price for the Deluxe Edition compared to the standard book, but if you're a big Halo collector, you're certainly going to want to add it to your collection. The release date is set for December 14, 2021.
(Available from a variety of retailers. UK pre-orders have seemingly yet to begin for the Deluxe Edition).
Will you be picking up "The Art of Halo Infinite" later this year? Let us know down in the comments below.