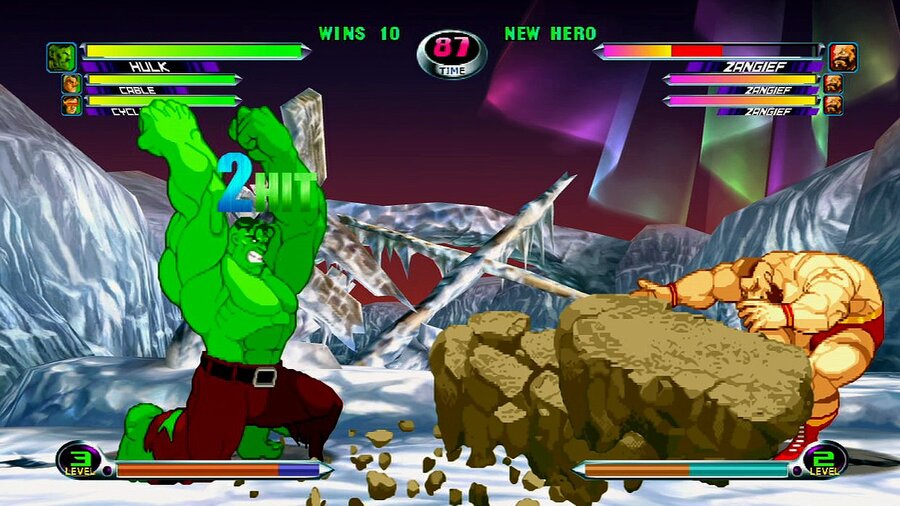 The beloved fighting game Marvel Vs. Capcom 2 is in the news this week, as the studio head of Digital Eclipse, which worked (as Backbone Entertainment) on the game's remastered port for Xbox 360 in 2009, has suggested he's trying to bring it back.
In an interview with ShackNews, Mike Mika explained that the studio has "begun discussions" to "see how far we can go" on a revival of MVC2, but admitted that the final decision ultimately rests with Disney and Capcom:
"I know that both Disney and Capcom have seen [the demand] loud and clear, and we've begun some discussions on that right now, and we're trying to see how far we can go.

But ultimately at the end of the day, it's really not up to us. Parts of that are owned by two large entities that have a lot of reasons why they would want or not want to do some of that, that we are not privy to, and so all we can really do is just make the best case possible, and try to make it easy for them and see if they're interested."
The original version of Marvel Vs. Capcom 2 was released back in 2000, and while the Xbox 360 port did arrive nine years later (with a bunch of new features), it was delisted from the Xbox store in late 2013 and never returned.
Plenty of fighting fans would love to see this one get a touch-up for modern consoles, but others have suggested it's probably better left in the past. What are your thoughts? Let us know down in the comments below.
[source youtube.com]