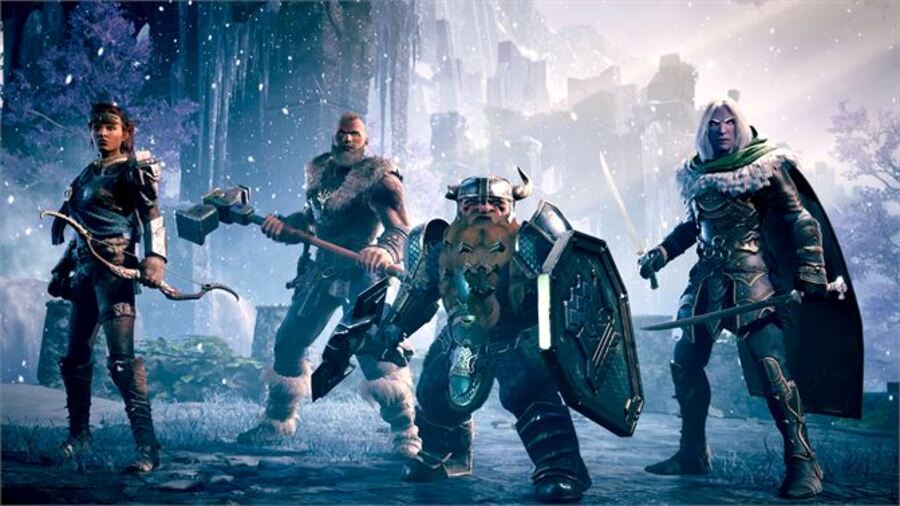 Get ready, it's almost time for another Xbox Game Pass day one launch! This time we're looking at Dungeons & Dragons: Dark Alliance, which drops on the service as soon as tomorrow, June 22. Exciting stuff!
Ahead of its release, we thought we'd put together a quick guide so you know what to expect when Dark Alliance arrives, as well as some details on game length, feature roadmaps and the exact time it goes live on Xbox Game Pass.
What Is Dungeons & Dragons: Dark Alliance?
Dungeons & Dragons: Dark Alliance is an explosive action RPG filled with real-time combat and dynamic co-op, in which you'll choose your hero and join up to three friends to battle legendary monsters, earn powerful gear, and unlock new abilities to take on even bigger challenges - while exploring the frigid world of Icewind Dale.
"Choose one of four heroes from best-selling fantasy author R.A. Salvatore – Drizzt Do'Urden, Catti-brie, Wulfgar, and Bruenor Battlehammer. Each has their own unique playstyle and customizable abilities. Complete missions and vanquish bosses to unlock new skills and earn powerful gear, allowing players to take on even bigger challenges."

"Join up to three other friends and fight together in a dynamic co-op experience with explosive real-time combat. Unleash devastating combos as you topple unstoppable monsters too powerful to go it alone."
Is Dark Alliance Optimised For Xbox Series X & S?
Yes! Dark Alliance is optimised for Xbox Series X and Xbox Series S at launch, and will reportedly run at 4K, 60 frames per-second on both systems. The game will also be available to play on Xbox One as well.
What Is The Gameplay Structure Like In Dark Alliance?
Dark Alliance is played in third-person, and allows you to group up with up to three other players online, although you can choose to tackle it solo as well if you want to. As highlighted in an interview with Wccftech, missions can take around 20 minutes to upwards of 40 minutes, and it's all dependent on the "challenge rating, what gear you have equipped, how many special moves you've unlocked, and how many people are in your party."
"We opted for a system that allows you to unlock every move and every feat by the time you reach max level (20). Our philosophy is that we let you progressively unlock your full arsenal as you learn to use it.

Choosing what loadout you want to use on specific missions and learning how to use all your tools with maximum effectiveness is where you, the player, need to get creative and oh yeah—'git gud.'"
Can You Play Dark Alliance With Local Co-Op As Well?
Sadly there's no local co-op in Dungeons & Dragons: Dark Alliance at launch, although it will be added into the game in the first batch of post-launch updates which are expected to arrive later this summer. This will bring two-player local split-screen to the game, in addition to the four-player online co-op available from the day of release.
How Long Is Dungeons & Dragons: Dark Alliance?
The development team has advised that Dungeons & Dragons: Dark Alliance should take you about 15-18 hours to complete - and that's every mission in the game while playing co-operatively. If you want to fully max out your character, you're looking at adding at least another 10-15+ hours on top of that figure as well.
Courtesy of an interview with Wccftech, here's a bit of detail about the endgame:
"One aspect of building the ultimate companion is to get the best gear, and the best gear requires you to play on the hardest levels of difficulty. Mastering the combat system, teaming up with friends, and finding the best sets for specific challenges as you tackle the game at the highest difficulty can keep you engaged for a long, long time.
And when your main is all geared up and has become the ultimate badass, there are three other companions with completely different fighting styles for you to explore and upgrade as well."
Is There A Roadmap Of New Features For 2021?
Yes! As previously mentioned, the team is planning to add local two-player co-op to Dark Alliance in the first batch of post-launch updates later this summer, complete with various new levels.
The second selection of free DLC will arrive this Fall, adding new levels and difficulty rankings, and the first expansion (titled 'Echoes of the Blood War') will also land this Fall, introducing a new playable character, new levels and more.
When Does Dark Alliance Come Out On Xbox Game Pass?
Dungeons & Dragons: Dark Alliance officially launches as part of Xbox Game Pass for Xbox Series X, Xbox Series S, Xbox One, PC and Xbox Cloud Gaming on Tuesday, June 22, and according to the Xbox Game Pass countdown timer, it will be available to play from 1AM ET / 6AM BST on that date.
"I am thrilled to announce that Dark Alliance will be available on Xbox One, Xbox Series X|S, Windows 10 PC, and phones and tablets via Xbox Cloud Gaming (Beta) with Xbox Game Pass on Day One, June 22! The game will also support PC and console cross play at launch!"
How Do I Pre-Load Dark Alliance On Xbox Game Pass?
You can pre-load Dungeons & Dragons: Dark Alliance by heading to the Xbox Game Pass app on your console (or the Xbox app on PC), searching for the game, and then selecting to "pre-install". It clocks in at just over 30GB.
Looking forward to trying out Dark Alliance on Xbox Game Pass? Let us know in the comments below.
[source wccftech.com]