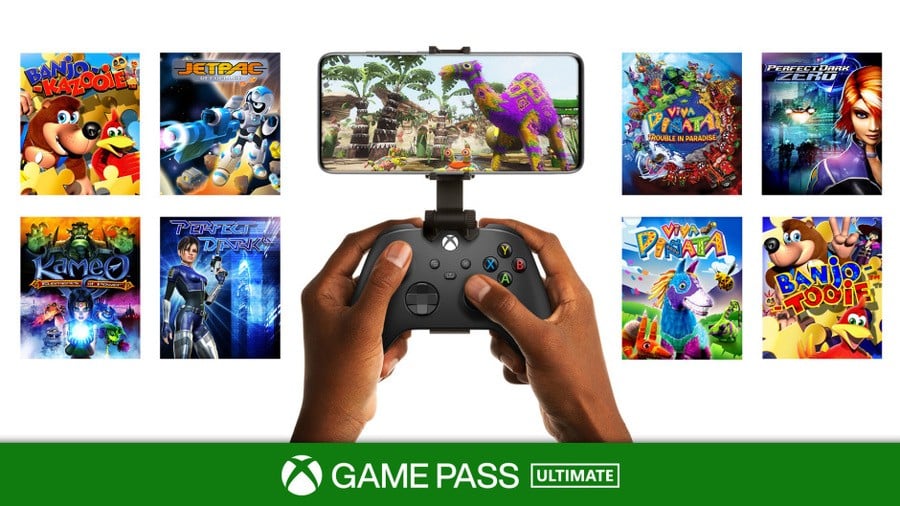 It's time for another round of Pick One! This week, to celebrate a bunch of classic Rare games (and others!) being added to the cloud for the first time, we're taking a look back at some of these beloved titles.
Which is your favourite? Remember, you can only pick one!
Let's take a look at what we're working with:
Banjo-Kazooie
Since 1998 you've been waiting for this moment. Your chance again to stop Gruntilda the mightily ugly witch from turning Banjo's cute sister, Tooty, into a monster. This is Banjo-Kazooie, the first adventure. Now lovingly enhanced and packed full of its original platforming goodness. All the worlds, all the Jiggies and even the legendary Stop N Swop gameplay if you own Banjo-Kazooie: Nuts and Bolts. Marvelous.
Banjo-Tooie
The bear and bird's second outing available in full. Loads of rollicking fun to be had here and with the legendary Stop 'N' Swop feature reinstated. The best use of a backpack in a game ever!
Jetpac Refuelled
Open up a vast array of levels, engage in battle over Xbox Live, post to the Leaderboards and play for new Achievements. The original 1983 classic is also included. Provides at least 500% of your recommended daily intake of laser-based alien extinction.

Kameo
"A mystical action-adventure game available on Xbox 360, where the ability to morph into unique and incredible warriors allows Kameo to search out and battle ever-present evil. Continuing its legacy of creating dynamic puzzles, immersive combat and enormous environments, Rare fuses multiple genres..."
Perfect Dark
Perfect Dark: Rare's classic sci-fi tale of firefights and first contact. First released in 2000, it comes to Xbox LIVE Arcade with all its established qualities bolstered by modernised visuals, extra framerate fluidity and the opportunity for global multiplayer shootouts. The continuing story of Agent Joanna Dark, following her early years as portrayed in Xbox 360 launch title Perfect Dark Zero.
Perfect Dark Zero
Her name's Dark, Jo Dark. And this is the story of how England's female super agent became who she is, from humble beginnings as gun-for-hire to premier league spy. When a straightforward corporate snatch mission leads to a global conspiracy, Joanna Dark and her father get sucked into a world conflict invisible to the public setting Jo on her path to becoming a Perfect Agent.
Viva Pinata
Attract and tame your favourite Piñatas. There are more than 60 species that roam wild on Piñata Island.Personalise everything from the grass at your feet to the hat on your Piñata's head.Welcome to Piñata Island, enjoy your stay!
Viva Pinata: Trouble in Paradise
Welcome back to Piñata Island where Prof. Pester's latest scheme has lead to disaster.Visit the scorching desert or icy wastes to trap new species. Train them, dress them, then send them to a party! We've new Piñatas, new activities, new features and new secrets, so come visit and find out why people never want to leave.
Let us know which of these classic Rare games is your favourite below.