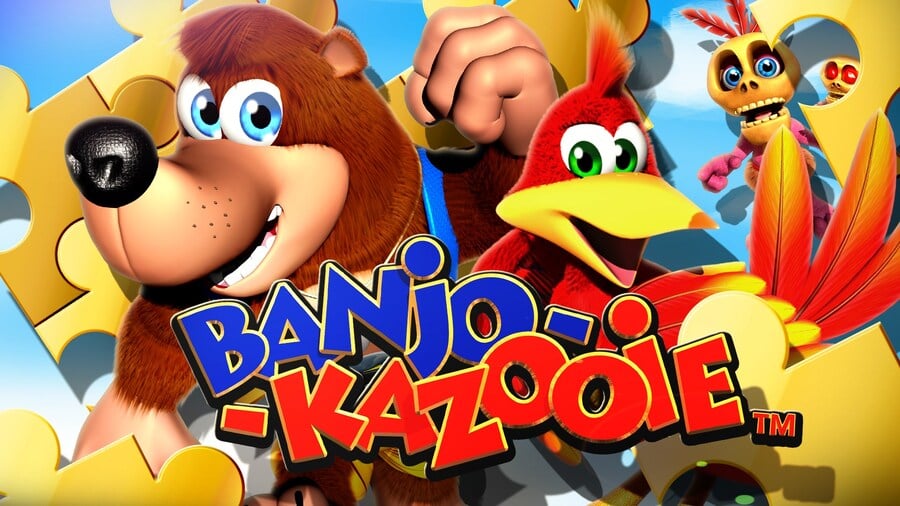 As I replay Banjo-Tooie for the umpteenth time (the best in the series), I'm still sucked in by its vibrant personality and pitch perfect platforming. The bird and bear never fail to put a smile on my face, despite releasing back in 2000. Even the controversial Banjo-Kazooie: Nuts & Bolts holds a special place in my heart. Despite its flaws, it still manages to retain the charm and personality of the originals, which is really where the heart of the series lies. So here I am, pleading with Microsoft again for them to revive the series and finally deliver on Banjo-Threeie.
Okay, so Banjo-Threeie isn't actually a thing. It was a reference at the end of Banjo-Tooie which the community just ran with as the naming is perfect. But ultimately it was never real, never has been and never will... well, let's never say never. You see, if the last console generation has proven anything, it's that the platforming genre is still going strong and people want to see the resurgence continue. It seems like every week an iconic platforming icon is returning, which truly makes now the perfect time for Banjo-Threeie (or whatever they wish to call it).
Just in the past week we've had the announcement that Crash Bandicoot 4: It's About Time will be getting a delicious next-gen patch, and Ratchet & Clank: Rift Apart will be making its way to the PlayStation 5 this June. People are clearly still clambering for the classic platforming days, and yet Banjo & Kazooie remain dormant. Back in 2019, the duo made a shocking appearance on the Nintendo Switch as a new Super Smash Bros. Ultimate fighter, and was met with a thunderous applause. Seriously, check any YouTube video out to see the reactions - it's crazy. The love is there, the genre is at an all time high - now is the time.
While I would love to go to Xbox boss Phil Spencer's house and start a Banjo-Threeie petition - it's not entirely down to him. Previously, Spencer has commented on how he wants to see more games with a "broad appeal" hit the Xbox, he's also stated he allows the Xbox Game Studios to have creative freedom on what they want to work on. Many of Banjo-Kazooie's creators have now in fact left Rare and set up shop at Playtonic Games, who have created two fantastic platformers with the new Yooka-Laylee series. Unfortunately, the studio pointed out last year that it wasn't working on a new Banjo game, clarifying that it didn't want fans to get their hopes up.
Double Fine was speculated to be working on the game previously, but responded to speculation that it would be obtaining the IP to create a new adventure, but company boss Tim Schafer has said it's not in their interest. Psychonauts 2 is a hotly anticipated game for Xbox, and the original is considered a cult-hit, so you can only imagine the reception for a new Banjo-Kazooie game - especially in the right hands.
One of the duos' creators, Steve Mayles, said late last year that their inclusion in Super Smash Bros. Ultimate "could well be the game that saved Banjo-Kazooie", and he could be right. On the other end of the spectrum we have the series' original composer Grant Kirkhope, who "doubt[s] we'll ever see a new" Banjo-Kazooie game. I'm more in line with Mayles views. With the constant remasters, remakes and now fully fledged sequels of classic platforming icons, it seems like a no brainer.
We've also seen multiple other Rare IPs come back to light. Killer Instinct returned back in 2013 alongside the Xbox One launch, and while it was lost amongst other fighters, Microsoft is keen for it to return. We also got a fantastic reveal at The Game Awards last year, when it was announced that The Initiative would be working on a Perfect Dark reboot. Even Battletoads got revived with a new entry last year. There's clearly life in many of Rare's properties that Microsoft sees potential in, allowing other developers to test their might with the IPs. Coupled with the platforming genre beaming in the gaming industry, I can't imagine it's not on their minds to revive Banjo-Kazooie.
Microsoft is sitting on a gold mine with Banjo-Kazooie, and I think they know it. Five years ago, making a new entry could have been a gamble, now I think it's just a matter of time. It's the perfect opportunity to strike while the iron is hot. There's so many avenues to take and fantastic developers that could work on bringing the IP back to life. As the PlayStation 5 gears up for the launch of a new Ratchet & Clank, undoubtedly beginning a new era for the franchise, Microsoft needs to fight back. Despite Ratchet & Clank's arsenal of devastating weapons, I think our bird and bear stand a chance. I mean, I've seen them single handily tackle Final Fantasy VII's Sephiroth in Super Smash Bros. Ultimate. What else can they do?
Let's find out, Microsoft.
Do you want to see the duo return to Xbox? Let us know in the comments below.