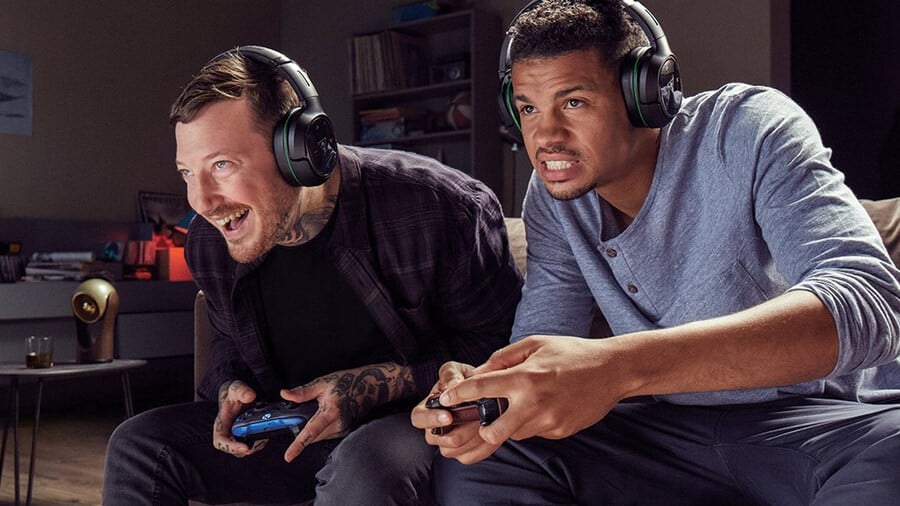 You might have heard about Xbox Game Sharing on Xbox One, Xbox Series X and Xbox Series S before, but is it really as good as it sounds, and can you really share all of your Xbox games with someone else? For the most part, yes!
Ultimately, Microsoft suggests you can use this Xbox Game Sharing feature to share your entire Xbox digital library of games with one friend or family member. So, how does it work? Let's take a look at what you'll need to do:
---
Step 1: Sign Into Your Xbox Account On Their Console
The first step is to give your Xbox login details to your friend or family member (so make sure they're 100% trusted, as they will be able to do anything with your account, including make purchases and access personal details!), and get them to add your account and then sign into it on their Xbox One, Xbox Series X or Xbox Series S console.
Step 2: Designate Their Console As Your 'Home' Xbox
While they're still signed into your account, you'll then need to ask your friend or family member to designate their console as your 'Home' Xbox, which is what will allow them to get access to your games.
- Press the Xbox button to open the guide.
- Select Profile & system > Settings > General > Personalization, and then select My home Xbox.
- Select Make this my home Xbox to designate the console as your home Xbox.
Step 3: Repeat The Process If You Want Their Games Library As Well
If you want access to your friend or family member's games library, you'll again just need to follow the same process. Obtain their login details, sign into their account on your console, and designate it as their 'Home' Xbox.
---
This might sound like it's too good to be true, but it really works! There are a few key things to remember though, as we've highlighted below. As for why Xbox Game Sharing works like it does? Here's what Microsoft says about it:
"Your digital game licenses have two access points: your home Xbox, and your gamertag. When you change your home Xbox, all console licenses for digital content will move to your new home Xbox, and the licenses will no longer be available on your previous one.
In other words, when you switch your home Xbox, access to your content comes with you to your new home Xbox, and anyone signed in can enjoy it. Your gamertag access means that you can download and play your digital games on any Xbox you sign in to.
Key Things To Remember About Xbox Game Sharing
You should only use this feature with a family member or a very close friend you trust
You can change your 'Home' Xbox a max of five times per-year.
You will need to be connected to Xbox Live to access your digital games this way, otherwise you won't see them
This feature only works for digital games, not disc-based titles

Can I Get Banned For Using Xbox Game Sharing?

As far as we know, Xbox Game Sharing isn't something that's against the rules. Microsoft advertises that you can "share your games with your friend", and elsewhere on the official Xbox website, it notes that "Xbox Live Gold subscribers can extend their Gold subscription benefits to friends and family."
"If you want to share your games with your friend, sign in to their Xbox with your account and make that console your home Xbox. You can then remove your account from their Xbox. If your friend wants to share games with you, just do the reverse."
We can't guarantee anything, of course, so use Xbox Game Sharing at your own risk, but we haven't seen any reports to suggest Microsoft is against the idea of Game Sharing, or has issued any bans because of it.
Do you use Xbox Game Sharing with a friend or family member? Let us know down below.