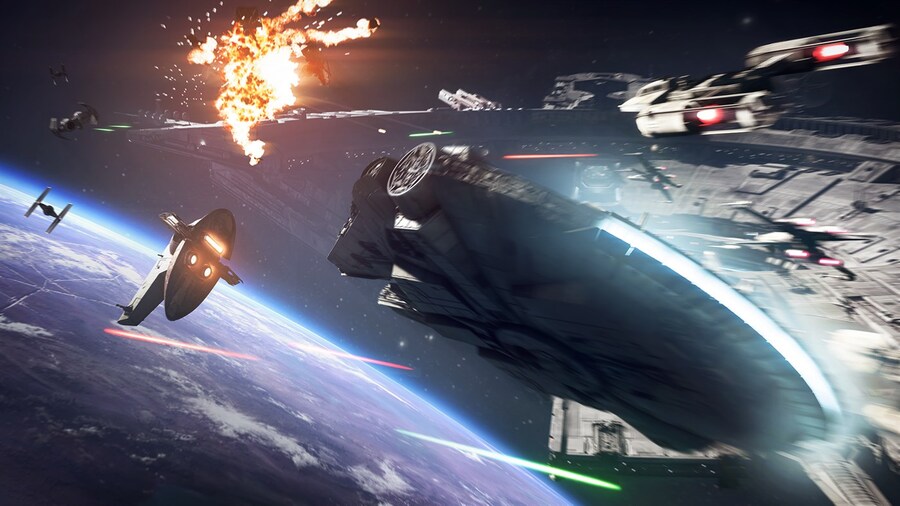 Alongside pre-existing Star Wars titles such as Battlefront and Jedi: Fallen Order, EA will also be investing in creating "new experiences" in the future.
During the company's recent Q3 Earnings Call, the topic of Star Wars was mentioned, specifically asking what EA has planned for the future of the IP. While news of upcoming titles was unsurprisingly sealed, the company confirmed it will be investing in both existing and new IPs going forward.
"We have generated a number of great franchises, Star Wars: Knights of the Old Republic, Galaxy of Heroes, Battlefront, Jedi: Fallen Order and most recently, Squadrons. That represents over $3 billion life-to-date net bookings and 52 million games sold. And Galaxy of Heroes is a $1 billion franchise. As we've established the very strong part of that franchise, you should expect that we will continue to invest in those as well as some new experiences across platforms for the future."
The question was also raised about EA's use of the Star Wars license now that it's not exclusive, and how other studios developing their own projects could hinder EA's catalogue. However, after a staggering profit of $3 billion from the IP, it seems they have no intention in stopping and are determined to "deliver great games for the future".
"You should expect us to continue to invest in our Star Wars relationship. It's been very profitable, to this point, over $3 billion in net bookings, and we're excited by what we'll be able to do in the future. But you shouldn't read this as necessarily us building the less titles."
The resurgence of Lucasfilm Games and the announcement of Ubisoft working on an open-world Star Wars game has been a huge focus in the gaming world this year. It's already been said that EA will be working on multiple Star Wars projects, but it's great to know it will be a mixture of existing and new titles. With EA continuing to support the franchise, it seems Star Wars will be under the spotlight for some time to come.
Are you happy to see EA still produce Star Wars related games? Let us know in the comments below.
[source fool.com]