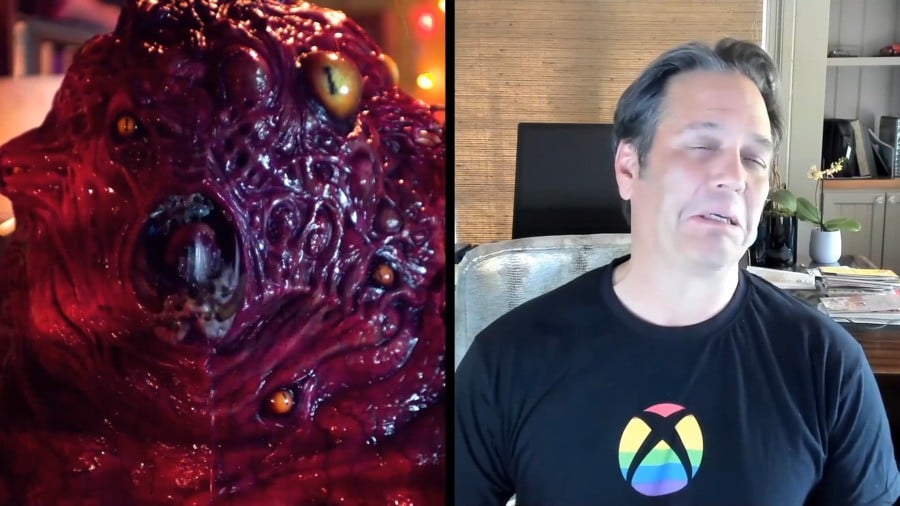 It's time for some new Xbox Game Pass games! Reverse horror game Carrion is now available on both Xbox One and PC following its release earlier today, while Golf With Your Friends has finally made its way to Xbox Game Pass for PC after launching for Xbox One back in May.
And in case you're wondering where that meme worthy Phil Spencer thumbnail comes from, the Xbox boss personally introduced Carrion in a bizarre announcement at this month's Devolver Direct! (any excuse to use that image again)
You can download these games from the Microsoft Store below:
CARRION is a reverse horror game in which you assume the role of an amorphous creature of unknown origin. Stalk and consume those that imprisoned you to spread fear and panic throughout the facility. Grow and evolve as you tear down this prison and acquire more and more devastating abilities on the path to retribution.
Why have friends if not to play Golf... With Your Friends! Nothing is out of bounds as you take on courses filled with fast paced, exciting, simultaneous mini golf for up to 12 players!
Furthermore, if you want to purchase Golf With Your Friends permanently, Xbox Game Pass subscribers can get 20% off the PC and Xbox One versions of the game at the Microsoft Store. Enjoy!
Will you be downloading Carrion or Golf With Your Friends later today? Let us know in the comments.