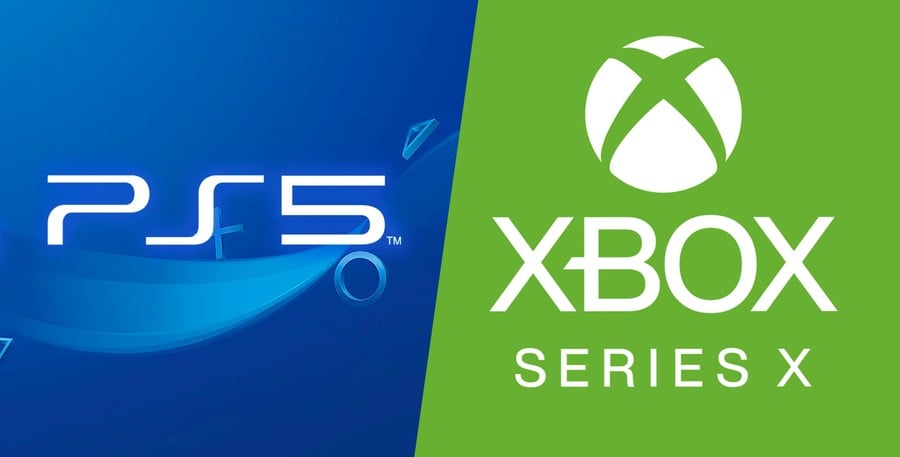 Alright, here we go -- the comparison breakdown between Xbox Series X and PlayStation 5. Below, you can see a table (thanks Push Square!) indicating the differences between both consoles, with the better specifications highlighted in bold. Let's take a look:
Xbox Series X & PS5 Technical Specifications Comparison
Tech Specs
Xbox Series X
PlayStation 5
CPU
8x Cores @ 3.8 GHz (3.6 GHz w/ SMT) Custom Zen 2 CPU
8x Zen 2 Cores at 3.5GHz (variable frequency)
GPU
12 TFLOPS, 52 CUs @ 1.825 GHz
10.28 TFLOPs, 36 CUs at 2.23GHz (variable frequency)
GPU Architecture
Custom RDNA 2
Custom RDNA 2

Die Size
360.45 mm²
--
Process
7nm Enhanced
--
Memory
16 GB GDDR6 w/ 320b bus
16GB GDDR6/256-bit
Memory Bandwidth
10GB @ 560 GB/s, 6GB @ 336 GB/s
448GB/s
Internal Storage
1 TB Custom NVME SSD
Custom 825GB SSD
I/O Throughput
2.4 GB/s (Raw), 4.8 GB/s (Compressed, with custom hardware decompression block)
5.5GB/s (Raw), Typical 8-9GB/s (Compressed)
Expandable Storage
1 TB Expansion Card (matches internal storage exactly)
NVMe SSD Slot
External Storage
USB 3.2 External HDD Support
USB HDD Support
Optical Drive
4K UHD Blu-Ray Drive
4K UHD Blu-ray Drive
Performance Target
4K @ 60 FPS, Up to 120 FPS
--
Dimensions
151mm x 151mm x 301mm
--
Weight
4.45 kg
--
As you can see, Xbox Series X certainly looks like the more powerful console on paper compared to PS5. The 12 Teraflops of GPU power is a notable upgrade over Sony's machine, the CPU has a slight advantage too, and the PS5 also has a smaller SSD than the one used in Microsoft's console. That said, if we're going to give the PS5 credit (we suppose we have to!), its SSD is said to be 'blindingly fast'.
How are you feeling about the Xbox Series X compared to PS5? Has this changed your opinion on either? Tell us in the comments.