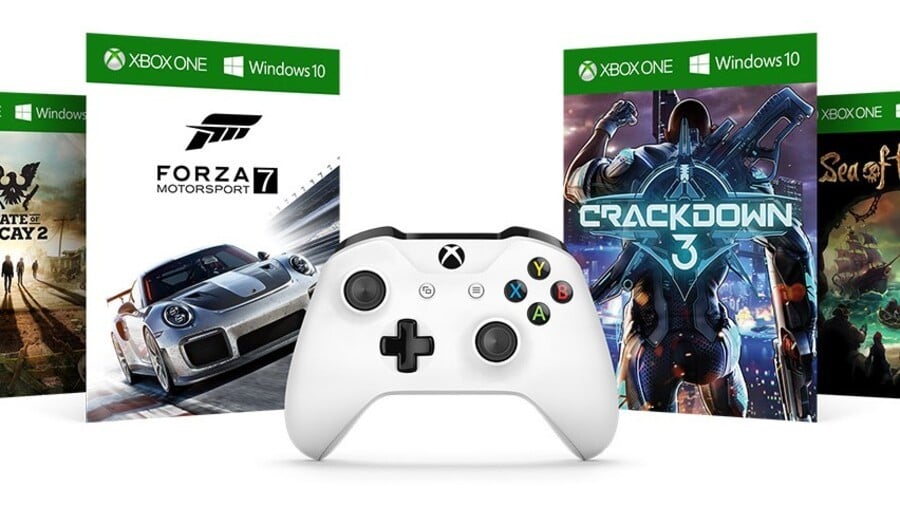 It's not one of Microsoft's more heavily promoted Xbox promotions these days, but Xbox Play Anywhere remains a fantastic deal for anyone buying first-party games. The service allows you to buy a game for Xbox One and get another copy for PC, or vice-versa. Better yet, both versions share cloud saves, meaning you can start your game on one device and pick up where you left off on the other. If you're looking to find out which games are compatible, which includes some major releases, you'll find a full list of Xbox Play Anywhere titles below.
All Xbox Play Anywhere Games
A Walk in the Dark
Alvastia Chronicles
ARK: Survival Evolved
Asdivine Hearts
Asdivine Hearts II
Astroneer
Bleeding Edge
Chronus Arc
Crackdown 3
Cuphead
Deep Rock Galactic
Defunct
Disneyland Adventures
Doodle God: Crime City
Enter The Gungeon
Eternal Card Game
Everspace
Fable Fortune
Fallout Shelter
Fearful Symmetry & The Cursed Prince
Fernz Gate
Forza Horizon 3
Forza Horizon 4
Forza Motorsport 7
Full Metal Furies
Gears 5
Gears of War 4
God of Light: Remastered
Guacamelee! 2
Halo Wars: Definitive Edition
Halo Wars 2
Hello Neighbor
I Am The Hero
Killer Instinct: Definitive Edition
Lichtspeer: Double Speer Edition
Little Triangle
The Long Dark
Marvel Vs. Capcom: Infinite
Megaton Rainfall
Middle-earth: Shadow of War
Moonlighter
My Brother Rabbit
On A Roll 3D
Ori and the Will of the Wisps
Overdriven Reloaded: Special Edition
Phantom Dust
Pinball FX3
Raining Blobs
Rally Racers
ReCore: Definitive Edition
Resident Evil 7 biohazard
Revenant Dogma
Riptide GP: Renegade
Romancing SaGa 2
Ruiner
RunestoneKeeper
Rush: A DisneyPixar Adventure
Samsara
Sea of Thieves
Silence - The Whispered World 2
Snake Pass
Songbringer
Spacelords
Spheroids
Splash Blast Panic
State of Decay 2
SteamWorld Dig 2
Streets of Rage 4

Sundered: Eldritch Edition
Super Lucky's Tale
Tacoma
The Bard's Tale IV: Director's Cut
The Bard's Tale Trilogy
Thimbleweed Park
Tiles
Vicious Attack Llama Apocalypse
Voodoo Vince! Remastered
We Happy Few
Do you take advantage of Xbox Play Anywhere? Let us know what you think about it in the comments below.