The long wait is NEARLY over. We've heard the whispers and the rumours. We've debunked some, and let our mouths drop at others. Microsoft will be taking to the stage at 6pm BST/10am PDT to unveil the next generation of Xbox, and we'll bring you the full skinny - LIVE - from Microsoft's Redmond HQ.
Full list of regional times here.
Join us in the liveblog below, or drop us a message on Twitter, where we'll be fielding your questions.
And don't forget your Xbox Reveal Bingo card!
Live Text - Updates will load here automatically, no need to refresh the page.
19:04
And that's your lot - the show is over. What did you think?
19:04
"We are all we've got" - Call of Duty: Ghosts. We expect the memes to start soon,
19:03
We're not going to get a bingo winner tonight, are we? We'll roll some prizes out on Twitter tomorrow.
19:02
World Premiere of Call of Duty Ghosts
Apart from the trailer that was inadvertently shown by Gamespot before their coverage, obviously...
19:00
Video showing visual differences between MW3 and COD Ghosts.
18:59
Watch_Dogs and Assassin's Creed IV: Black Flag Confirmed for Xbox One
That isn't from the show. Ubisoft have tweeted it.
18:56
Call of Duty: Ghosts stars you as an underdog, defending the US against an attack. You have a motion-captured dog who is also a squad member. A new engine is in play. "Sub D" watches the curvature of surfaces and tries to ensure that rounded edges are shown in the best possible light, depending on your character's viewpoint.
18:54
To the skeptics out there who are saying that not enough games have been shown, you have a fair point. However, in Microsoft's defence, they always took the position that E3 would be devoted to the games, with this event designed to show off the platform.
18:53
Eric Hirshberg, Activision CEO, takes the stage.
18:52
Call of Duty: Ghosts confirmed for Xbox 720
As if you didn't know. ALL downloadable content for Call of Duty will launch exclusively first on Xbox One.
18:51
XBOX ONE will launch in 2013 WORLDWIDE
"Later this year."
18:50
Exclusive NFL content that uses Kinect, SmartGlass - not sure how that'll go down outside of the US, but it looks interesting. NHL next, please...pretty please?
18:48
Exclusive NFL partnership announced
"Will change the game itself, as well as the viewing experience."
18:47
That Halo series will be a "premium" series. You'll be paying for it, basically.
18:46
Live Action Halo TV series confirmed - SPIELBERG
Created in partnership with 343 Studios and STEVEN SPIELBERG!
18:44
343 Industries head Bonnie Ross takes the stage to talk about Halo...here we go.
18:44
"Xbox is about to become the next watercooler." That could have been worded better. Our office watercooler is covered in mould.
18:42
Head of Xbox Entertainment Studuis, Nancy Tellem, heads out to...erm...tellem some more about TV on Xbox One.
18:42
15 exclusive Microsoft Studios games coming in the first year of Xbox One. Eight of which are brand new franchises.
18:41
"Time is the fire in which we burn." Game looks to feature bullet-time quite heavily...very professional trailer. Intriguing.
18:40
QUANTUM BREAK Confirmed
Developed by Remedy - Live action footage kicks things off.
18:39
Remedy (Alan Wake, Max Payne) game is next up.
18:38
Shiny trailer of Forza Motorsport 5. Developed by Turn 10 Studios, as you'd expect. "A new age is here."

CONFIRMED AS A LAUNCH TITLE
18:37
Forza Motorsport 5 CONFIRMED
18:35
Apparently engine-based video of EA's sports games running now. If those videos are engine-based, then WOW. Impressive. Phil Spencer takes the stage.
18:34
Exclusive Ultimate Team Content for FIFA 14 on Xbox One
No details confirmed.
18:33
EA Sports Ignite allows 4 times as many AI decisions per second. "Human like intelligence." 10 times more animation depth and detail. Games are now living worlds, with a daily stream of new content via Xbox Live, 3D crowds, etc.
18:31
Sporting stars video roll now playing...talking about the mentality of sports. Lionel Messi, RG III, Kyrie Irving.
18:29
FIFA 14, Madden 25, NBA Live 14, UFC Confirmed for Xbox One
All four titles will launch "within the next 12 months." Powered by "EA Sports Ignite" - a new game engine that is being unveiled now.
18:29
"Broad strategic partnership between EA and Microsoft."
18:28
EA's Andrew Wilson takes the stage.
18:28
"Dynamic achievements" mentioned - will represent "how you play not what you've done."
18:27
Game DVR included
You can save and upload video (much as the PS4 can do) of your gameplay, to the cloud.
18:26
15,000 servers power the modern Xbox Live experience. Xbox Live on Xbox One will be powered by more than 300,000 servers. Cloud-based, in short.
18:25
Feedback triggers on the Xbox One controller.
40 design innovations in the new Xbox controller. Feedback on triggers allows developers to make the triggers respond and fight against you as you play. That's huge, frankly.
18:24
Kinect contains 1080p camera, understands balance, twice as many tracking points, can recognise heartbeat as you play.
18:22
New Kinect is bundled with every console
Uses new proprietary "time of flight" processing and processes more than 2 gigabits of data per second.
18:21
Xbox One Architecture is "three operating systems in one." The "best of the Xbox 360 O/S", the Windows kernel, and a third component to allow multi-tasking and switching.
18:20
8GB of RAM included in the box. USB 3.0. Wi-fi direct. Blu-Ray drive. Native 64-bit architecture. Practically silent operation.
18:19
Marc Whitten takes the stage.
18:19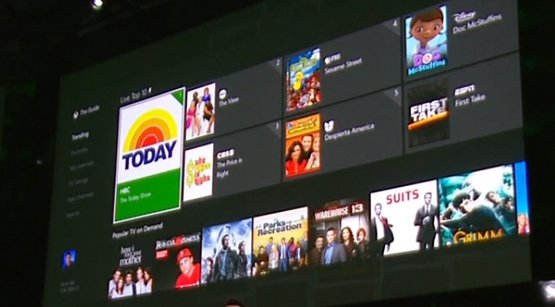 A quick shot of the Xbox One Guide, showing TV listings.
18:17
Xbox One Guide for TV
"Xbox One Guide" shows local TV listings from the Xbox, voice controlled, shows trending video. You can say "Watch Sci-fi channel", "What's on HBO" etc, and the box follows.
18:16
ESPN on show. For fantasy basketball, you can watch the live game and say "Xbox Show Fantasy" and your ESPN fantasy league will appear, along with game stats.
18:14
Skype Confirmed for Xbox One
Wide screen HD. Group video calls are EXCLUSIVE to Xbox One.
18:14
"Snap Mode" allows for multitasking. The demo shows Internet Explorer running in the sidebar, with a movie playing on the major part of the screen. Controllable via mobile.
18:13
"Grab and pull" gesture allows you to minimise and maximize your video.
18:12
From your Xbox One, you say "Xbox, Watch TV", and the console changes your TV input and brings you to your standard TV channel. New "Instant Switching" feature allows you to jump back and forward between TV, music, and games in a ridiculously short amount of time. Amazing.
18:11
NEW FORZA CONFIRMED
"More to follow in shortly" - Xbox One exclusive.
18:10
Xbox One can turn on your TV. Voice activated. Say "Xbox On" and it starts up, recognises the user, loads up your own personal homescreen.
18:09
The controller looks much the same, but what we think is Kinect 2.0 is really shiny. Yusuf Mehdi takes the stage.
18:08
First shot of the Xbox One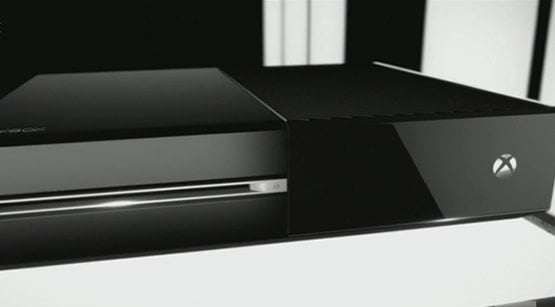 18:06
The next generation console is called XBOX ONE
"The one system for a new generation."
18:06
"Team Xbox is on a new missin. Design and build an all in one system to light up a new generation of games and entertainment."......."Simple, instant and complete."
18:04
"At E3, we'll be sharing what's next on Xbox 360"
18:04
A quick recap of the timeline of the Xbox 360.
18:03
Don Mattrick takes the stage.
18:02
"Your TV will recognise your name, your face, what you love...."
18:02
We're kicking off with various members of the Xbox universe recounting a very brief history of Xbox. CliffyB is in the video...hmm...
18:00
And we are LIVE! Xbox Reveal is GO!
17:58
TWO MINUTE WARNING
Two minutes to go.
17:56
Early suggestions are that the name of the new Xbox console is simply "Xbox" - thanks to some leaked Call of Duty pre-roll footage. Confirmation as it happens.
17:54
60 minutes of joy
The conference will last 60 minutes.
17:52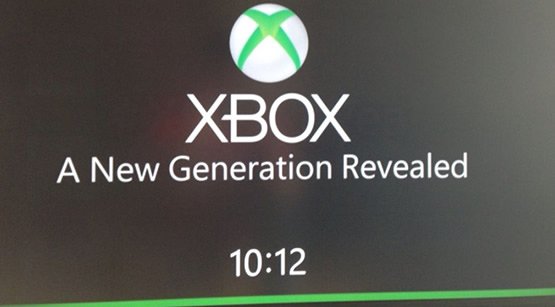 Xbox Live Event Player is now showing this. We're almost at the kick off!
17:39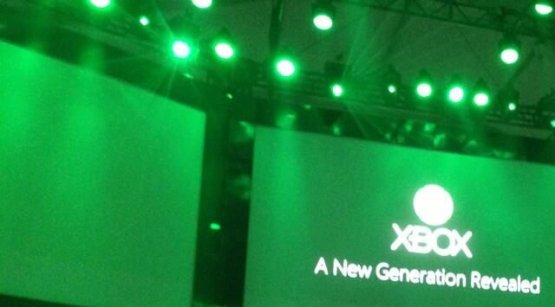 Eurogamer's Tom Bramwell just fired us this image of the stage. T-20 minutes to go.
17:37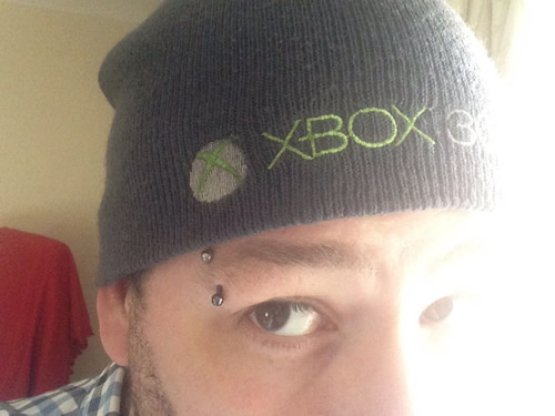 We're ready. We're dressed for the occassion. The energy drinks are en route. The TV is lined up at that perfect viewing angle. It doesn't get much better than this.
17:36
Time ticks on. The Xbox Live Event Player on Xbox Live shows 13 minutes to go, but the presentation isn't due for another 25.
17:07
You may need an update to your Xbox Live Event player. Since the last event, there's a 47mb update - so grab it before the show starts!
16:35
It's nearly time...
This is your hour and a half warning!
08:00
Countdown is progressing...
Set your alarm clocks. Order the pizza. Get the energy drinks in (just in case it runs long) - we've got just 10 hours until the next generation of Xbox is revealed.
23:20
Kicking things off early...
Kicking things off early...
We're kicking things off early - 18 and a half hours early, to be precise - but we want to give you the chance to get your bookmarks in place...

And don't forget to keep your eyes on your Xbox Reveal Bingo card https://www.purexbox.com/news/2013/05/competition_xbox_reveal_bingo during the show, as you could win some prizes!