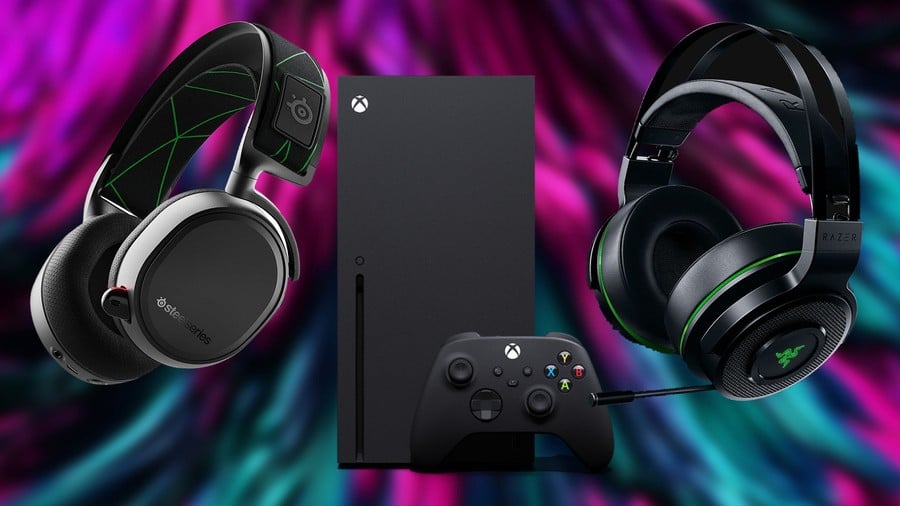 It's likely that you have upgraded your 4K TV recently in order to take advantage of the graphical leap offered with the Xbox Series X, but have you given the same consideration to audio? Having an immersive gaming soundscape can massively change your experience for the better.
While you might have an impressive soundbar, for solo gaming sessions at night or communicating with teammates you are really are going to want to grab a pair of headphones or a dedicated headset for your Xbox Series X.
We've rounded up the best Xbox Series X headsets for your consideration. There are many factors to consider like smooth integration over Bluetooth with your Xbox, sound fidelity, comfort and of course price! Let's take a look at what your options are...
SteelSeries Arctis 9X
The SteelSeries Arctis 9X is almost the perfect headset for the Xbox Series X, but it comes at a price. It's packed with Xbox Wireless technology, which means it pairs to the Series X much like a controller does. You'll get around 20 hours battery life with this headset too.
The microphone is retractable which is a neat feature and in use it's got noise-cancelling so you won't annoy your online buddies with this one.
All this would be for naught if the SteelSeries Arctis 9X was not comfortable, but thankfully it really excels in this area with a really nice headband design. It's super light and comfortable for long gaming sessions. There's loads to like with this option if you have deep pockets.
Razer Kaira Pro for Xbox – Wireless Gaming Headset for Xbox Series X|S
Game-changing audio is yours with this wireless Bluetooth headset designed for Xbox Series X.
The Razer Kaira Pro delivers cutting-edge audio built for the future of Xbox. It features Razer TriForce titanium 50 mm drivers and a Razer HyperClear Supercardioid mic for high-end sound and ultra-clear voice quality. A dedicated mobile mic is perfect for communication on the go, while breathable memory foam ear cushions ensure hours of long-lasting comfort.
Again it's not a cheap headset, but it will certainly give you an immersive experience for those late night gaming sessions.
Read our full review of the Razer Kaira Pro Wireless Headset For Xbox Series X.
Turtle Beach Elite Pro 2 Headset + SuperAmp Pro Performance Gaming Audio System
Optimise your Xbox Series X audio setup with this pro-level over-ear headset and amp system. The Elite Pro 2 over-ear headset delivers powerful, amplified sound for full-game immersion. Connected to the groundbreaking SuperAmp Pro Xbox gaming controller, this complete audio system gives you a competitive over even the toughest of foes.
Custom-tuned 50mm Nanoclear speakers deliver championship-winning performance, while the noise-cancelling pro gaming microphone with TruSpeak Technology ensures crystal-clear team chat. Revolutionary Aerofit ear cushions offer passive noise isolation and deeper bass response and the SuperAmp Pro booms with Windows Sonic surround sound.
Turtle Beach Stealth 700 Gaming Headset
This fully loaded wireless gaming headset delivers immersive surround sound to bring your games, films and music to life through its powerful 50 mm speakers. The 700 also features wireless Bluetooth connectivity, so you can use it with any compatible device, and active noise cancellation to eliminate distracting background noise.
Hear your enemies sneaking up on you, or your squad leader's whispered orders. Windows Sonic for headphones puts you right in the centre of the action and brings your films to life. Hear your own voice with mic monitoring, so you won't need to shout. And if you wear glasses, play in comfort for hours with the exclusive ProSpecs design, which takes the pressure off your glasses.
From quiet footsteps to enemy weapon reloads, Superhuman hearing lets you hear it all.
Read our full review of the Turtle Beach Stealth 700 Gaming Headset.
Turtle Beach Stealth 600 Gaming Headset
At a much more affordable price comes the Turtle Beach Stealth 600 Gaming Headset. Hear everything in astonishingly clear audio with this battle-ready, over-ear gaming headset, designed for comfort during long sessions.
Hear even the softest footfalls in stunning, distortion-free clarity with the Turtle Beach Stealth 600 Headset. Discover rich, nuanced soundscapes full of booming bass and clear highs with high-performance 50 mm speakers and Windows Sonic surround sound.
Memory foam earcups and innovative ProSpecs glasses technology work together to keep you gaming comfortably for as long as it takes to rise to the top. And with a high sensitivity mic that can be flipped up to mute, your strategy sessions stay crisp and clear even in the heat of battle.
Xbox Stereo Headset
If you are on a strict budget then you could do a lot worse than the official Xbox Stereo Headset which packs in a punch for a low price.
This comfortable over-the-ear stereo headset delivers rich sound and lets you control game and chat audio without taking your hands off your controller.
The Xbox Stereo Headset delivers a premium audio experience for both game and chat audio. Its full-range audio spectrum provides deep bass and crystal-clear high frequencies, while its unidirectional microphone ensures clear communication. The over-the-ear design gives you a comfortable fit for long gaming sessions. It's easy to set up with no wiring to your TV or console—you just plug in to the controller, and then wirelessly connect to your Xbox Series X from there.
Independent game and chat audio levels let you concentrate on what you need to hear and turn down the distractions.
---
So these are our favourite headsets to use with your shiny new Xbox Series X. Let us know which is your preferred option with a comment below...