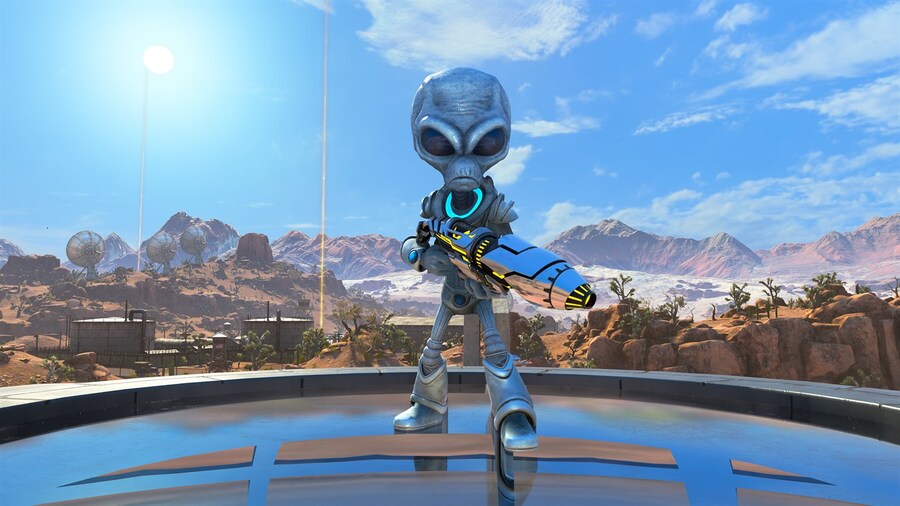 THQ Nordic has seemingly been teasing a Destroy All Humans! 2 Remake for a while now - either that, or they're playing a cruel prank on us all. A Destroy All Humans! fan account has reportedly uncovered some more details on the project.
Under the guise of Project Cattleprod 2, the new title from developer Black Forest Games looks and sounds suspiciously like Destroy All Humans! 2. It was discovered on a German website for Federal Ministry of Transport and Digital Infrastructure, which supplies funding to video game projects - with Project Cattleprod 2 being one of them.
The game will allegedly allow players to "use various weapons and psi forces to fight enemies or influence them". Not only that, but it will also contain an "over-the-top story with references to contemporary pop culture and satirical social critique, varied struggle and elaborately staged destruction of buildings".
That sounds a lot like Destroy All Humans! 2 to us!
After the success of the first game, it makes sense for the sequel to be the next title in the developer's eyeline. Not only that, but a PC version of the game has been spotted to be arriving in May, which usually suggests an upcoming Xbox Game Pass title. Could we maybe get the sequel reveal around the same time?
Would you like to see Destroy All Humans! 2 Remake? Let us know in the comments below.