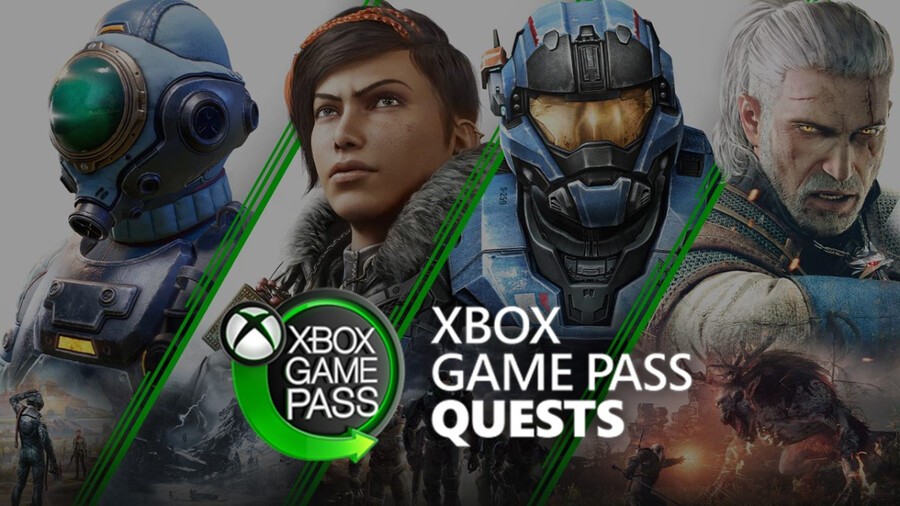 Have you checked out the Xbox Game Pass Quests program yet? If not, why not?! For Xbox Game Pass members, they're a great way of earning extra money while trying out some different games. In this article, you'll find everything you need to know about Xbox Game Pass Quests, and most importantly, various tips and tricks to help you maximise your Microsoft Rewards points in 2020.
What are Xbox Game Pass Quests?
Xbox Game Pass Quests is a branch of Microsoft Rewards that allows you to earn redeemable points by completing various Xbox and Game Pass related objectives. These points can then be used to acquire various gift cards, such as Xbox and Microsoft currency, as well as competition entries and charity donations. It's basically like completing Achievements, but for real money.
These quests come in three varieties — daily, weekly and monthly. Below, you'll find a list of all the current Xbox Game Pass Quests for the week commencing 17th November 2020, along with some guides to help you tackle the most challenging quests of the month.
Current Quests List (November 2020, Week 3)
Type
Quest
How To Complete
Points
Daily
Play Game Pass
Play any Game Pass game
5
Daily
Log into the Game Pass Mobile App
Log into the Game Pass Mobile App
5

Weekly (17/10-24/11)

Complete 4 Daily Quests
Complete 4 daily quests this week
10

Weekly (17/10-24/11)

Earn an Achievement in Game Pass
Earn an achievement in any Game Pass game
10

Weekly (17/10-24/11)

Earn Your Way
Unlock 4 achievements or play 5 different Game Pass games
10

Weekly (17/10-24/11)

Hyperdot

Dodge everything
25

Weekly (17/10-24/11)

The Escapists 2
Trigger 1 lock down
50
Monthly
Game Pass Explorer
Play 4 different Game Pass games
10
Monthly
Quest Rookie
Complete 4 weekly quests this month
10
Monthly
Game Pass Adventurer
Play 10 different Game Pass games
25
Monthly
Game Pass Games On the Go
Install 5 games using the Game Pass mobile app
25

Monthly
Quest Apprentice
Complete 8 weekly quests this month
25
Monthly
Gears Tactics
Earn 1 achievement
Monthly
Black Desert Online
Earn 2000 gifted sellswords
75
Monthly
Pillars of Eternity
Defeat 5 enemies
75
Monthly
Resident Evil 7: Biohazard
Obtain 7 items
75
Monthly
The Jackbox Party Pack 4
Earn 5 bracketeering cinderellas
75
Monthly
Quest Dedication
Complete 12 daily and 12 weekly quests
100
Monthly
Quest Completionist
Complete 45 daily and 15 weekly quests
1000
How To Complete November 2020's Quests
DOOM Eternal - Become The Slayer (17/11 - 24/11)
This is one of those Quests we all love! All you need to do is start the game.
Tip: If you're an Xbox Game Pass Ultimate member, you can complete this Quest instantly via Xbox Cloud Gaming on Android, saving you from being forced to download the game!
Difficulty Rating: 1 out of 5
Time To Complete: 1 min
Rewards Points: 25

Kona - Travel 3 Kilometers (17/11 - 24/11)
This Quest simply requires you to travel a certain distance - you can do this at the wheel and also on foot.
Here's a guide courtesy of Thoynan on the Microsoft Rewards Reddit:
"Start the game. After you get control at the train tracks, hold the lb to reverse the car. Once you are stopped by the game, hold RT to drive. Before you get the bridge (kinda a clearing after the bend in the road, you will see roof like structure in the distance) turn the truck around. Drive back to the forced stopping point, and the quest is complete. If you get too far, you can exit to the main menu and start a new game, as the forced driving counts for the quest."
Difficulty Rating: 2 out of 5
Time To Complete: 5-10 mins
Rewards Points: 50
Gears Tactics - Earn 1 Achievement
There are plenty of easy achievements in Gears Tactics, and one of the easiest is called Tactics!
This involves performing a chainsaw execution, which you can do in the tutorial. Follow the tutorial (press B to skip the cutscenes beforehand), wait for the option to unlock as part of your arsenal of attacks, and then use it on an enemy to pop the Achievement.
Here's another explanation for this courtesy of Pure Xbox community member @unionjackboy:
"After a few moves the chainsaw appears and you can select it as a weapon, then move the pointer (your character) next to the enemy, and press X and it'll move your player over and chainsaw the enemy."
Difficulty Rating: 2 out of 5
Time To Complete: 5 - 10 mins
Rewards Points: 75
Black Desert Online - Earn 2000 Gifted Sellswords
Remember this Quest? We saw it all the way back in March, and it's returned once more.
Gifted Sellswords is a form of XP in Black Desert, and you can acquire 2000 of it simply by attacking various creatures in the starting area, such as grey foxes and tree monsters. It does take a while though!
Difficulty Rating: 3 out of 5
Time To Complete: 20-30 mins
Rewards Points: 75
Pillars of Eternity - Defeat 5 Enemies
This Quest involves playing through the story and defeating 5 enemies along the way, but it's a bit tricky and could take a few tries. You'll find a great guide for this Quest courtesy of Rewards Hunter over on YouTube.
Difficulty Rating: 4 out of 5
Time To Complete: 20 to 30 mins
Rewards Points: 75
Resident Evil 7: Biohazard - Obtain 7 Items
Here's an excellent guide for this Quest courtesy of Thoynan and Somnus976 over on Reddit:
After you get out of your car and go up to the house, the gate is locked. Follow the path on your left all the way around to a house with a back door. Go in the door then up stairs. There is only one room. On the right hand side there is a tape recorder, that is your save.
Save then pick up the tape. DO NOT click save again.Open the pause menu and choose End. Answer yes to the question.Back on the main menu, click B and then choose Load Game.Pick the Guest House 2F save

Rinse and repeat.
Difficulty Rating: 2 out of 5
Time To Complete: 10 mins
Rewards Points: 75
The Jackbox Party Pack 4 - Earn 5 Bracketeering Cinderellas
The Bracketeering game in The Jackbox Party Pack 4 is played by using an internet browser on a PC, laptop, tablet or mobile, and this specific Quest reportedly requires four separate players (you can add more of these by simply opening up new internet browsers / incognito tabs).
Here's a guide for completing the Quest courtesy of TurboChargeEagle on Reddit:
If you load up Bracketeering in Jackbox, the game consists of each player putting down word/s for each bracket and then predicting and voting on which word the group will choose to move further in the bracket.
Getting the quest requires 5 Cinderellas. A Cinderella is obtained when, during the prediction part of the game, every player predicts a word to lose and then, during the head to head competition, that word ends up winning. You would need to do this for the same word until it wins the bracket to get a Cinderella. So, for each bracket, have 1 word answer in mind that you're constantly choosing to lose in each prediction but win in each head to head. You should get 1 Cinderella for each bracket you do this, Jackbox should give you an achievement the first time it happens.
Difficulty Rating: 3 out of 5
Time To Complete: TBD
Rewards Points: 75
---
How are you getting on with November's Xbox Game Pass Quests? Give us your tips and tricks, and share your progress in the comments below.