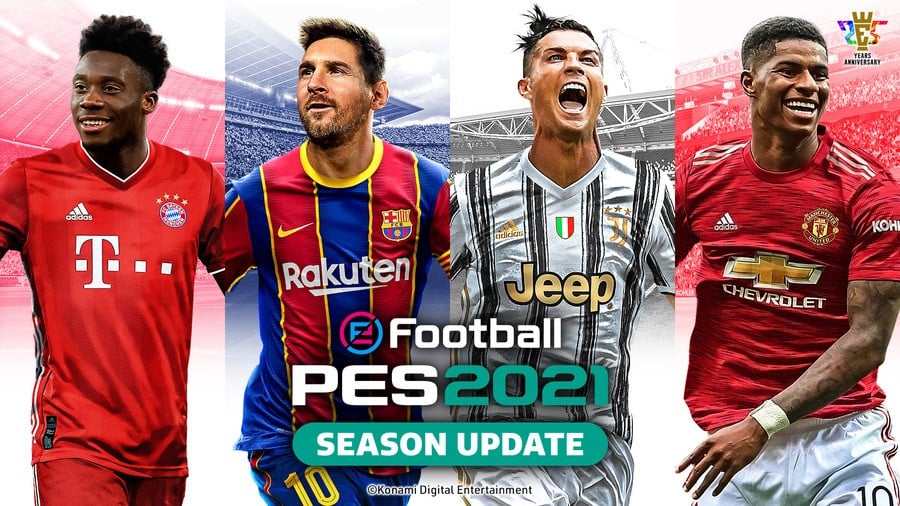 Konami has today unveiled the official cover art for eFootball PES 2021 Season Update, and it's a stacked lineup to say the least, featuring arguably the world's two best players in Lionel Messi and Cristiano Ronaldo.
The Barcelona and Juventus stars are are joined by Manchester United striker Marcus Rashford and Bayern Munich left-back Alphonso Davies, with the latter lifting the UEFA Champions League in real life this past weekend.
Here's what Jonas Lygaard, Senior Director Brand & Business Development at Konami had to say:
"I am incredibly proud of the cover that we've assembled for PES 2021. We made a big change last year with the presentation of four ambassadors and we were keen to raise the bar this year with a world first – Messi and Ronaldo together at last."
The game itself, however, isn't a massive departure from last year's version - it's being called a "Season Update" due to featuring the same gameplay as eFootball PES 2020 with the latest player data and club rosters, as the dev team is currently focusing its efforts on developing its next-gen PES project scheduled to be released late next year.
What do you think of the cover art? Will you be buying PES 2021 or sticking with last year's game? Let us know below.