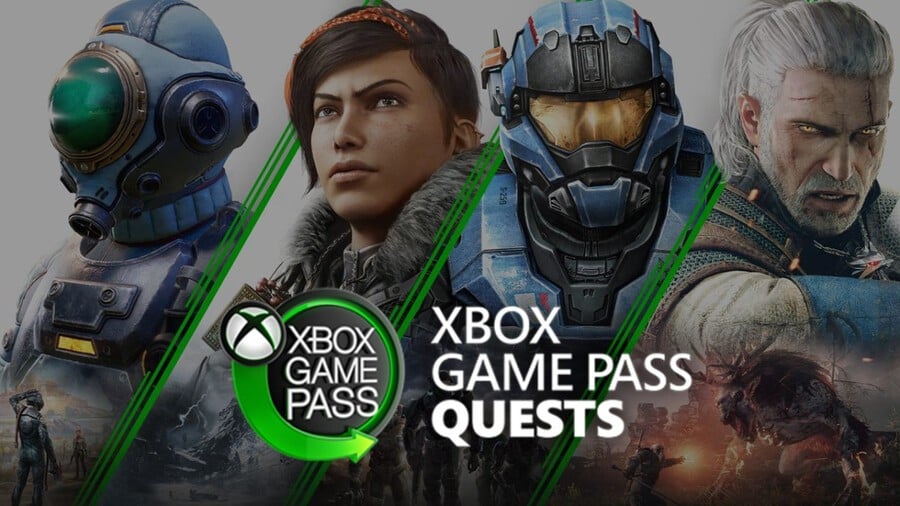 Have you started Xbox Game Pass Quests yet? If not, why not?! For Xbox Game Pass members, they're a great way of earning some extra money while trying out some different games. In this article, you'll find everything you need to know about Xbox Game Pass Quests, and most importantly, various tips and tricks to help you maximise your Microsoft Rewards points in 2020.
What are Xbox Game Pass Quests?
Xbox Game Pass Quests is a branch of Microsoft Rewards that allows you to earn redeemable points by completing various Xbox and Game Pass related objectives. These points can then be used to acquire various gift cards, such as Xbox and Microsoft currency, as well as competition entries and charity donations. It's basically like completing Achievements, but for real money.
These quests come in three varieties -- daily, weekly and monthly. Below, you'll find a list of all the current Xbox Game Pass Quests for the week commencing 31st March 2020, along with some guides to help you tackle the most challenging quests of the month.
Don't forget to come back every week for more Quests!
Current Quests List (March 2020, Week 4 / April 2020, Week 1)
Type
Quest
How To Complete
Points

Daily
Play Game Pass
Play any Game Pass game
5
Daily
Log into the Game Pass Mobile App
Log into the Game Pass Mobile App
5

Weekly (31/03 - 07/04)

Complete 4 Daily Quests
Complete 4 daily quests this week
10

Weekly (31/03 - 07/04)

Earn an Achievement in Game Pass
Earn an achievement in any Game Pass game
10

Weekly (31/03 - 07/04)

Earn Your Way
Unlock 4 achievements or play 5 different Game Pass games
10

Weekly (31/03 - 07/04)

Kingdom Hearts III
Time to party
25

Weekly (31/03 - 07/04)

Rocket League
50
Monthly
Game Pass Explorer
Play 4 different Game Pass games
10
Monthly
Quest Rookie
Complete 4 weekly quests this month
10
Monthly
Game Pass Adventurer
Play 10 different Game Pass games
25
Monthly
Game Pass Games On the Go
Install 5 games using the Game Pass mobile app
25
Monthly
Quest Apprentice
Complete 8 weekly quests this month
25

Monthly
Black Desert
Earn 2000 Gifted Sellswords
75
Monthly
DOOM
Get 50 Barrel Kills
75
Monthly
Kingdom Come: Deliverance
Collect 20 Money
75
Monthly
Terraria
Gather 1000 resources
75
Monthly
Quest Dedication
Complete 12 daily and 12 weekly quests
100
Monthly
Quest Completionist
Complete 45 daily and 15 weekly quests
1000
How To Complete April 2020's Quests
Kingdom Hearts III - Dive To The Heart (31/03 - 07/04)
Update: (Wed 1st Apr, 2020 09:00 BST): We're hearing this Quest is working as soon as you begin the game, regardless of whether you've played it already.
Original: If you've already played Kingdom Hearts III, this should pop straight away (it did for us!). For everyone else, Dive to the Heart refers to the bit at the start of the game where you make three choices about Sora's personality and style. It can't be failed, and should only take five minutes to complete.
Download Size: 45.06GB
Difficulty Rating: 1 out of 5
Time To Complete: 5 minutes
Rewards Points: 25

Rocket League - Win 4 Games (31/03 - 07/04)
The easiest (and quickest) way to complete this is by setting up a local or private match. Customise the settings to make things as simple as possible - turn off the time limit, make games end after one goal and get rid of bots completely. Roll the ball into the empty net in four matches, and the Quest is complete.
Tip: Stick to the normal Soccar mode when setting up a match, and refrain from adding extra mutators or powerups. That way, you can complete this Quest very, very quickly.
Download Size: 15.43GB

Difficulty Rating: 1 out of 5
Time To Complete: 5 mins
Rewards Points: 50

Black Desert - Earn 2000 Gifted Sellswords
In Black Desert, you'll first need to create a character and join a server. Then, head away from the lobby area and search for a large set of enemies to attack, and use RT to bring them down. Keep doing this for around five to ten minutes, and the quest should eventually pop.
Tip: Certain enemies seem to give off less Gifted Sellswords (experience points) than others. Vary it up, and keep tabs on your progress via the Xbox Game Pass Quests tab on the Microsoft Rewards Xbox app.
Download Size: 42.12GB
Difficulty Rating: 2 out of 5
Time To Complete: 15 minutes
Rewards Points: 50
DOOM - Get 50 Barrel Kills
To complete this quest, head to the SnapMap feature on the main menu. You'll want to search for user-created levels that include the word "barrel". Fortunately, there's an achievement in DOOM for getting 100 barrel kills, so there are plenty of SnapMap levels you can take advantage of. Load into your chosen level, begin exploding those barrels, and you should be done within 5 to 10 minutes.
Tip: If you can't find a good level, try searching for "Timing is Everything" instead. This is the name of the barrel kill achievement in DOOM, and there are lots of SnapMap levels named after it.
Download Size: 61.21GB
Difficulty Rating: 1 out of 5
Time To Complete: 5 to 10 mins
Rewards Points: 75
Kingdom Come: Deliverance - Collect 20 Money
For this one, you'll need to start a new game and progress through the initial cutscenes. Go outside and head into the town, where you'll find a variety of traders who you can sell items to. You can haggle for enough money by selling the clothes off your back, but if you're struggling, you can gather items in the house for some extra cash.
Tip: You can skip the early cutscenes by holding the B button. You can also tap the B button to speed up dialogue between you and your mother in the first few minutes.
Download Size: 34.98GB
Difficulty Rating: 2 out of 5
Time To Complete: 10 mins
Rewards Points: 75
This quest can also be completed with Project xCloud (Preview) on Android. Find out how to register for the xCloud game streaming preview here.
Terraria - Gather 1000 Resources
This is a really easy quest, and the game can be downloaded in a matter of minutes. All you need to do is load into the game and start hacking at the ground (and walls) with your pickaxe. You'll gather resources every time you do this. It does take a while to get to 1000, but you'll face little difficulty in doing so.
Tip: Certain resources take longer to gather than others. Dirt blocks are a really easy method of gathering resources quickly, and that's pretty much all we collected while completing this quest.
Download Size: 355.99MB
Difficulty Rating: 1 out of 5
Time To Complete: 10 mins
Rewards Points: 75
How are you getting on with March's Xbox Game Pass Quests? Give us your tips and tricks, and share your progress in the comments below.