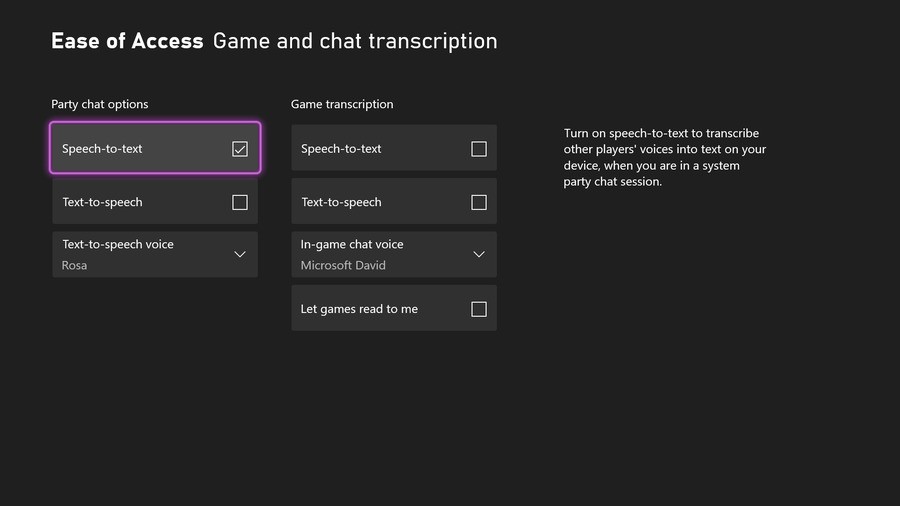 Microsoft has announced two brand-new features - now available to Xbox Insiders - that will enable transcribing speech into text and synthesis of speech from text when using Xbox Party Chat.
The Xbox team says either feature "can be used to help gamers who are deaf or hard of hearing and/or cannot or choose not to speak to participate without special accommodation from others in the party," and they're also "generally useful for detecting microphone problems or distinguishing game audio from people in the party talking."
Here's a brief description of how the two new features work:
"By enabling speech-to-text transcription, you can have all words spoken by the people in the party converted into text that will be displayed in an adjustable overlay on top of gameplay.
By enabling text-to-speech synthesis, you can type into Party Text Chat and have that read by a synthetic voice to the rest of the people in the party (with a choice of several voices per language)."
There's no word on when this integration will roll out to the public, but we're assuming it'll only be a matter of weeks, rather than months. For now, here's how you can access these new Xbox Party Chat features if you're an Xbox Insider:
"Both speech-to-text and text-to-speech functionality can be enabled in Settings under Ease of Access > Game and chat transcription. When in a party, you can also access this settings page under Options > Configure Ease of Access settings."
Pleased to see these new features rolling out for Xbox Party Chat? Let us know down below.