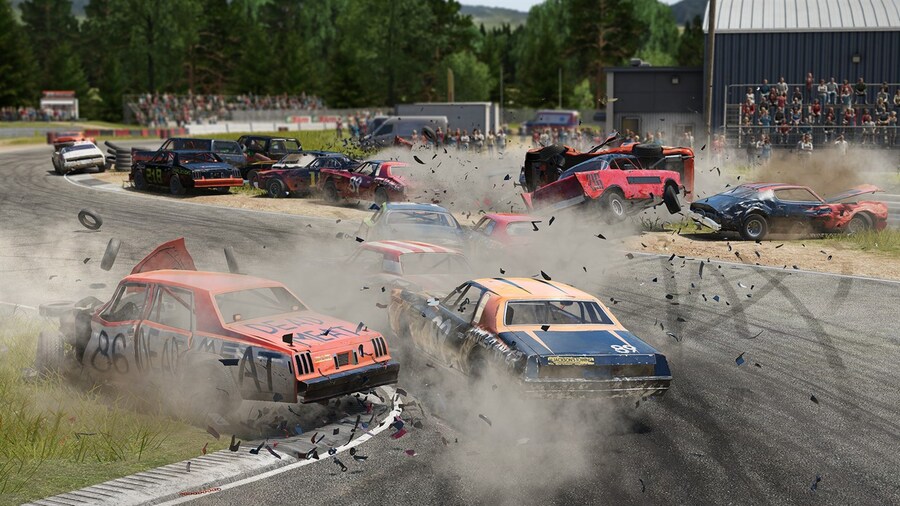 Welcome to the weekend! There's lots to check out on Xbox over the next couple of days, including a new batch of Xbox Game Pass titles, two more Free Play Days additions, and the usual weekly Xbox sale.
Here's what we're playing over the next couple of days:
Fraser Gilbert, News Editor
Microsoft has been very good to us this week! The game I'm planning to play most over the next few days is Harmonix's DJ simulator Fuser, which is part of the Free Play Days lineup for the weekend. I enjoyed the demo when it arrived a few weeks ago, but now that the full game is accessible, I'm eager to spend a lot of time with it.
Elsewhere, I'm also really enjoying Wreckfest on Xbox Game Pass so far, especially as someone who used to love the Destruction Derby games on PS1 back in the day. It feels like a mashup of Destruction Derby and FlatOut, and the crash physics are just fantastic, so you'll find me playing this one quite a bit this weekend.
Oh, and finally, I started an online career on Football Manager 2021: Xbox Edition with a friend last weekend, and we ended up spending the best part of six hours on it. We're only halfway through the season, so it must continue!
Have a good weekend, folks.
Daniel Hollis, News Reporter
I'm going to return to England (virtually) this weekend as I dive back into Assassin's Creed Valhalla. I've only recently got out of the tutorial area and finally got some colour injected into the game, so I'm excited to see what else awaits me in the big open world.
Alongside that, I'm also going to check out Control: Ultimate Edition. I absolutely loved the game when it originally launched, so this is a perfect excuse to dive back in. I'm undecided on whether to play the game in performance or graphics mode. Have you got a preference with the game?
Finally, as with every Friday night, I'll be playing some Halo: The Master Chief Collection - terribly. But it's been a great laugh with friends every Friday night, playing free for all until the early hours of the morning.
Have a great and safe weekend, everyone!
Liam Doolan, News Reporter
I'm returning to Fable II over the next few days. Although I've played through it a few times already, I want to prepare myself for the next entry in the Fable series as much as I possibly can (even if it is still years away). This time around I'm taking the game a little bit slower. I always felt it just wasn't challenging enough compared to the original game and while that certainly seems to be the case, after many years it seems to finally be growing in me.
Other than this, it'll be more Dead or Alive 6. I've spent my week unlocking costumes and perfecting my fighting skills. I'm also planning on jumping into Halo Reach with a few friends for some campaign and multiplayer sessions.
Enjoy your weekend, everyone!
PJ O'Reilly, Freelance Contributor
Hello. Game Pass is absolutely at it again this weekend with the sublime Pillars of Eternity 2: Deadfire and crash-tastic Wreckfest both arriving on Microsoft's fantastic subscription service. I've been holding off on buying Deadfire on console for ages in the hopes of picking it up in a sale so you best believe I very excitedly got it downloaded and ready to get stuck into as soon as it hit yesterday.
If you haven't tried Wreckfest yet I urge you to give it a spin too, it's a surprisingly challenging stock car racer, a winning mix of Destruction Derby and FlatOut, that's got some superb car handling, frenetic action and amazing damage modelling, every race here is guaranteed to throw up some serious carnage.
Have fun whatever you're up to or playing this weekend and stay safe out there!
Which Xbox games will you be playing this weekend? Let us know in the comments.