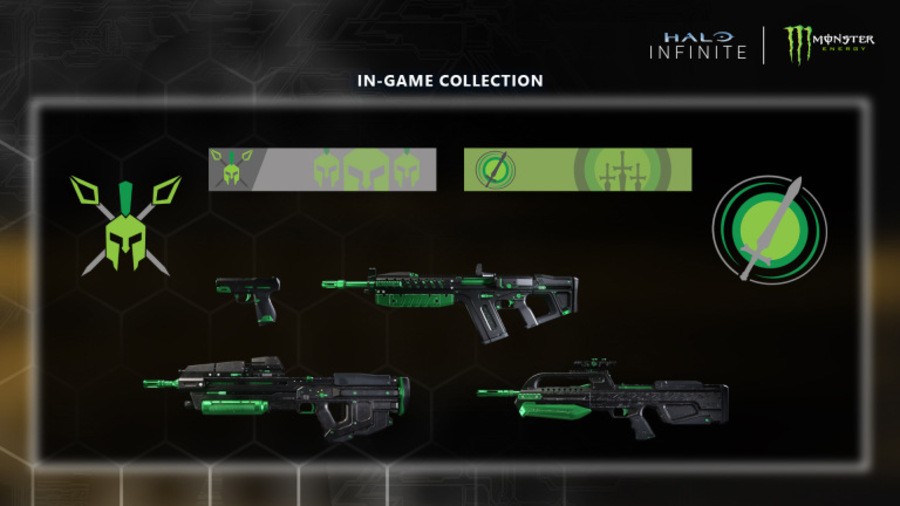 343 Industries has revealed details today on its official partnership with Monster Energy as part of the marketing campaign for Halo Infinite, which includes various exclusive multiplayer items.
As you can see from the image above, the items are Weapon Coatings for the Adrenal BR75, Adrenal MA40, Adrenal VK78 Commando and Adrenal MK50 Sidekick, while Phalanx and Xiphos emblems are also available.
Additionally, the promotion is giving away Double XP Boosts per-can, and each receipt uploaded to the Monster Energy Halo Infinite website will also be entered to win ultimate grand prizes including 200 Xbox Series X consoles.
In order to access these bonuses, you'll need to live in the U.S. (Canada, EMEA and Mexico are getting similar promotions too), and purchase limited-edition Monster Energy Halo Infinite cans at select retail stores.
From there, you'll be able to unlock promotional content via both the Monster Energy Halo Infinite website and the Halo Waypoint website, with monthly challenges available in order to redeem those exclusive multiplayer items.
You'll find more details on the promotion over at Xbox Wire, including information on specific regions and additional screenshots of all the Weapon Coatings and emblems on offer. Interested in this? Let us know below!
[source news.xbox.com]