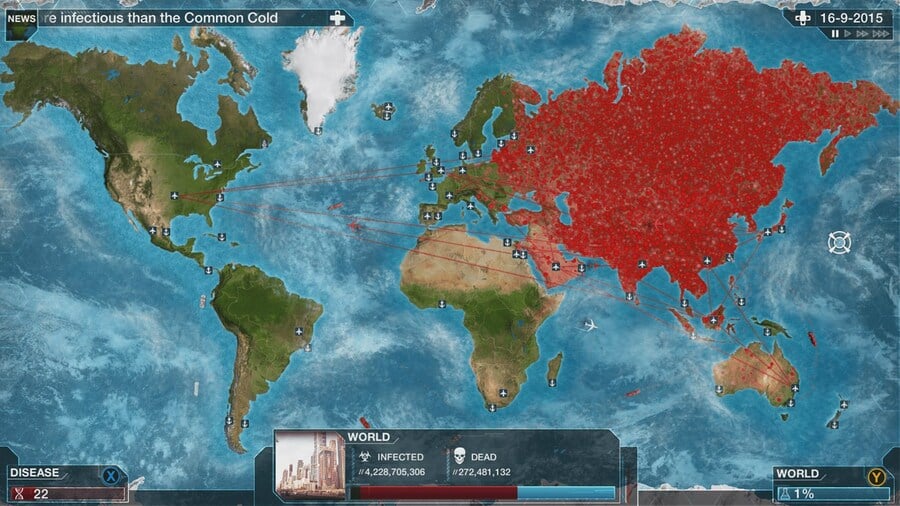 The creator behind Plague Inc. has made a $250k donation to coronavirus-related organisations, split between the Coalition of Epidemic Preparedness Innovations (CEPI) and the World Health Organisation's COVID-19 Solidarity Response Fund. Furthermore, Ndemic Creations is developing a new update for the game which "lets players save the world from a deadly disease outbreak."
The new mode is being developed with the help of experts from various organisations including the World Health Organisation and Global Outbreak Alert and Response Network. There's no release date yet, but the company says the update will be free for all players during the pandemic.
"Players will have to balance managing disease progression and boosting healthcare systems as well as controlling real-world actions such as triaging, quarantining, social distancing and closing of public services."
Ndemic Creations hasn't provided any indication of whether the mode will be released for the Xbox One version of Plague Inc: Evolved, with the game currently supporting many platforms including mobile and PC. We anticipate it'll be added though, and the company says it's "accelerating work" on the mode at present.
Let us know how you feel about this mode and Ndemic Creations' $250k donation below.
[source ndemiccreations.com]