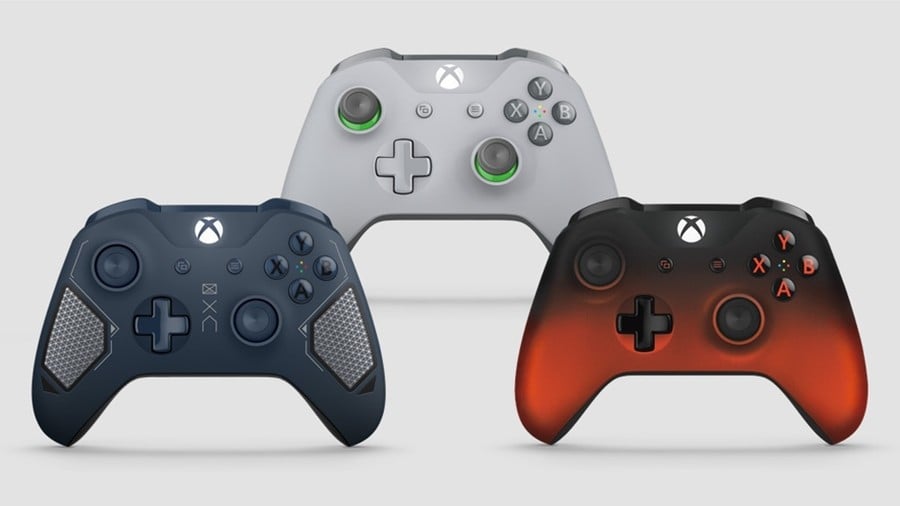 If you have thrown any of your precious Xbox One controllers at a wall in a fit of rage after getting sniped in Call of Duty, we feel your pain. Still there is a smorgasbord of options out there for an additional Xbox One controller for your collection – or a replacement. Ahem.
Some are reasonably cheap and some are not so reasonably priced, but offer advanced features. Let's take a look at some of our favourite Xbox One controllers for 2020 in this handy guide, shall we?
Xbox One Wireless Controller
The good old Xbox One controller which comes bundled with the console is thankfully very good, so you might just want to pick up an additional one so you can play with your mates. They are available now in a wide variety of colours, so you can express yourself with a funky colour.
Xbox Design Lab Controller
If the off-the-shelf colour options for the Xbox One Wireless Controller don't float your boat, then for a few dollars extra you can buy direct from the Xbox Design Lab and customise your controller to your heart's content. Seriously, the options on display here are truly amazing. You can even add custom engraving to your design; why not add your gamertag on the front and impress all of your friends?
Xbox One Elite Controller Series 2
If you ignore the eye-watering price, the Xbox One Elite Controller Series 2 really is one of the best controllers ever made. This new version of the elite controller offers a USB-C port so you can charge up it's mighty 40 hour battery with the greatest of ease. Using AA batteries is sooo last decade..
The real selling point with the Elite controller is of course the interchangeable thumbsticks, D-pads, and paddles. You can even adjust the tension of the analogue inputs for faster trigger speeds and better aiming. The rubberised grip is even improved in Series 2 which was much complained about with the first Elite Controller.
If you have deep pockets, don't waste any more time. This is the one for you!
Xbox Adaptive Controller
The gaming community is a broad church and it is important to adapt controller inputs for people with physical disabilities. The Xbox Adaptive Controller is a welcome addition to the lineup of official Xbox controllers. Each button on the standard Xbox One controller can be replicated on the side of this controller and the user can use USB or even 3.5mm devices to control these functions in the best way for themselves.
Hyperkin Duke Wired Controller
Remember the mighty Duke controller which came bundled with the very first Microsoft Xbox? It's certainly not much of a looker, but some gamers do like the extra heft which this controller offers and swear that it's the most comfortable way to play Halo. Who are we to argue?
Hyperkin has reinvented the original Duke with an OLED display where the Xbox logo used to be on the front of the controller and the feel of the controller is as good as ever. If you feel nostalgic about the early 2000s, then check this one out.
Hori Fighting Commander
Are you a fighter and not a lover? Let's face it, the standard Xbox One controller is great for many things, but it isn't the best for 2D fighting games. The D-pad on offer here and the variety of face buttons is a dream for fans of 2D brawlers; a true Street Fighter fan wouldn't be caught playing with anything else.
Razer Wolverine Ultimate
Why not get a cyber razor cut and check out the Wolverine Ultimate? If you don't fancy Microsoft's official Xbox Elite Controller then this third party offering might be the one for you – especially if you're a fan of lots of flashing lights.
The controller comes bundled with interchangeable analogue sticks and directional pads as well as remappable bumpers and triggers. You can also save customised setups which are unique to the game which you are playing. The vibration options put even the Nintendo Switch's impressive HD Rumble to shame.
PDP Wired Controller
If you are after a cheaper Xbox One controller for that special player two in your life, then you could do a lot worse than the PDP wired controller. Despite the cheaper price point, it's actually a pretty good controller and even has a 3.5mm jack so you can use your own headphones or chat headset.
Using PDP's control hub app, you can remap the buttons on this controller and adjust the dead zones on the analogue sticks. If you are on a tight budget, then this is worth checking out.
---
So these are our favourite Xbox One controllers for 2020. Which one of these lovely controllers are you rocking?