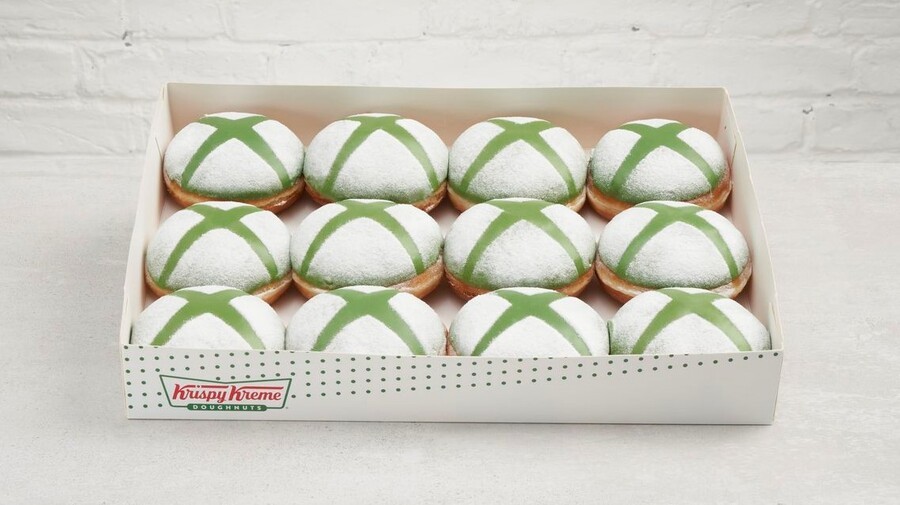 Doughnut specialist Krispy Kreme has officially partnered with Xbox in the UK in order to "level up the gaming and doughnut experience", complete with a limited edition doughnut available to purchase throughout August.
It's called "The Nexus Level Doughnut", featuring "irresistible light and fluffy dough with a rich and gooey brownie batter, dipped in icing and decorated with the iconic Xbox Nexus design." If you want to get your hands on one, it'll only be available in stores and online from August 2 until August 22 in the UK.
Additionally, every purchase of a Choose Your Own Dozen at Krispy Kreme Stores or Sharer Dozen in grocery or services cabinets will give you a complimentary one-month Xbox Game Pass Ultimate membership and an entry for a chance to win an Xbox Series S. A total of 110 Series S consoles will be given away.
Here's what Krispy Kreme marketing manager Rachel Chapman had to say about this promotion:
"Gaming and doughnuts have been two great ways for connecting people and bringing joy during the last year, it felt natural to bring the flavour and joy of games together in an edible form. Our doughnuts are made fresh each day, all hand-decorated and checked, making each and every one delicious."
For more details, you can head to the official Krispy Kreme website.
Interested in trying The Nexus Level Doughnut? Let us know down in the comments below.