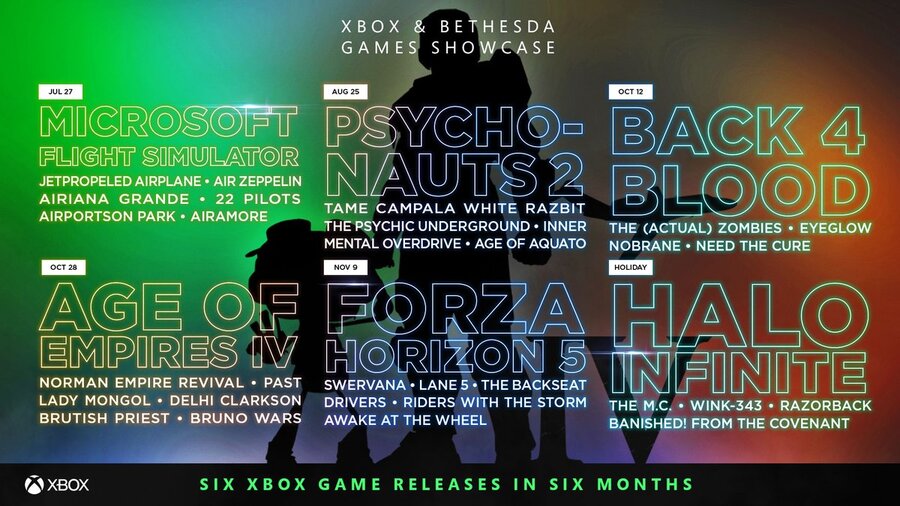 It's time for another round of Pick One! This week, given that Xbox has been heavily promoting "six headliners" coming to Xbox Game Pass later in 2021, we thought we'd highlight each of them and find out your favourite.
Keep in mind that Age of Empires IV in this list is not coming to Xbox consoles as far as we know, but is still being promoted as an Xbox game due to being part of the Xbox ecosystem and published via Xbox Game Studios.
Let's take a look at what we're working with:
Microsoft Flight Simulator (July 27)
Microsoft Flight Simulator is the next generation of one of the most beloved simulation franchises. From light planes to wide-body jets, fly highly detailed and stunning aircraft in an incredibly realistic world.
Psychonauts 2 (Aug 25)
Combining quirky missions and mysterious conspiracies, Psychonauts 2 is a platform-adventure game with cinematic style and tons of customizable psychic powers.
Back 4 Blood (Oct 12)
Back 4 Blood is a thrilling cooperative first-person shooter from the creators of the critically acclaimed Left 4 Dead franchise. Experience the intense 4 player co-op narrative campaign, competitive multiplayer as human or Ridden, and frenetic gameplay that keeps you in the action.
Age Of Empires IV (Oct 28)
One of the most beloved real-time strategy games returns to glory with Age of Empires IV, putting you at the center of epic historical battles that shaped the world. Featuring both familiar and innovative new ways to expand your empire in vast landscapes with stunning 4K visual fidelity, Age of Empires IV brings an evolved real-time strategy game to a new generation.
Forza Horizon 5 (Nov 9)
Your Ultimate Horizon Adventure awaits! Explore the vibrant and ever-evolving open world landscapes of Mexico with limitless, fun driving action in hundreds of the world's greatest cars.
Halo Infinite (Holiday 2021)
When all hope is lost and humanity's fate hangs in the balance, the Master Chief is ready to confront the most ruthless foe he's ever faced. The legendary Halo series returns with the most expansive Master Chief story yet.
Let us know which of these upcoming Xbox games you're most excited for below.