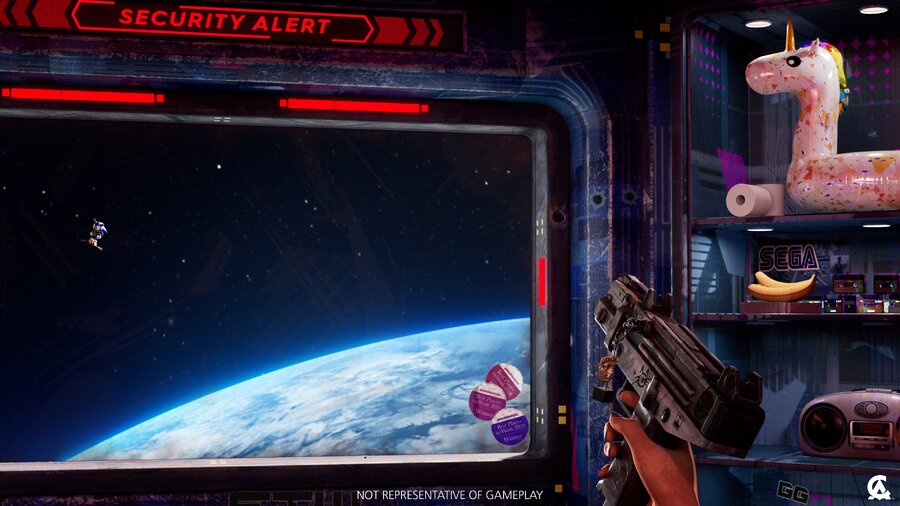 Well colour us intrigued. This first look at the new game coming from developer Creative Assembly looks like a SEGA fan's dream, brimming with Easter Eggs from various properties the company owns.
As spotted by VGC, a recent job listing has attached an image of the project the team is working on. While it notes it's "not representative of gameplay", it does provide an intriguing look at the style the game is going for, which appears to be very tongue-in-cheek.
In a SEGA themed "Where's Waldo?", you can see a wide range of secrets sprawled throughout. There are the Super Monkey Ball bananas, a Virtua Racing screenshot plastered on the wall, and of course, a floating Sonic the Hedgehog toy in space. It certainly seems there could be some wacky adventures here that potentially break the fourth wall.
The developer - which is known for its work on Alien: Isolation, Halo Wars 2 and the Total War series - currently has various listings for a "new sci-fi FPS IP", which is "something radically different in the FPS space". Outside of this, we know very little about the project, but we'd be lying if we said we weren't intrigued.
It's been far too long since Alien: Isolation, which was an absolutely fantastic new take on the franchise. With the incredible work and atmosphere Creative Assembly managed to deliver with that game, we're hopeful this new IP will pack a punch. It sounds like it may be a few years off yet, but we're happy to wait.
Have you spotted any other Easter Eggs in the screenshot? Let us know in the comments below.
[source videogameschronicle.com, via https]