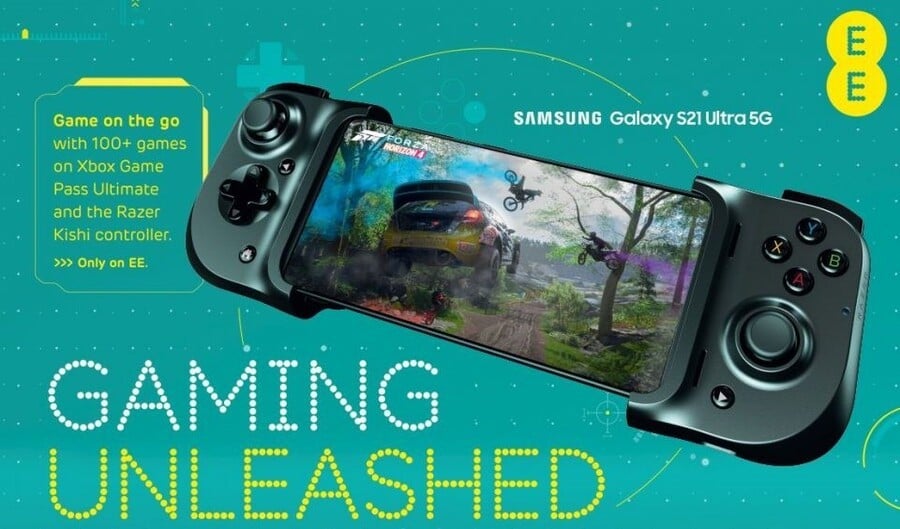 You might have missed this news which went somewhat under the radar a couple of weeks ago, as UK mobile provider EE has revealed it's giving away special Xbox 'Gaming Unleashed' bundles with new Samsung Galaxy phones.
Specifically, purchasing the Samsung Galaxy S21 5G, S21+ 5G and S21 Ultra 5G with a Smart Plan will entitle you to 12 months of Xbox Game Pass Ultimate and a Razer Kishi controller for Xbox Cloud Gaming.
Here's what Alistair Wilson, Director of Devices and Partnerships at EE had to say about it:
"EE's award-winning 5G network will ensure customers can make the very most from the latest exciting features the Samsung Galaxy S21 has to offer. Those who take out one of the latest Galaxy S range smartphones on an EE Smart plan will be able to dive into a range of amazing Xbox games via our new Gaming Unleashed Bundle, allowing them to experience a new era in mobile gaming on the number one network for gaming in the UK."
According to EE, these 'Gaming Unleashed' bundles are worth £218, so if you're in the market for one of the new Samsung Galaxy phones and you're a big Xbox gamer, it might be worth keeping this offer in mind.
Have you taken advantage of this deal? Let us know in the comments below.
[source news.microsoft.com]