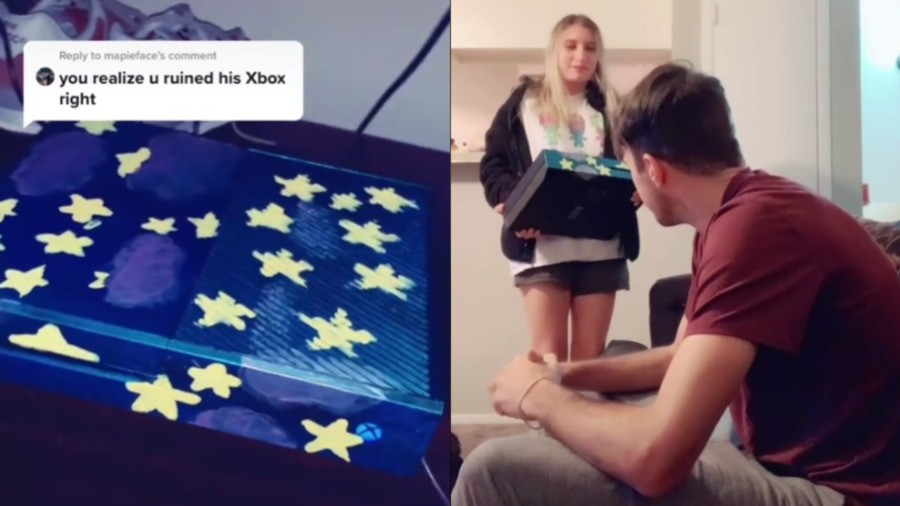 Making a home crafted item for Valentine's Day is always a lovely thought. Sure, it can be easier to grab some flowers and chocolates, but there's something sweet about putting in some effort. At least, that's what one TikTok user thought when she pained her boyfriend's Xbox One console.
TikTok user oatmilkgirl3 took it upon herself to paint her boyfriend's console, coating it in a illuminous blue paint and decorating it with stars all over. The most painful part is when she pours the paint right over the ventilation shaft. While it's undoubtedly a passion project, it's one we're not quite sure will go down well.
As expected, the results have haunted many gamers, some stating that they "died inside when [she] painted the ventilation system" and others claiming it will now probably be gifted to her ex-boyfriend. However, she didn't stop there as she proceeded to show viewers her boyfriend's reaction to the gift. To be honest, he handles it pretty well, but it's clearly not something he's happy with, which we can relate to. A nice idea though!
Have you made any Xbox related Valentine's Day gifts for a loved one? Let us know in the comments below.
[source tiktok.com, via tiktok.com]