There was a serious amount of excitement when Warner Bros. finally announced Hogwarts Legacy as part of The Game Awards 2020, which looks to be the most feature-filled and ambitious Harry Potter game of all time.
Since then, we've had a few updates on the game including its feature-set, discussion about what the gameplay will be like, a batch of screenshots and even a new release date, so here's what we know about it so far...
What Is Hogwarts Legacy?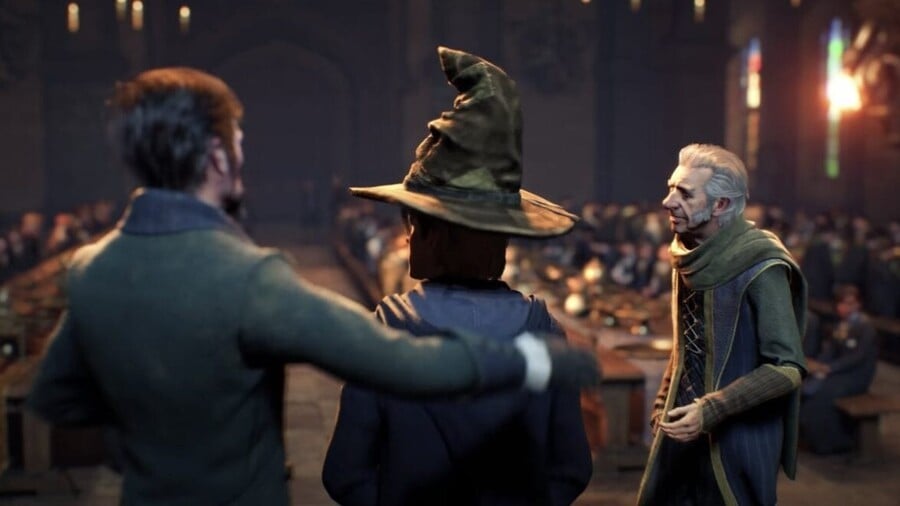 Hogwarts Legacy is a new single-player, open-world action RPG being developed by Avalanche Software (Disney Infinity, Toy Story 3) that will be set in the Harry Potter universe. You'll be able to embark on a journey through familiar and new locations as you experience Hogwarts in the 1800s, making allies, battling Dark wizards, and ultimately deciding the fate of the wizarding world.
Here's what the game's official blurb has to say about it:
"Explore and discover fantastic beasts, customize your character and craft potions, master spell casting, upgrade talents, and become the wizard you want to be.

Your character is a student who holds the key to an ancient secret that threatens to tear the wizarding world apart. You have received a late acceptance to the Hogwarts School of Witchcraft and Wizardry and soon discover that you are no ordinary student: you possess an unusual ability to perceive and master Ancient Magic. Only you can decide if you will protect this secret for the good of all, or yield to the temptation of more sinister magic."
What Else Has Been Revealed About Hogwarts Legacy?
According to Hogwarts Legacy's official FAQ, you'll encounter missions and scenarios that will challenge your morality and determine what you stand for, and you'll be able to grow your character's abilities as you master powerful spells, hone combat skills and select companions to help you face off against deadly enemies.
Harry Potter, Hermione Granger and Ron Weasley won't have cameos due to the time period it's set in, but you'll be able to explore the likes of the Forbidden Forest and Hogsmeade Village, as well as choose your Hogwarts house!
What Is Hogwarts Legacy's Xbox Release Date?
Originally, Hogwarts Legacy was targeting a 2021 release, but unfortunately that was pushed back recently to 2022 after the team explained it needed more time to "create the best possible experience" for the game.
When it does eventually arrive, Hogwarts Legacy is currently set to be released on Xbox One, Xbox Series X and Xbox Series S, along with PlayStation platforms and PC.
Hasn't Early Footage Of Hogwarts Legacy Leaked Before?
It would appear so! As you can see from the YouTube video above, some very early work-in-progress gameplay from Hogwarts Legacy appeared to leak around two years ago, showing gameplay in action.
Of course, given how old this footage is, there's every chance Hogwarts Legacy will look very different when it finally releases in 2022, but this might give us some kind of example of what to expect. It looks great, by the way.
Is Harry Potter Creator J.K. Rowling Involved With Hogwarts Legacy?
J.K. Rowling is not directly involved with Hogwarts Legacy, but has nevertheless (obviously) given her approval for the game to go ahead. WB Games says she has "entrusted the design and creation" of multiple Harry Potter games that will be released under the new 'Portkey Games' label in the future.
"Portkey Games will enable developers to create a variety of new and immersive gaming experiences that are all inspired by J.K. Rowling's Wizarding World.

These experiences have not been written by J.K. Rowling and will not be direct adaptations of the books or films. These are games that have been created for the fans, by game-makers who themselves are fans of and have been inspired by the Wizarding World."
Will Hogwarts Legacy Be On Xbox Game Pass?

Don't count on it! Unless something crazy happens in the next year-or-so (like Microsoft acquiring Warner Bros. Interactive Entertainment!), it seems very unlikely Hogwarts Legacy will be a day one release on Xbox Game Pass.
Are you looking forward to the release of Hogwarts Legacy for Xbox? Let us know down below.