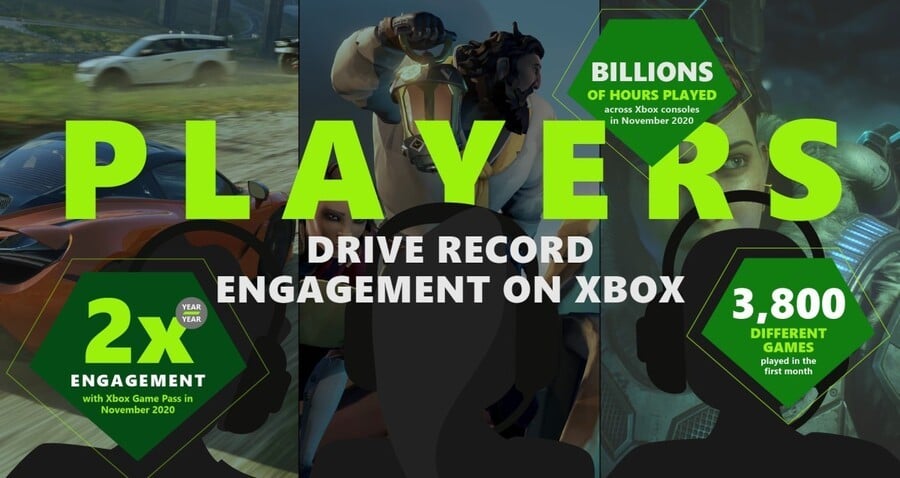 Alongside announcing that Cloud Gaming will be arriving on PC and iOS next year, Microsoft also revealed some intriguing stats today about the Xbox Series X|S launch.
In an Xbox Wire post which focused on Xbox seeing record engagement, it also looked into some very interesting facts from November, specifically related to the new Xbox Series X|S consoles, as well as Game Pass.
According to the company, over 40% of new Xbox players were registered with an Xbox Series S, proving that the budget system has enticed a new crowd of people. Europe has also been reported to have received "record sellouts in a matter of hours across the UK, France and Germany" across the 40+ launch regions.
Due to the increase in players, over 3,800 titles were played across all consoles, totalling to billions of hours being spent within games. Xbox Game Pass also saw double its monthly engagement compared to the previous November.
With all the new console owners, many also took advantage of the Smart Delivery service, as 1.6 million upgrades were made by Xbox Series X|S owners across the board. Destiny 2: Beyond Light, Rainbow Six: Siege and Tetris Effect Connected were also among some of the most popular Xbox Game Pass title. The new inclusion of EA Play also saw Star Wars: Jedi Fallen Order being a favourite title.
It's great to see so many new players joining the Xbox family, as well as smaller titles such as Tetris Effect Connected getting the recognition they deserve. It seems the momentum for Xbox at launch is strong and will no doubt carry on gaining more in the New Year.
What do you think about facts Xbox shared? Let us know in the comments below.
[source news.xbox.com]