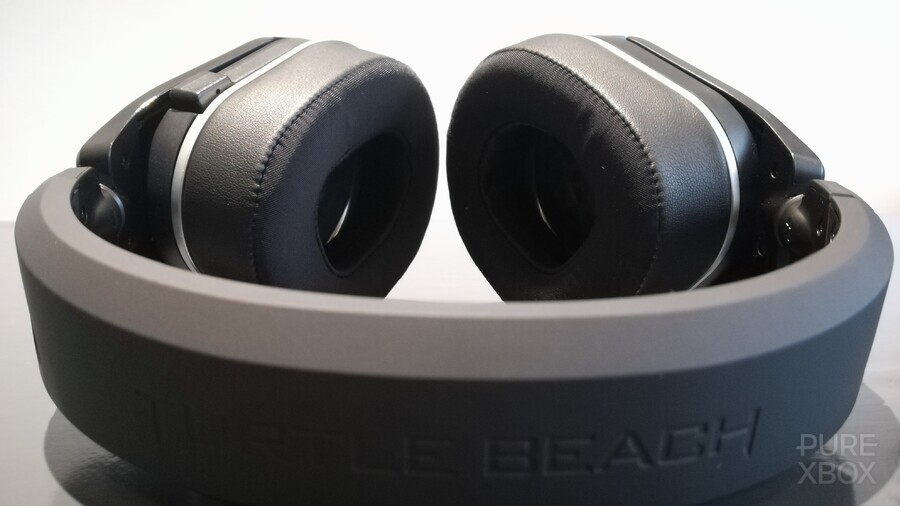 Turtle Beach arrives on Xbox Series X/S with an updated version of its hugely popular Stealth 700 wireless headset that makes some excellent changes to its predecessor, with much-improved battery life, slick new design and super-comfortable cups, resulting in a superb mid-range offering that improves in key areas whilst ushering in a sophisticated new look that's perfectly suited to the latest generation of Xbox consoles.
The first thing you'll notice when you stick this new headset on your noggin is just how comfortable it manages to feel. The ear cups here are made with a fancy cooling gel-infused memory foam finished in an impressively soft leather material that, even during long gaming sessions, doesn't heat up, feel sweaty or become uncomfortable to wear. This is a surprisingly light product too, one that never feels like it's weighing you down and the central metal headband, which is generously cushioned where it sits against your skin, keeps things feeling super tight to your ears resulting in zero sound leakage and cups that never move around or feel as though they're in danger of falling off as you switch positions during play.
If, like us, you need to wear glasses to play your games, there are also clever little channels carved into the ear cushions here, known officially as the ProSpecs Glasses Relief System, that enable you to get your specs on without any annoying issues, discomfort or rubbing. The big cushioned cups on the Stealth 700 Gen 2 really do an awesome job of ensuring that overall comfort is maintained, no matter how long you're glued to your TV screen. There's also a dual-hinge system at work that grants you plenty of scope to twist and turn the earpads around in order to find your peak comfort zone.
In terms of controls, all the bits and bobs you'll readily require access to are placed on the left ear cup with two separate dials to control in-game and mic volume, a pairing button, Bluetooth button and mode selection to switch between the headset's signature sound setting and a "Superhuman Hearing" mode that elevates background audio, drawing out the middle ground in order to amplify the likes of nearby enemy footsteps. It's a neat and tidy setup that works well, however, if we did have one tiny little complaint, it's that the mode select and Bluetooth buttons feel identical in terms of size and shape which can lead to some confusion now and again as you reach up during a heated battle to fiddle.
The mic on the Turtle Beach Stealth 700 Gen 2 headset is discreetly tucked away into a crevice at the front of the left ear cup and activates as you pull it down and adjust it to your desired position with a satisfying click. In terms of performance in-game the mic here feels excellent with a good level of sensitivity, nice clear sound that doesn't produce any noticeable muffling and handy mic monitoring built in, enabling you to check the level of your own voice at any time to make adjustments and avoid deafening your squad-mates during intense encounters.
Alongside the controls that you'll find on the left cup of the headset, Turtle Beach also provides an Audio Hub app which you can download to your phone in order to get a more granular level of control over various aspects of the sounds being pumped into your ears. It's a pretty straightforward app that doesn't go too in-depth, but it's easy to use and allows you to adjust volumes, program the mappable dial and button on your headset, play with a handful of EQ settings such as a Bass Boost Mode and Vocal and Treble Boost and switch that Superhuman Hearing mode on and off.
Performance-wise, sound quality here really is excellent with wonderfully crisp and clear audio across the board and digging into that audio app to switch between modes gives you plenty of scope to adjust things to your own preferences. The bass boost mode, something that we prefer to have switched on at all times, gives things a real meaty kick and that Superhuman Hearing setting may sound like an absolutely ridiculous gimmick but it actually works quite well. Switching this mode on does incur a little bit more background noise that the headset's default setting - which can be a little grating when you're stood around in a busy market place in Assassin's Creed Valhalla with a million and one voices and noises playing out around you - but there's no doubt enemy footsteps and sneaky nearby movements are much easier to pick up on during intense Battle Royale matches.
Connecting the Turtle Beach Stealth 700 Gen 2 for the first time is also a delightfully straightforward affair requiring you to simply hit the headset's pair button for three seconds and then do the same on your console for an immediate, hassle-free hookup. However, we should note briefly here that you'll need to have access to a PC or Mac upon initial setup in order to download the latest firmware to keep your headset fully up to date as new versions are rolled out. It's all very easy to do - simply plug into your computer with the supplied USB and the update will download itself directly to your headset - but just be aware this is something you'll need to do before first use.
Another nice little addition here with regards to connectivity here is that you can simultaneously hook up to both your Xbox and your smartphone via Bluetooth, enabling you to seamlessly switch between in-game audio and chat and a phone call or Spotify. This all works flawlessly and it's always nice to be able to switch around between these things without having to remove your headset or unplug or reconnect to anything.
As we've already mentioned, the battery is another aspect of the Turtle Beach Stealth 700 Gen 2 that's seen a really nice upgrade over the previous model's performance with an advertised 20 hour gameplay time possible here on a single charge - something which we actually found to be an underestimation having played somewhere in the region of thirty hours before needing to plug in for the first time. This is a hugely impressive jump over the Gen 1's 15ish hours of game time on a charge and, especially for a mid-range headset, is an impressive level of performance overall.
One other aspect worth mentioning here is the sleek new design of this headset. When we think of Turtle Beach we immediately see the neon branded cups that have become synonymous with the brand but here the company has went with a more subtle and sophisticated look that jettisons gaudy neon streaks and flourishes in favour of blacks and silvers that fit in really well with the rather grown-up look of the latest generation of Xbox consoles.
Overall then, the Turtle Beach Stealth 700 Gen 2 is a fantastic choice of mid-range headset for your fancy new Xbox console. This is a supremely comfortable product with great battery performance that's a cinch to hook up across multiple devices simultaneously and never once felt uncomfortable, even during our longest Yakuza: Like A Dragon sessions. If you're in the market for a Series X|S compatible headset that performs impressively and looks great without breaking the bank, this is one of the best options out there right now.
Compare against other options in our handy best Xbox Series X headsets guide.
Have you picked up the Turtle Beach Stealth 700 Gen 2 Headset? Give us your thoughts on it below.