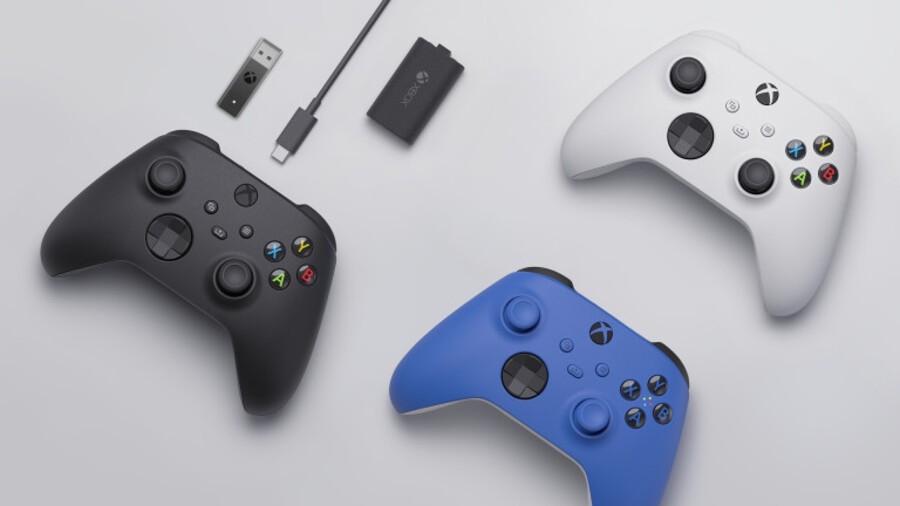 Microsoft has unveiled a selection of brand-new accessories that will be available at the launch of the Xbox Series S and Xbox Series X on November 10th, available to pre-order from tomorrow, September 22nd.
In addition to the previously revealed Carbon Black and Robot White controllers, you'll also be able to get your hands on a Shock Blue controller featuring a "striking blue top case accented by bold, black hybrid D-pad and ABXY buttons and softened by a crisp, white back case for an eye-catching look."
Here's a up-close shot of the front and back of the Shock Blue design:
For PC players, Microsoft is also updating its PC controller bundles to include the new Xbox Wireless Controller in Carbon Black (which also comes included with the Xbox Series X). PC players can choose between the Xbox Wireless Controller + Wireless Adapter for Windows 10 bundle for freedom of movement, or play connected with the Xbox Wireless Controller + USB-C Cable bundle.
All of these new controllers will work on Xbox Series S, Xbox Series X, PC and even the Xbox One, and are priced at $59.99 USD - the same price as the previous Xbox controller.
These new controllers feature a more-inclusive, ergonomic design and performance-boosting updates now standard on all new Xbox Wireless Controllers. Textured grip on the bumpers, triggers, and back case keep you locked in and on-target, while the Elite controller-inspired hybrid D-pad enables greater precision with easier access to diagonals and sweeps.
And finally if you want to pick up a rechargeable battery solution for your new controller, you'll be able to do so at $24.99 USD, featuring a USB-C Cable to fully charge your controller in under 4 hours before, after or while you play.
You'll find links to all of these accessories below.
Whether you're upgrading your current setup, adding to an existing collection, or starting a new one, we're as committed as ever to bringing you options and giving you choice in how to game with Xbox. We're diving headfirst into the next generation of gaming and look forward to seeing where it takes us.
Will you be pre-ordering any of these accessories? Let us know in the comments.