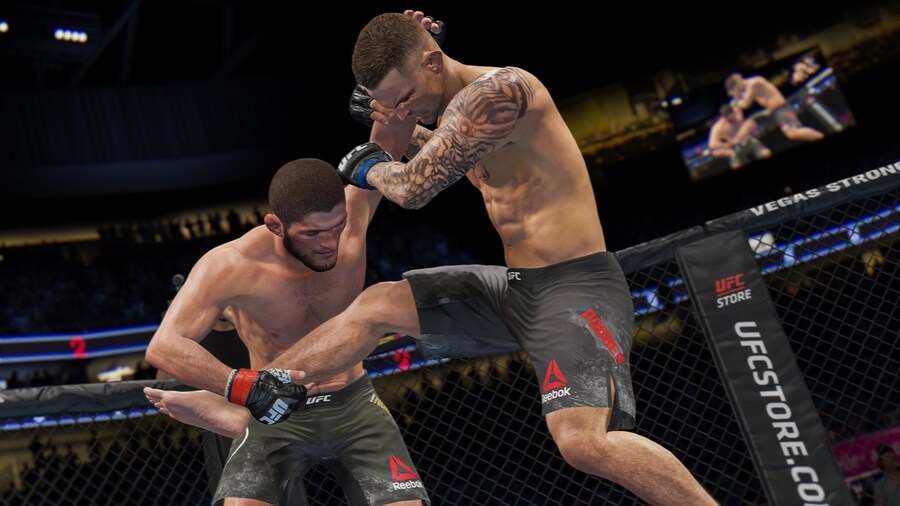 It was highlighted yesterday by the UFC 4 community on Reddit that EA had decided to implement in-game commercials during replays and as part of overlays, which originally hadn't been present in the game.
As you can imagine, this drew a lot of backlash from the community, and EA has since responded to the criticism by confirming that it is removing these in-game ads from UFC 4 entirely (via Eurogamer).
In a statement, the UFC 4 team explained the following:
"Earlier this week, the team turned on ad placements in EA SPORTS UFC 4 that appeared during the "Replay" moments in gameplay. This type of advertising inventory is not new to the UFC franchise, though we have typically reserved displaying ads to specific main menu tiles or Octagon logo placement.

It is abundantly clear from your feedback that integrating ads into the Replay and overlay experience is not welcome. The advertisements have been disabled by the team and we apologize for any disruption to gameplay that players may have experienced.
We realize that this should have been communicated with players ahead of time and that's on us. We want to make sure our players have the best possible experience playing EA SPORTS UFC 4, so ad integration in the Replay and overlay experience will not be reappearing in the future. Thank you for your continued feedback on EA SPORTS UFC 4."
In addition, EA Global Franchise Lead Corey Andress noted on Reddit that the team "should have been more clear about it ahead of time and our intentions," admitting players "were right to call this addition, and lack of an update on it, out."
Have these ads been frustrating you in UFC 4? How do you feel about them? Let us know in the comments.
[source eurogamer.net]