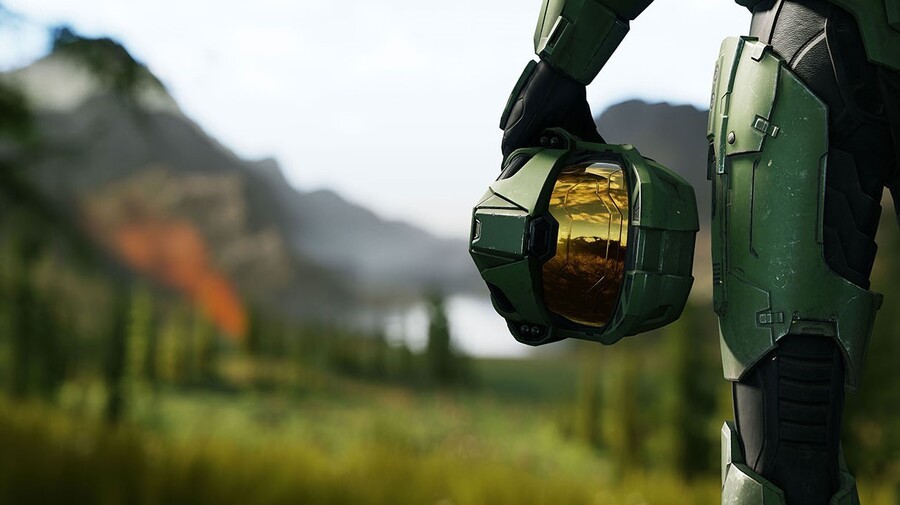 A Redditer over at the Halo subreddit is suggesting they may have figured out the original, previously intended release date for Halo Infinite. According to them, that date is Friday, 4th September 2020, and they've provided a long explanation of how they came to that conclusion. Ready? Here we go:
Firstly, the Reddit user (GeekGamerGirl_117) explains that in the E3 2019 Discover Hope trailer for Halo Infinite, Master Chief holds a chip in his hand containing a serial number of 0453-0. They believe this number doesn't refer to Cortana's chip or her potential replacement, but the date of the game's original, intended release - 453 days from the date of the trailer, which would make it Friday, 4th September 2020.
Next, they looked at the Verification ID shown in the trailer - 309-270-238 - and subtracted those numbers from the potential release date. They found that 309 brought them back to when Halo Reach MCC flighting details were apparently posted on HaloWaypoint, noting that "Halo Infinite was going to take inspiration from Halo Reach's armor customization, so this is a cool Easter egg."
270 days before that was SuperBowl Sunday in 2019, when some allegedly assumed a Halo Infinite trailer would be released. Instead, an Xbox Adaptive Controller advert was shown, and the Redditer mentions the PC versions of Halo Infinite and Halo: The Master Chief Collection were later unveiled at E3 2019 (although a commenter notably points out that both of these were announced ahead of E3 2019). The Redditer says "that is a crucial date as well in terms of reaching to everyone being the mantra that 343 and Xbox wants to achieve. Having [the] PC release of the MCC and Halo Infinite makes that easter egg so crucial."
And finally, subtracting another 238 days brings us to June 10th, 2018, which was when the Halo Infinite Announcement Trailer was revealed at E3 2018.
"Given all these dates are super important to the team at 343 Industries & Xbox Studios, and that Fridays are now known to be the release day for video games instead of Tuesdays, this could the be the definitive proof that we need to confirm the original release date for Halo Infinite."
The Reddit user has also noted, however, that since the Halo: Shadows of Reach novel is scheduled to be released prior to Halo Infinite later this September, they believe the Friday, 4th September 2020 date either refers to the original, pre-coronavirus date as mentioned, or it could now be a beta date.
Phew! We highly encourage you to check out the full thing for yourself if you're intrigued, and let us know in the comments if you believe any of it, or whether it's all a bunch of make-believe.
[source reddit.com]