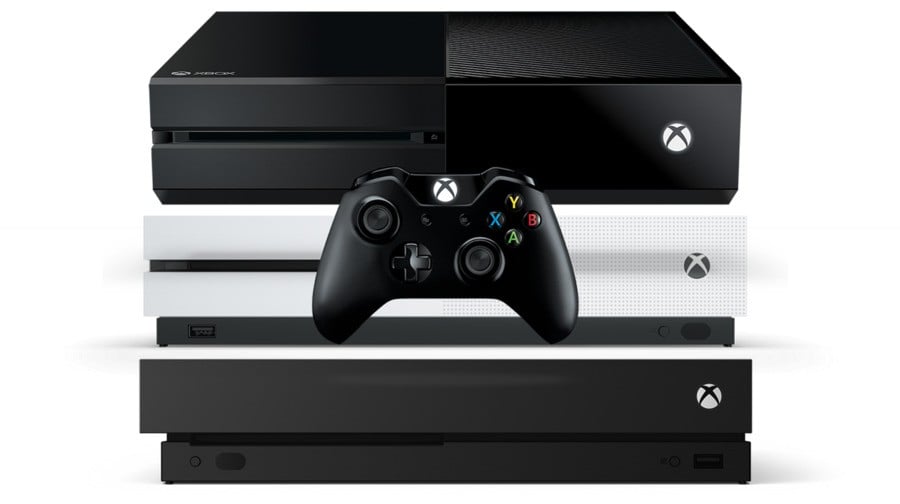 So you're in the market for a shiny new Xbox One console? We can't blame you, it's a fantastic system. If you are upgrading from an Xbox 360, or fancy a change from gaming on the Nintendo Switch or PlayStation 4, the Xbox One family of consoles all have something unique to offer.
There are several variants of the classic Xbox One console on offer these days, the mightiest being the Xbox One X which offers 4K UHD resolution and HDR, but this comes at a price, of course. In this guide we'll also console the Xbox One S and the classic Xbox One so you can decide which variant of Microsoft's console is the one for you.
Xbox One X
Released in 2017, this is now the flagship Xbox One offering, but of course this comes with a hefty price tag. Microsoft proudly proclaim this to be "the world's most powerful console", and that's going to be true until the system is surpassed by the Xbox Series X later this year.
If you've got a 4K television or are planning to get one soon, this is probably your best bet. The Xbox One X features native (not upscaled) 4K UHD resolution and HDR, and many games have been updated to take advantage of this new and improved horsepower. If you are something of an audiophile, you are in luck too. The Xbox One X supports Dolby Atmos, so your ears are in for a good time also.
The console comes packed with the new and improved controller which was launched alongside the Xbox One S. It is also backward compatible with many Xbox 360 games – some of which even have improved graphics when played on Xbox One X.
So what don't we like? Well aside from the price, there is not much not to like. If you are one of the few people on the planet who still cares about Kinect, then we should warn you that this Xbox variant has no Kinect port – but we doubt that will be a dealbreaker for most people in 2020.
---
Xbox One S
The Xbox One S was released in August 2016 and is a good mid-range option for anyone looking to jump into the Xbox ecosystem. It can, of course, play all of the Xbox One games to date, along with offering backward compatibility with some Xbox 360 games.
HDR support is included here, which is pretty impressive – it makes your games really pop, so long as you have the correct TV. While the console doesn't offer native 4K gaming as found with the Xbox One X, it does offer 4K upscaling, which is better than nothing. It does, however, showcase native 4K media playback via video streaming services such as Netflix and Ultra HD Blu-ray discs, so your shiny new 4K TV is going to get a proper workout in that regard, at least.
The S model comes with a mighty 2TB hard drive and includes a 3.5mm headset. It also has a smaller footprint than the original Xbox One. The Xbox One S also includes a revised and improved Xbox One controller.
So what's the downside then? Well, it only has one HDMI output, that's not going to bother most people though. It's also got no dedicated Kinect port either, but again that's no big loss.
If you don't have pockets deep enough for the Xbox One X, then the Xbox One S is the one for you.
Xbox One S All-Digital Edition
No, your eyes are not deceiving you – there is a version of the Xbox One S without the disc drive. In theory, this "All-Digital Edition" should be a little bit cheaper, but many retailers are selling it for roughly around the same price as the disc-based Xbox One S.
Is it possible that they might want to sell disc-based games with it per-chance? We couldn't possibly say...
Xbox One
Launching back in November 2013, the Xbox One had a bit of a difficult start with an over-emphasis on Kinect. Still, it's a great console if you happen to find one second-hand for a good price. You are unlikely to find a new one now.
If you are a Kinect fan, this is the model for you as it has the elusive Kinect port and will likely come packaged with a Kinect. While Microsoft's controller-free interface has since died a death, games like Kinect Sports Rivals are still jolly good fun, so if you're after the "complete" Xbox One experience, you could argue that this is the model to go for.
Aside from that, there is no reason to buy one now that the Xbox One S has taken its place. The controller isn't as nice as the one bundled with the Xbox One S, and it doesn't do 4K or HDR. It's got a bigger footprint and a very bulky power supply brick. Oh, and the Blu-ray player isn't even compatible with UHD Blu-ray discs.
---
So these are the three models of Xbox One which you can pick from, let us know which one you will be picking up with a comment below.