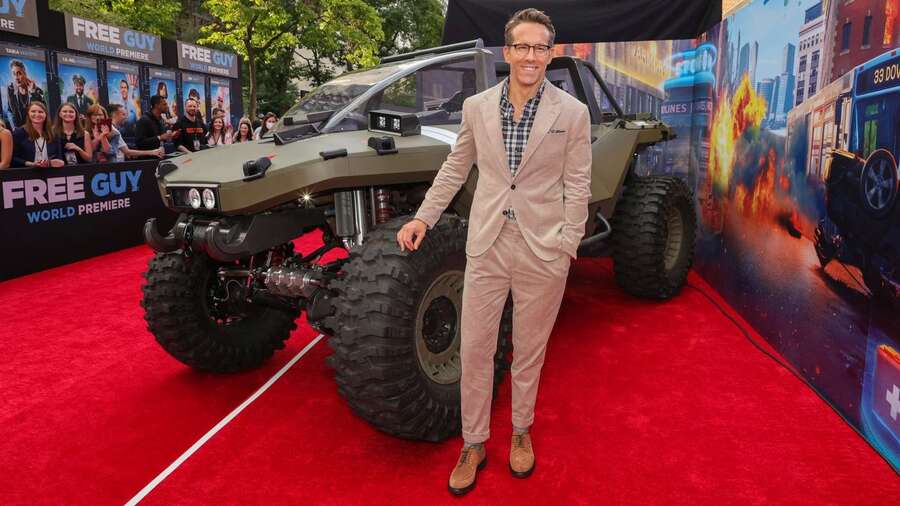 If you've been wondering what's up with Xbox cross-promoting 20th Century's new movie Free Guy (starring Ryan Reynolds), it seems some of the gaming giant's IP actually features in it.
At the red carpet event of the film in New York, Xbox unveiled a "life-sized" replica of a Halo Infinite Warthog - notably, there's no turret mounted to the back. According to an official Xbox Wire post, fans should keep an eye out for certain "all-terrain vehicles and tanks" from the Halo universe in Free Guy.
To bring this iconic video game vehicle to life, 20th Century Studios called on 343 Industries (who provided hi-res images and renders from Halo Infinite) and Hoonigan - the same automotive company featured in the Forza series.
"The vehicle features a body, interior, switchgear, and accessories that were all hand-crafted and fabricated with intricate detail at Hoonigan Industries. Not only does it look like it could carry the Master Chief into battle, but it also runs like it!

Standing tall on 43-inch tires and custom 20-inch wheels, the Warthog is fully functional and off-road tested featuring a 1000+ horsepower, twin turbo small block Ford V8, the same engine that powers Ken Block's Ford Mustang Hoonicorn V2."
The same Xbox Wire post tells Halo fans to be on the lookout for this Warthog - as you never know where it may show up next.
Free Guy is an adventure-comedy starring Ryan Reynolds as "Guy" - who is an NPC that becomes self-aware in an open-world video game and decides to become the hero of his own story to save the world.
The US theatrical release of Free Guy premieres on 13th August. Will you be watching? Tell us below.
[source news.xbox.com]